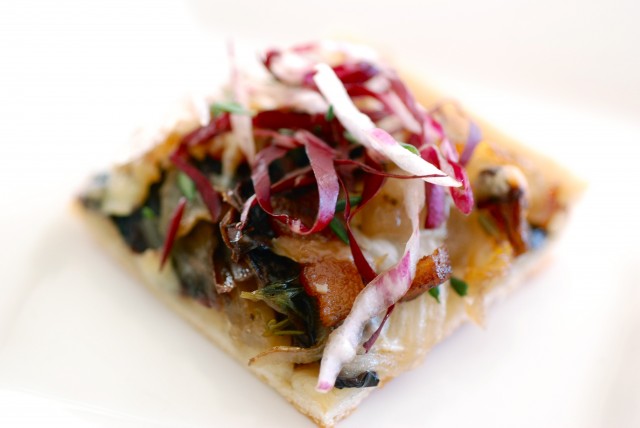 This is a recipe that is brand new to my cooking repertoire but has quickly muscled its way to the top of my favourite hors d'oeuvres list.
I spotted this beautiful tart online over at Gilt Taste and I was pretty much hooked as soon as I saw the words: bacon + radicchio + cheese. There was also the word "easy" thrown around in the title which never hurts. The final clincher was that this is a recipe from Melissa Clark who is a food columnist for the New York Times and has authored or co-authored 32 cookbooks. After you have written 32 cookbooks I am sure you've got a pretty good idea of what makes for a good recipe.
The base of the tart is made from pizza dough and so if you decide to go the store-bought route then this recipe should really take you all of 20 minutes to pull together before it slides into the oven for another 30 minutes or so. If you are looking for a homemade dough recipe, my go-to version can be found here. Note that it will make enough dough for two of these tarts but half the dough could also easily be frozen for another day. I rolled my dough very thin but you could leave it a bit thicker so that these tarts are more like focaccia in texture.
The only changes I made to the original recipe was to use pancetta instead of bacon because that is what I had on hand and I held back a bit of the radicchio that I thinly sliced and scattered over the tart once it had emerged from the oven to give it a hit of colour and a bit of crunch. This one will be made again and again. A keeper.
Bacon and Radicchio Tart with Gruyère and Thyme
Recipe by Melissa Clark
1/2 lb (250 g) thick sliced bacon or pancetta, cubed or cut into small strips
1 medium onion, halved and thinly sliced
1 large head of radicchio, cored and sliced into 1/2 inch pieces
2 teaspoons of thyme leaves, chopped
Fine grain sea salt and freshly ground black pepper
All-purpose flour for dusting
1 lb (454 g) pizza dough
2 cups of Gruyère cheese, grated
Extra-virgin olive oil for drizzling
Preheat the oven to 375 ºF (191 ºC). Lightly oil a rimmed baking sheet and set aside.
In a large skillet over medium heat fry the bacon until crisp. Remove with a slotted spoon to a paper towel lined plate to drain.
Pour off all but 4 tablespoons of the bacon fat and then add the sliced onions. Cook over medium heat until the onion has softened about 7 minutes. Add the thyme and the radicchio and cook just until the radicchio has begun to wilt. Season with salt and pepper to taste. Remove from heat and set aside.
Flour a work surface and roll the dough into a 13 x 8 inch work surface. Transfer the dough to the prepared baking sheets and evenly top with the onion mixture. Add the bacon and then the cheese and drizzle with olive oil.
Bake in the preheated oven until the crust is golden and the cheese is melted about 30 minutes.
Remove from the oven and cut into 2 inch squares and arrange on a serving platter.
Makes 4 1/2 dozen hors d'oeuvres.