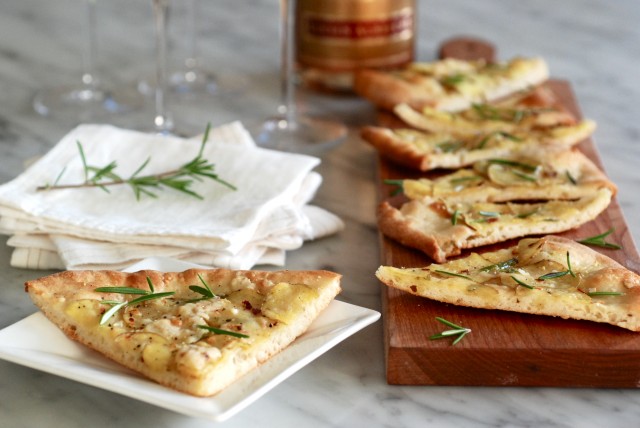 It is that time of the year again! This weekend in Vancouver is the Eastside Culture Crawl! This is a beloved annual event where artists in East Vancouver open up their studios to the public and sell their art directly to those who attend. It is a great way to see some local art, meet the artists in their working environment and maybe even get a jump on your holiday shopping.
The 15th Annual Culture Crawl runs this weekend Friday (5pm – 10pm), Saturday and Sunday (11am – 6pm). For a complete list of participating artists go to eastsideculturecrawl.com
My friend Ross (nuovofresco.com) has a gorgeous studio at 830 Union Street and this will be the 4th year that he will open up his doors to participate in this wonderful weekend of art. As in previous years he and his wife Sarolta (who also happens to be my business partner and dear friend) will be hosting an opening reception on Friday, November 18th from 5:00 pm until 10 pm. Here is your official invitation to come and check out Ross' beautiful art: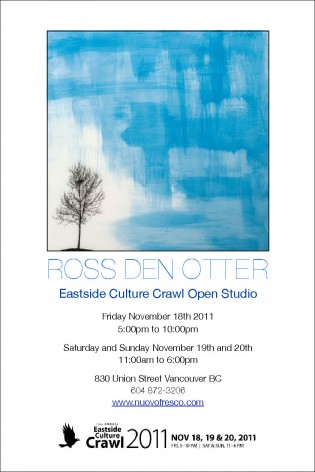 So, what does potato and rosemary pizza have to do with all of this? So glad you asked!
As in previous years, Ross and Sarolta have asked me to do the food for the opening reception. This year, to keep things simple, we decided we would just do a variety of homemade pizzas. The potato and rosemary number that you see above is one of the pizzas that will be offered tomorrow night. Ross and Sarolta made this during the pizza making extravaganza at Max's birthday last year so it seemed fitting for me to return the favour.
If you live in Vancouver and don't already have plans tomorrow night please come out and visit. The opening reception is always a wonderful evening filled with interesting people, beautiful art, lively conversation and some tasty food and drinks.
If you do stop by I will be in the kitchen which is located directly across from the studio. I will, no doubt, be covered in flour. Please come in and say hello!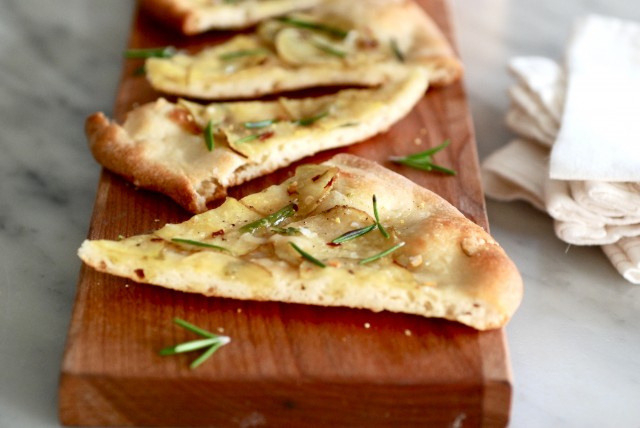 Potato and Rosemary Pizza
This pizza gets a bit of a flavour boost by brushing the pizza base with a bit of olive oil that has been infused with fresh rosemary. Any remaining oil can be used in vinaigrettes.
You can make two 12 inch pizzas or four 14×4 inch pizzas that allow for smaller, cocktail size pieces.
For the dough:
1/2 cup warm water (105 -110 F/40 – 43 C)
1 1/4 ounce envelope active dry yeast (about 2 1/4 teaspoons)
4 cups unbleached all purpose flour
1 1/2 teaspoons fine grain sea salt
1 1/4 cup cold water
2 tablespoons extra-virgin olive oil, plus more for the bowl
For the toppings:
2 large Yukon Gold potatoes
3 small sprigs of fresh rosemary
1/2 cup olive oil, divided
1/4 teaspoon chilli flakes, or more to taste
1 cup of coarsely grated Parmesan cheese
Coarse sea salt and freshly ground black pepper
To make the dough:
Place the warm water in a 2 cup measuring cup. Add the yeast and stir with a fork to combine. Set aside for 5 minutes.
Meanwhile, place the flour and salt in a large food processor and pulse 4 or 5 times to combine.
Add the cold water to the measuring cup and add the oil. Stir to roughly combine with a fork.
Turn the food processor on and add the yeast mixture through the feed tube. Continue to process until the dough comes together and forms a smooth ball, about 30 seconds. Place the ball of dough on a lightly floured surface and knead for a minute or two until the dough is smooth and elastic and resembles a baby's bottom.
Pour a little oil into a large bowl and use your hands to grease the bowl. Transfer the dough to the oiled bowl and cover tightly with plastic wrap. Set the bowl aside and let the dough rise until doubled in size, about 2 hours.
To make the rosemary oil:
While the dough is rising you can make the rosemary oil. Remove the rosemary needles or leaves from the stem of 1 of the sprigs of rosemary. Mince the leaves and place in a small saucepan. Add 1/4 cup olive oil and gently warm the mixture over low heat for just a couple of minutes. Remove from the heat and set aside.
To prepare the potatoes:
Prepare the potatoes by peeling them and thinly slicing them using a sharp knife or a mandolin. Place the potato slices into a bowl filled with water to rinse them of any extra starch. Meanwhile remove the leaves from the remaining stalks of rosemary. Set aside. After a few minutes remove the potato slices from the water and dry well. Transfer to a clean, dry bowl and add in the remaining 1/4 cup of olive oil, the chilli flakes the remaining rosemary leaves and some salt and pepper.
To roll out the dough and assemble the pizzas:
Preheat the oven, with your baking stone (if using) to 500 degrees F (260 C) for at least 10 minutes.
Place your pizza dough on a lightly floured surface and cut into 4 portions. Take one of your portions of dough and cover the remaining pieces with a clean dish towel.
Using your hands form the dough into an 8 x 2 inch (20 x 5 cm) rectangle and then I usually switch to a rolling pin to continue to work the dough until I have it shaped into a 14 x 4 inch (35 x 10 cm) rectangle.
Sprinkle a pizza peel or a baking sheet with some of the coarse cornmeal and place the dough on top.
Brush the base of the dough with some of the rosemary oil and then sprinkle lightly with some of the grated Parmesan cheese. Layer on the slices of potato in an overlapping pattern. Sprinkle on a bit more of the cheese and then season with some coarse salt and a grind or two of freshly ground black pepper.
If using a pizza stone, slide the pizza off of the pizza peel directly onto the heated stone. Or if using a baking sheet put it directly onto the oven rack.
Bake until the crust is golden 12 to 15 minutes.
Remove to a cutting board and garnish with a few fresh rosemary leaves if desired.
Slice using a pizza cutter and serve immediately.
Serves 4 as a main course and 8 – 10 as hors d'oeuvres.