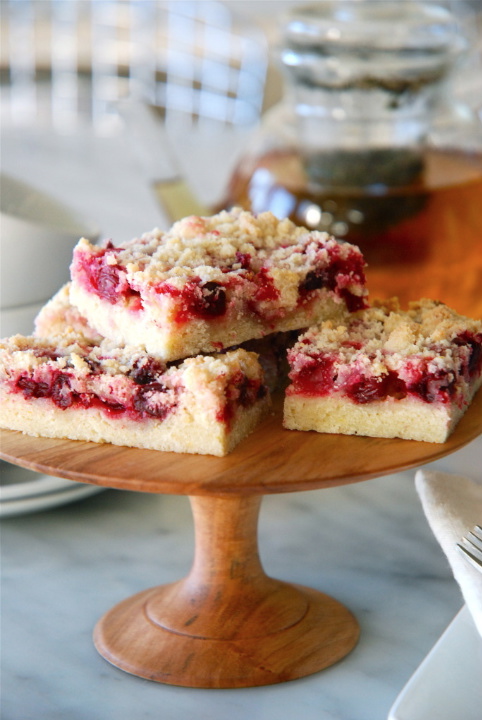 This weekend is my mother-in-law Anneliese's 76th birthday! On Saturday night we are going to host a festive dinner here at our house for the entire family, all 10 of us. There is nothing that Anneliese loves more than to have her entire family gathered around a table sharing a meal together. However, with a teacher, a cinematographer and a pilot as her children, all of whom have busy careers and home lives, getting everyone together is often no easy feat. I am so glad that everyone managed to clear their schedules to be here and celebrate.
I am still working on the menu but have settled on a roasted sablefish for the main course with a leek, mushroom and baby carrot ragout and crispy potato "snowflakes" (I will post the recipe for the potatoes sometime soon). Also, I am planning on making two different desserts as Glen's family loves their sweets. I am thinking of a apple crostata with homemade cardamom and vanilla ice cream and the chocolate caramel tart which is always a hit.
Tonight though Max and I are heading over to Anneliese's house for our weekly dinner together. For the past couple of years Max and I have reserved Wednesday night to have a low key dinner with his Oma. One week I will cook and the next week Anneliese does. Her birthday may still be a few days away but I wanted to bring her a small pre-celebration gift when we see each other tonight. Nothing grand or fancy, just something to show that I am thinking of her.
I spotted these bars over at Sparkling Ink, one of my very favourite sites for great recipes and photographic inspiration. The original incarnation of this recipe called for blueberries, but I know that cranberries hold a very dear spot in my mother-in-law's heart and so I have adapted the recipe with her in mind. Don't have any cranberries? No matter, use the following recipe as a place to start and adapt and alter it using whatever berries (fresh or frozen) that you happen to love or have on hand. Put these cooked and cooled bars in a pretty container or tie them with some twine or ribbon and give them to someone that you admire or love. Make sure that you hold a few of these back though as they are also absolutely delicious savoured alone with a piping hot cup of peppermint tea!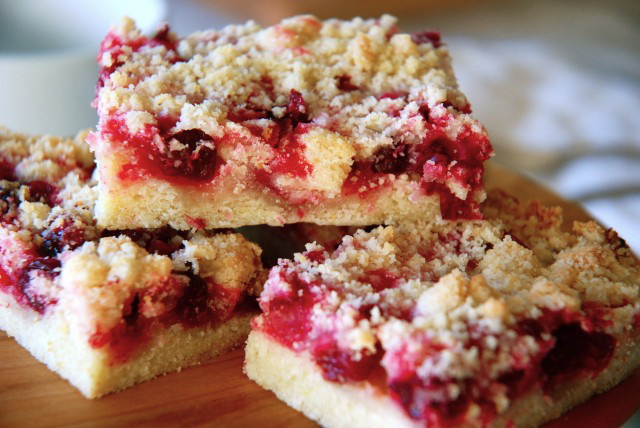 Cranberry and Lemon Crumb Bars
The original recipe called for 1 egg as the only "wet" ingredient in the dough/crumb mixture but I found that I needed to add 1/4 cup of ice water in order for the dough to come together. Therefore I have listed this addition of the water as optional.
Also these bars retain a bit of a tang from the cranberries but if you have a sweeter sweet tooth you may want to increase the amount of sugar in the filling from the 1/2 cup plus 2 tablespoons to 3/4 of a cup.
For the dough:
3 cups of flour
1 teaspoon baking powder
1 cup sugar
1/4 teaspoon fine grain sea salt
1 medium unsprayed lemon, zested and juiced (juice reserved for filling)
8 ounces (225 g) of cold unsalted butter cut into cubes
1 large egg
1/4 cup of ice water (optional)
For the filling:
2 1/2 cups cranberries, fresh or frozen
1/2 cup plus 2 tablespoons of sugar
reserved juice from 1 medium lemon
2 tablespoons of corn starch
Preheat the oven to 375 degrees.
For the dough combine the flour, baking powder, sugar, salt and lemon zest in the bowl of a food processor. Pulse a few times to combine. Put in the cold cubed butter and carefully coat with the flour using your finger (watch out for the sharp blades). Pulse the mixture 12 to 15 times until the butter is evenly crumbly. Add the egg (and the optional 1/4 cup of ice water) with the motor running and mix until just combined.
Mix the cranberries, sugar and the lemon juice. Add the 2 tablespoons of cornstarch and mix well.
Press half of the dough into the bottom of an oven proof rectangular baking dish that measure 9 x 13 inches. Top with the cranberry filling and crumble the remaining dough evenly over the top.
Bake in the preheated oven for 45 minutes or so until the top is golden. Remove from the oven and allow to cool completely before cutting into bars. To facilitate cutting refrigerate the cooled bars for an hour or two.
Makes 20 to 25 bars.
Recipe adapted from Sparkling Ink.