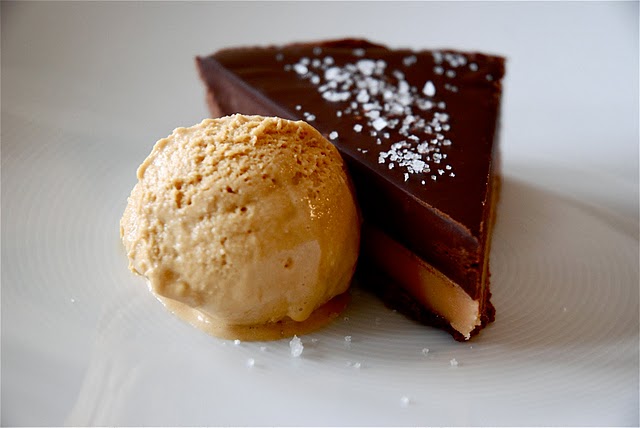 Truth be told I am not really a huge fan of dessert. Whether I am cooking or eating my preference leans toward savory foods.  My theory is that a dinner party's dessert course is best enjoyed the next morning with coffee.
However, I am a total sucker for salted caramels and so when I came across this recipe for a chocolate caramel tart with a fleur de sel caramel ice cream my interest was piqued. I was also planning a dinner party and wanted to end the meal with something that would not only be a crowd pleaser but decadent and special as well. 
Fleur de sel is a hand harvested sea salt traditionally collected off the coast of Brittnay. It is often greyish in colour with a coarse grain and tends to be one of the most expensive salts you can buy. However, as it is generally used as a finishing salt, a little does go a long way. I use it on seared or roasted meats just before serving or on a ripe tomato salad and here it adds an unexpected and satisfying salty crunch to both chocolate and caramel.
This combination was an absolute winner and elicited plenty of oohhs and aahhss and even requests for seconds. And the tart on its own tasted perfect with my coffee the next morning.
Chocolate Caramel Tart
1 1/4 cups of flour
1/4 cup unsweetened cocoa powder (I used Valrhona)
1 cup unsalted butter cut into pieces
1/2 cup plus 1 tablespoon of powdered sugar
1 egg yolk
1 teaspoon vanilla extract
2 cups of granulated sugar
1/4 cup light corn syrup
2 cups plus 2 tablespoons whipping cream
10 ounces of bittersweet chocolate (I used Callebaut), chopped
fleur de sel for garnish
For the crust:
Sift the flour and cocoa powder together into a bowl. Using a stand mixer beat together 1/2 cup of the butter, the powdered sugar, egg yolk and vanilla until smooth and creamy.
Add the flour and cocoa mixture and beat until a dough forms. Be careful not to overwork the dough or it will be tough. Transfer the dough to a work surface and shape into a disk or a rectangle (depending on what shape of tart pan you will be using) wrap in plastic wrap and refrigerate for at least one hour.
Once the dough has chilled roll it out on a lightly floured surface. It can be rolled to make a 9 inch round tart or a 11 x 8 inch rectangular tart. Simply roll the dough so that it is 2 inches wider than the base of the tart pan you will be using so that the dough will come up the sides of the tart pan and be trimmed of any excess. So for the 9 inch round pan roll it out to 11 inches and for the 11x 8 roll the dough out to 13 x 10.
Transfer dough to a tart pan with a removable bottom and press the dough into the bottom and onto the sides of the tart pan. Trim the top of excess dough and prick the dough on the bottom using the tines of a fork. Chill for an hour.
Preheat oven to 350 degrees F. Cover the chilled dough with parchment paper and fill with pie weights. Bake in the centre of the oven for 25 to 30 minutes. Remove the parchment and weights and continue to bake for approximately 8 minutes until the dough is dry and set. Remove and let cool completely on a wire rack.
For the filling:
Combine the granulated sugar and corn syrup with 1/2 cup of water over medium high heat. Cook, stirring occasionally, until the sugar begins to turn into a deep amber coloured caramel, about 10 minutes. Remove from the heat and carefully add the 1/2 a cup plus 2 tablespoons of whipping cream. Add the remaining 1/2 cup of butter, 1 piece at a time, stirring until smooth.
Pour the caramel filling into the cooled tart base and chill for at least 30 minutes until the caramel has set.
To make the chocolate ganache top layer of the tart place the chopped bittersweet chocolate in a bowl. Heat the remaining 1 1/2 cups of cream to a boil and pour it over the chocolate. Stir until all of the chocolate is melted and smooth. Pour over the chilled caramel and refrigerate until set, at least 30 minutes. Remove from the fridge 10 minutes before serving. Garnish with fleur de sel.
Serves 8.
Printable recipe
Fleur de Sel Caramel Ice Cream
2 cups milk
1 cup whipping cream
1 1/4 cups sugar
1/4 cup unsalted butter
6 egg yolks
1 teaspoon vanilla extract
1/2 teaspoon fleur de sel
In a saucepan over medium-high heat combine the milk and the cream and bring to a boil. Remove from heat and set aside. In a separate heavy, deep saucepan heat the sugar over medium high heat until it begins to melt around the edges, approximately 5 minutes. Continue to cook, stirring until the sugar has melted completely and the colour has changed to a dark amber. This will take an additional 5 minutes or so. Remove from heat and carefully add the butter and stir until well incorporated. Add the milk and cream mixture by carefully pouring it down the side of the saucepan while continuing to stir constantly. You are going to need an additional set of hands here. If you are on your own you can use a ladle and add in the cream mixture with one hand, constantly whisking with the other.
Once all of the milk and cream mixture has been incorporated into the caramel return the saucepan to the heat over medium and continue to cook, stirring, until caramel is completely melted and the mixture is just barely simmering. Remove from heat and set aside.
Fill a bowl three-fourths full with ice water and set aside. In a bowl that will fit inside the one with the ice water vigorously whisk the 6 egg yolks with the vanilla for two minutes until they double in volume and the colour lightens. Whisking constantly, slowly add the caramel mixture to the egg mixture and whisk until smooth. You need to add it very slowly and whisk constantly to avoid ending up with caramel scrambled eggs!
Pour the mixture back into the saucepan over medium heat. Cook, stirring constantly with a wooden spoon, until the custard coats the back of the spoon or until it reaches 175 degrees F on a candy thermometer. Do not let the mixture boil. Remove from heat and pour through a fine mesh sieve into the bowl that fits into the prepared ice bath.
Place the bowl in the ice bath and stir the custard occasionally until cool. Remove from the ice bath and place in the refrigerator until very cold at least 4 hours or up to overnight. Ideally you want to chill your ice cream base to 40 degrees F or lower.
Pour the custard into an ice cream maker and freeze according to the manufacturers instructions. Transfer
to an airtight and freezer safe container and stir in the fleur de sel. Cover with parchment paper or plastic wrap and freeze until firm, at least two hours and up to 3 days, before serving.
Makes 1 litre of ice cream.
Printable recipe
Both recipes were adapted from Cooking for Friends by Alison Attenborough and Jamie Kimm.