A Menu for September
Orecchiette Pasta with Tomato Sugo and Arugula
Grilled Zucchini with Mint and Lemon
Grilled Eggplant with Garlic and Basil
Peaches in Red Wine
I have now been back in Vancouver for a few weeks after our culinary workshop in Puglia. What an amazing time we had with our small but mighty group of participants who came with such enthusiasm for learning about the culinary traditions in Southern Italy. Our main focus this year was to connect in a truly hands-on and meaningful way with local food artisans and home cooks. Butchers, bakers, cheese makers, farmers, vintners, olive oil producers and foragers and the people who take these raw ingredients and turn them into meals that there serve around their own table to family and friends. People opened up their homes and hearts to us and shared their knowledge and culinary philosophies with such generosity. It was simply a magical ten days.
Eating what is local and seasonal is a cultural tradition in Puglia and not a new, hip, culinary catch-phrase. There is a loose structure to weekly meals that vary slightly but are always rooted in regional ingredients and recipes that have been handed down from generation to generation. This weekly meal plan goes something like this:
Monday – Legumes (lentils, chickpeas, favas, cicerchie) with vegetables. Or leftovers from the Sunday meal.
Tuesday – Pasta with sugo semplice, a simple tomato sauce.
Wednesday – Depending on what the main meal served on Monday this would once again be legumes with vegetables (a different legume, a different vegetable) or vegetables roasted in the oven with bread crumbs, olive oil and herbs.
Thursday – Sugo with sausage. This may or may not be served with pasta.
Friday – Fish! This could be a baked fish al forno with breadcrumbs and herbs or a pasta with seafood (maybe mussels?) or risotto with seafood (maybe prawns?).
Saturday – In winter it is traditional to serve cialledda calda which is a bread soup with vegetables and perhaps a poached egg. A great way to use up any stale bread from the week. A brodo (a vegetable or meat based broth) is also a Saturday staple or in spring/summer a pasta primavera or pasta with a fresh tomato sauce.
Sunday – Pasta al forno graces many Sunday family tables with a roasted meat served as well. Another favourite is a slow cooked tomato ragu with meats such as guanciale, sausage or braseaola. The ragu is served over pasta as the first course. The braised meat used to flavour the ragu is served as a second course.
This weekly menu obviously changes from family to family, season to season, depending on the occasion but I love that there is a starting point when planning out what's for dinner or lunch each week.
As you can see from the list above tomato sugo is used in many different meals and in many different ways. And while some Italian families buy their jars of sugo from the store just like we do, there is still a tradition that many families embrace, an end of summer ritual of taking kilos and kilos of ripe tomatoes and turning those beauties into the many jars of sugo that can be used during the seasons when ripe tomatoes are simply not available.
This past September we visited the Lomurno family's country house in Altamura where every year they spend a weekend to preserve the tomato harvest to share with their immediate and extended family. Patriarch Angelo welcomed us warmly and enthusiastically schooled us in the art of making tomato sugo. His daughter Annamaria and son-in-law Francesco patiently guided our group through the process. It was wonderful to see how eager our participants were to roll up their sleeves and taking part is this late summer tradition. To see the love and care and hard work that goes into making sugo was humbling. I don't think anyone in our group will ever look at a "simple" jar of tomato sauce in quite the same way…
My September Seasonal Menu is an homage to that beautiful day with such extraordinary people. I rounded out the main course of orecchiette with sugo and arugula with a couple of simple grilled vegetable dishes. Eggplant was grilled dry and then tossed with some extra virgin olive oil that was spiked with finely chopped garlic and a chiffonade of basil. The zucchini was lightly brushed with the olive oil, grilled and then topped with chopped basil and a bit of lemon zest. To keep with the light, fresh summer flavours I chose ripe peaches, quickly blanched to remove the skin and then sliced and macerated in red wine that had been sweetened with some sugar, cinnamon and vanilla.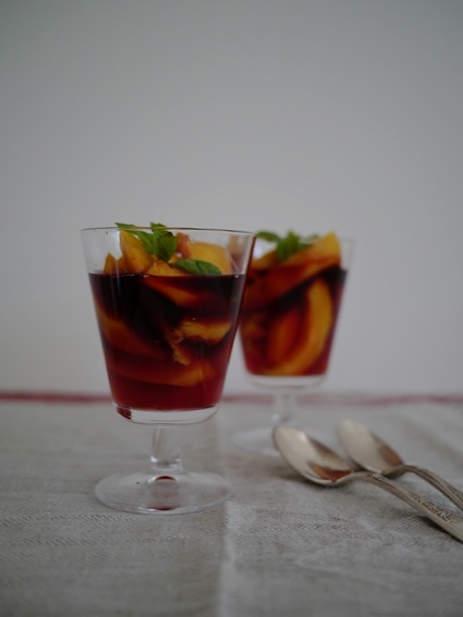 This month's menu doesn't really require any recipes but if you happen to have some ripe summer tomatoes around and feel like making a fresh sugo or you want to try your hand at making your own orecchiette pasta you can find the recipes here.  My inspiration for the peaches in red wine came from here.
A special thanks to the Lomurno family and to our wonderful group of participants for the magical memories from that sunny, summer day in Puglia.
xo J