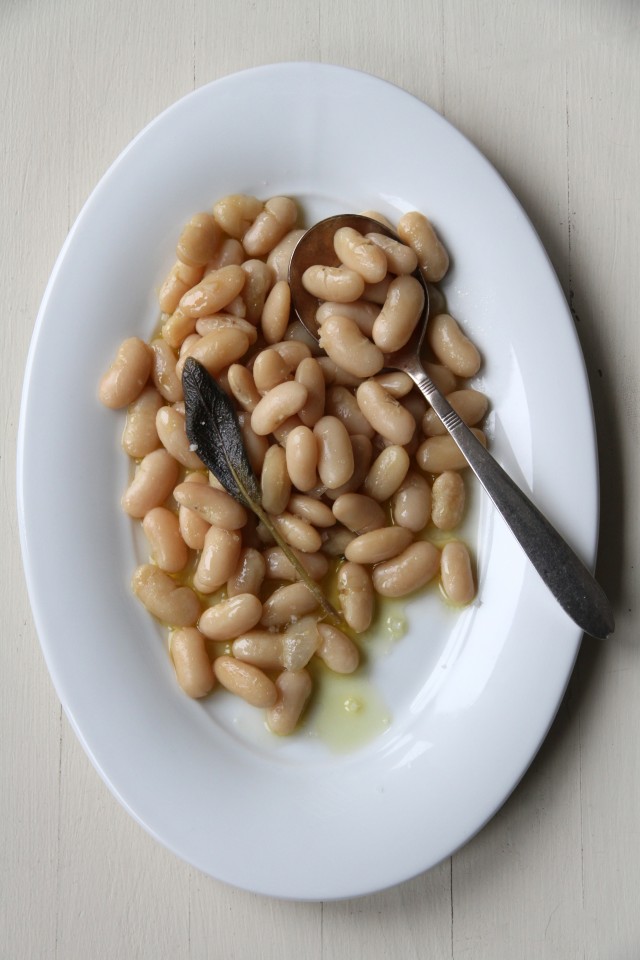 Sometimes it all comes down to a pot of beans. A simple pot of beans.
My cooking over the last few years has become more and more simple. Gone are the days of fussily-plated, multi-course meals that took days to prepare for, days to clean up from and would, more often than not, leave me exhausted. Nowadays, I am more likely to invite friends and family over a day or two in advance, plan a menu that can be prepared a few hours ahead of time and allow people to give me a hand. As I have gotten older I feel less pressure to impress my guests with complicated food and fancy wines. I no longer try to pull off extravagant dinner parties all by myself. There is just too much pressure for both the cook and those gathering around the table. Allowing people pick up a knife to help chop the garlic, or a dishtowel to help wash the dishes or a corkscrew to open the wine is just more fun. For everyone! These days my food reflects this sense of sharing.
Simple food can be deceiving. Back in my twenties, when I first started cooking and heard older (wiser?) cooks talk about their love of "simple" food I all but rolled my eyes. What could be interesting, challenging or exciting about something like a roasted chicken or an apple pie or a pot of beans.  Yet! Think of roasting a chicken. In my mind, it takes years (years!) of practise to really master it. Same thing with pastry crust. I am still working on turning out my idea of a perfect pâte brisée consistently. I just keep trying.
One thing I feel like I have mastered over the past year or so is a very good pot of beans. Sure, it is easy to open up a can but there is something so satisfying about simmering a pot on the stove for a few hours. Plus they really do taste way, way better.
There are many variations of how to cook a pot of beans. To soak or not soak, boil or not boil, add sodium bicarbonate? Herbs, onion or tomatoes?
My version is, well, simple. Pre-soak the beans. Then drain and rinse. Into my old cast-iron enamel pot they go. Add water, sage leaves and some good olive oil (this is key). Bring to a simmer, never a boil. Cook over a low flame until the beans are cooked through but before the skins split. Drain and season generously with salt, pepper and plenty of good olive oil. I could happily eat these beans every day. I have made these beans (and pots of flageolets and garbanzos and navy beans) for many, many dinners with family and friends who also seem to love them. Simple and perfect.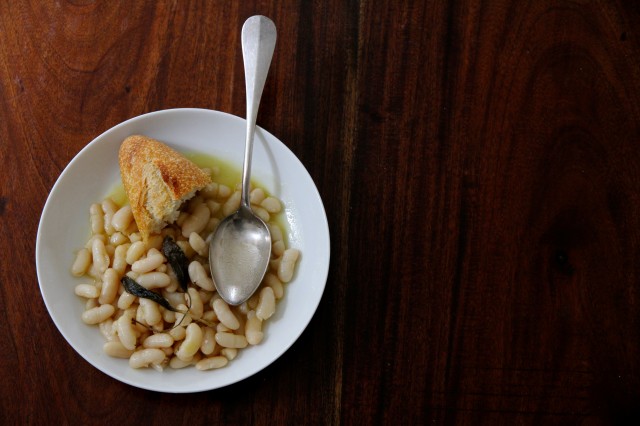 Cannellini Beans with Sage
Make sure you use a good quality extra virgin olive oil and plenty of it. Beans and olive oil, plus salt are a match made in heaven.
2 cups of dried cannelloni beans that have been picked over to remove any small stones or debris and then soaked overnight in water to cover
1/2 cup good quality extra virgin olive oil, divided
6 to 8 sage leaves
Fine grain sea salt and freshly ground pepper
Drain the beans from their soaking liquid and rinse in cool water. Place in a medium pot that will hold the beans and about 3 litres of cold water. Add in 1/4 cup of olive oil and the sage leaves.
Cover the pot and bring just to a simmer over medium heat. Do not boil. When the beans have reached a simmer turn the heat to low and cook the beans, occasionally stirring until they are cooked through but have begun to split. This should take about an hour but the time will vary depending on how old your beans are.
Drain the beans and season generously with salt, pepper and the remaining olive oil. Serve warm or at room temperature.
Serves 6.