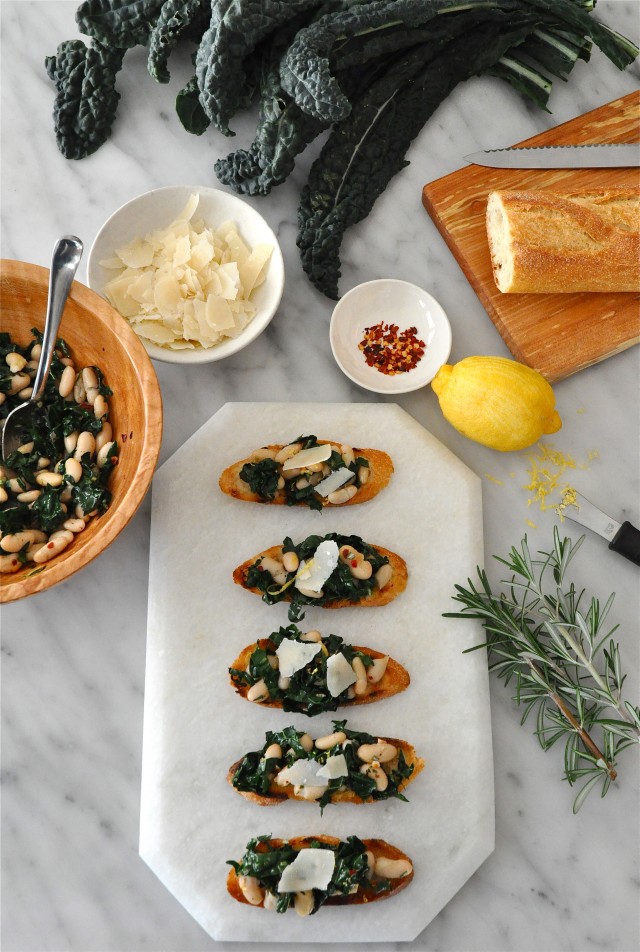 Here is a recipe that we made a lot over the past year. We made these white bean and kale crostinis for almost every cooking class/dinner party/cocktail party/fundraiser that we hosted. On every single occasion they were one of the first canapés to be devoured. I love these for a number of reasons:
1. They are actually pretty healthy, no small feat for a canapé.
2. They don't break the bank. You can't serve caviar and truffles at every event.
3. They are vegetarian. There are more and more people who are choosing to not eat meat and so it is great to have a few fool-proof vegetarian hors d'oeuvres in your repertoire.
4. You can make these ahead of time. Feel free to toast the bread the day before, and make up the white bean and kale mixture hours before you want to serve these. Being able to have all of the components at the ready hours in advance cuts down considerably on cocktail party stress.
5. Most important of all, they are packed with flavour. The cannellini beans are marinated in olive oil, lemon zest and juice, rosemary and chilli flakes. The kale is cooked down with some garlic and shallots and there is a salty hit of Parmesan on the top.
Win, win, win.
Kale and White Bean Crostini with Lemon and Rosemary
Recipe (very slightly) adapted from Love and Lemons
1 small baguette, sliced
Olive oil
Fine grain sea salt and freshly ground black pepper
1 clove of garlic cut in half
1 can (14 fl oz/398 ml) of cannellini beans, drained and rinsed
3 tablespoons olive oil, divided
Zest and juice of 1 lemon
3 teaspoons finely chopped fresh rosemary
1/4 teaspoon red chilli flakes
1 shallot, finely chopped
2 small garlic cloves minced
1 small bunch of kale, stems removed
Fine grain sea salt and freshly ground pepper
Big shaving of fresh parmesan, for each toast
Heat a grill pan over high heat. Brush the baguette slices with oil and sprinkle with salt and pepper. Grill the bread for 2 minutes or so on each side until golden. Remove from the heat and rub the bread slices with garlic. Set aside.
In a small bowl place the drained beans and stir in 2 tablespoons of olive oil, lemon juice and zest, rosemary and the chilli flakes. Season well with salt and pepper and allow to marinate for at least 15 minutes and up to one day ahead.
Heat a sauté pan over medium heat and add in the remaining tablespoon of olive oil. Add in the shallot and cook over medium heat, stirring constantly so the shallot becomes translucent but does not brown. Chop the kale into smallish pieces and add it and the minced garlic into the pan with the shallots.
Cook, stirring for a minute or so until the kale has begun to wilt but remains bright green. Remove from the heat and set aside.
Place some of the kale on each on of the toasts and top with the white bean mixture. Sprinkle on some extra chilli flakes, a bit of sea salt, a grind of black pepper and top each toast with one of the Parmesan shavings.
Makes 18 to 20 crostini.