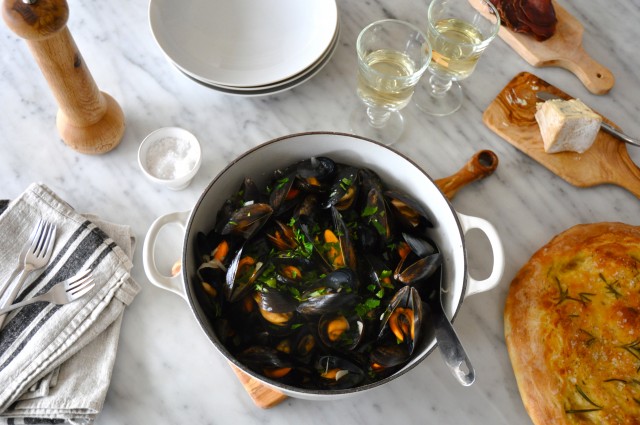 Today was a free day for our group. Some of us went on a bike tour around the city, others relaxed, had lunch with friends or set out to see the Eiffel Tower and take in an evening show.
Seems like the perfect time to post a recipe!
Here is a dish from our Parisian Sunday lunch yesterday. Moules marinères which we served with sliced baguettes. Such a quintessentially French dish that is also so simple to make. The toughest part to this recipe is cleaning the mussels! (thanks Jill, Joyce, Cathy and Natalie).
Tomorrow we are heading off on a culinary tour of our neighbourhood and will be cooking a dinner all together here at the flat. We are doing a duo of duck. Stay tuned.
xo J
Mussels in White Wine
A versatile recipe based on the classic French moules marinières this can be served with lots of crusty baguette to soak up the flavourful both or over cooked spagetti for a more hearty meal.
6 lbs (2.75 kg) mussels
5 tablespoons butter
3 tablespoons olive oil
4 leeks (white and pale green parts only), thinly sliced
8 cloves of garlic, minced
1/4 teaspoon dried chilli flakes
1 cup chopped plum tomatoes, drained
1/2 cup chopped fresh parsley
1/2 bunch thyme, tied with kitchen string
2 cups good white wine
Fine grain sea salt and freshly ground pepper
Rinse the mussels under cold running water while scrubbing with a vegetable brush. Remove the stringy mussel beards from each mussel with your fingers. Discard any mussels whose shells are broken or not tightly closed.
Heat the butter and the olive oil in a large stockpot over medium heat. Add the leeks and cook for about 5 minutes until softened but do not brown the leeks. Add the minced garlic, dried chilli flakes, tomatoes, parsley, thyme bundle and wine. season with salt and pepper and bring to a boil.
Add the cleaned mussels, stir well and cover the pot. Cook over medium- high heat for 8 to 10 minutes, until all of the mussels open. With the lid on, shake the pot once or twice to ensure that the mussels don't burn on the bottom of the pan.
Pour the mussels and the sauce into a large bowl and discard any mussels that do not open.
Serve hot with lots of crusty bread.
Serves 6.