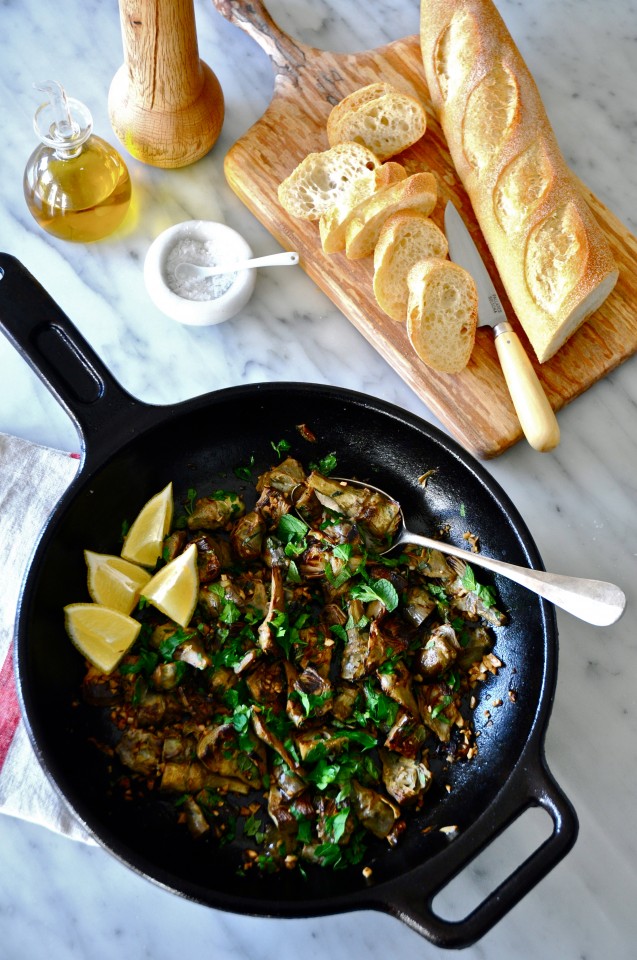 I can't believe I arrived home from my trip over a week ago, it already seems like a distant dream…
Thankfully I am finally over the dreaded jet lag and am feeling very much my old self again. It is good to be back in the kitchen cooking for my family, trying out some new recipes and cooking more than a few tried and true favourites.
I didn't cook a thing while I was away, unless you consider slicing a baguette, slathering it with butter and layering in some french ham "cooking". No matter, the lack of cooking allowed me some time to take a breather, look around and be inspired by the great ingredients of southern France.
At the local Villefranche markets and the bigger weekend Farmer's Market in Nice I was excited to see overflowing baskets of lemons and oranges and kumquats with their leaves still attached. The bins of shiny eggplants were a gorgeous shade of purple-black and the piles of fennel, peppers, celeriac, leeks and garlic were inspiring. Bottles of olive oils, jars of honey, dried and fresh herbs, black and green olives were carefully displayed. I wanted a little bit of everything.
And then there were the artichokes. Big baskets of them. Purple tipped and compact, locally grown and advertised as "Artichauts Violets" and costing 1 euro each. When I first spied them I had a pang in my heart, wishing that I had a well equipped French kitchen to whisk these beauties home to and a group of family and friends to cook them for.
A few days after returning home to Vancouver I spotted some baby artichokes at Norman's Fruit and Vegetables a block from my house. True, they weren't that stunningly beautiful shade of violet like the ones in Nice but there were lovely and inspiring just the same. I filled up a bag and then another. I headed home and carefully arranged them in a wooden bowl to be left on the counter and admired (like a bouquet of flowers) for a day before setting to work.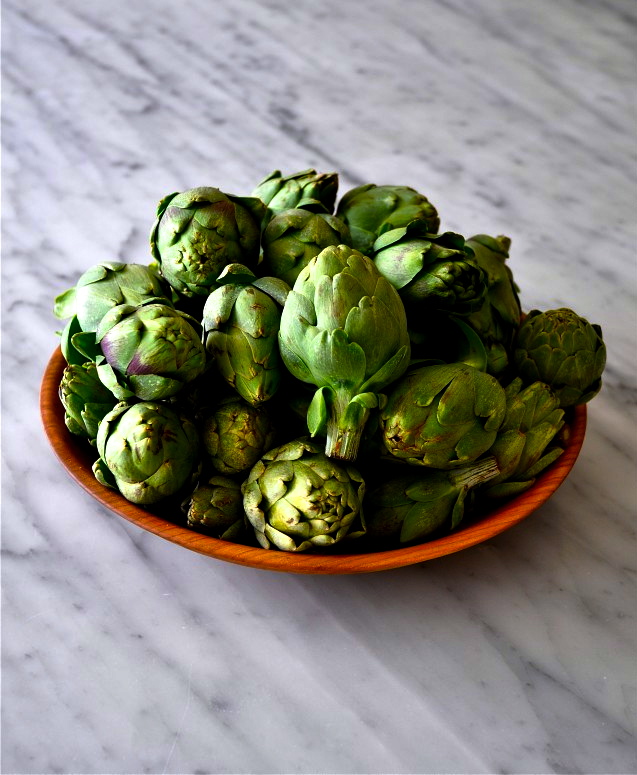 Prepping artichokes can seem daunting to some people but really all you need is a bowl of acidulated water, (ie squeeze the juice of half a lemon into a bowl, fill up with some water et voila! acidulated water) a cutting board, a sharp knife, a bit of time, and a bit of patience.
Start by snapping off the dark green outer leaves until you see the inner, tender, light green ones. I know it seems a bit wasteful to ditch all of those leaves but they are simply too tough and fibrous to eat. When you have peeled away and discarded the outer leaves, cut off the top part of the remaining leaves and trim away the dark green outer part at the base. The great thing about baby artichokes is that the choke is undeveloped and therefore edible and so this outer trim of the leaves and stem is all that is needed. Drop each cut and trimmed baby artichoke into your bowl of acidulated water and then move on to the next one. This is meditative work. Enjoy the quiet solitude.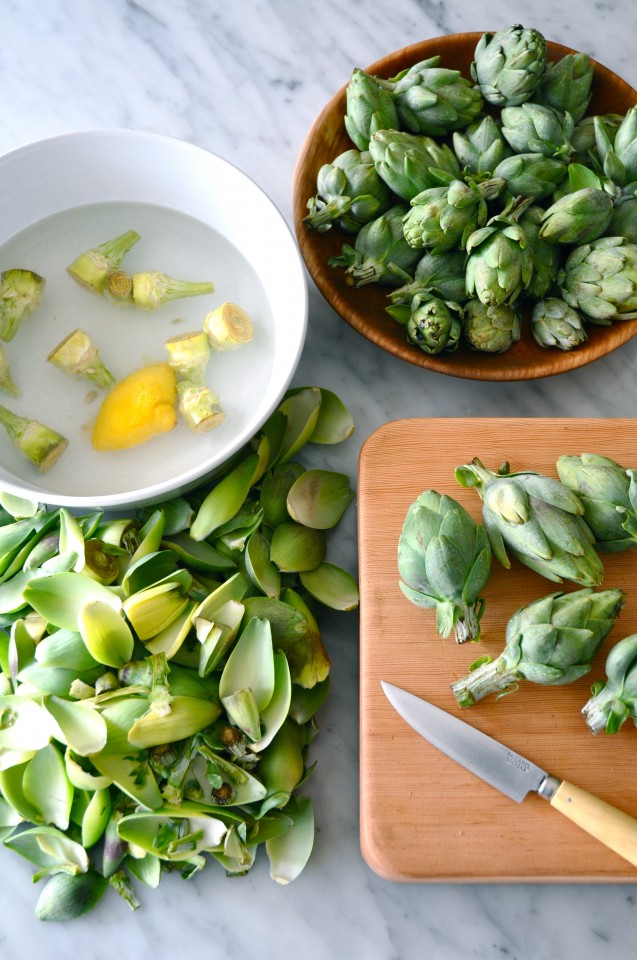 Now, once all of your chokes are trimmed and ready to go you have some options. You can thinly slice them and eat them raw with a citrusy vinaigrette, or you can steam them or roast them but one of my very favourite ways to prepare these is to braise them. Dry them well, sear them off in a hot pan with some olive oil, add in some garlic, then some lemon juice and water, cover and braise for 15 to 20 minutes. To finish them off sprinkle with some sea salt and a shower of chopped parsley and mint. Maybe throw in a pat of butter at the end and another squeeze of lemon.
Serve these braised artichokes with some crusty bread for a simple lunch. I showcased mine in some risotto bianco for a family dinner. These would be equally at home in a simple pasta dish, alongside some roasted chicken or braised lamb or on a platter with assorted roasted and grilled vegetables.
Braised Baby Artichokes with Garlic, Lemon, Mint and Parsley
Recipe is adapted from finecooking.com
16 baby artichokes, trimmed and halved
1/4 cup good quality extra-virgin olive oil
Fine grain salt and freshly ground pepper
4 medium garlic cloves minced
1 tablespoon fresh lemon juice
1/2 cup of water
1/4 cup chopped fresh flat-leaf parsley
1/4 cup chopped fresh mint
Drain the artichokes and dry well using a dishtowel. They are going to be going into hot oil and so they should be relatively dry to avoid splattering.
In a 12 inch skillet heat 2 tablespoons of olive oil over medium-high heat until very hot but not smoking. Add half of the artichokes cut side down, sprinkle with salt and pepper and cook until golden brown 3 to 4 minutes. Flip the browned artichokes over and cook the outside for about 2 minutes more. Transfer to a bowl and repeat with the remaining 2 tablespoons of oil and the rest of the artichokes.
When the second batch has been seared reduce the heat and add in the reserved and cooked artichokes along with the garlic. Reduce the heat to medium and cook, stirring constantly for about 1 minutes until the garlic is fragrant but not brown.
Add the lemon juice and half a cup of water and bring to a boil. Reduce the heat to a low, cover, and simmer until just tender, about 15 to 20 minutes. Uncover the pan, stir in the parsley and the mint and raise the heat to medium. Simmer until any remaining liquid is mostly evaporated which should take a minute or two.
Drizzle some additional olive oil over the artichokes or add a pat of butter and season to taste with salt and pepper. Serve warm or at room temperature.
Serves 4.