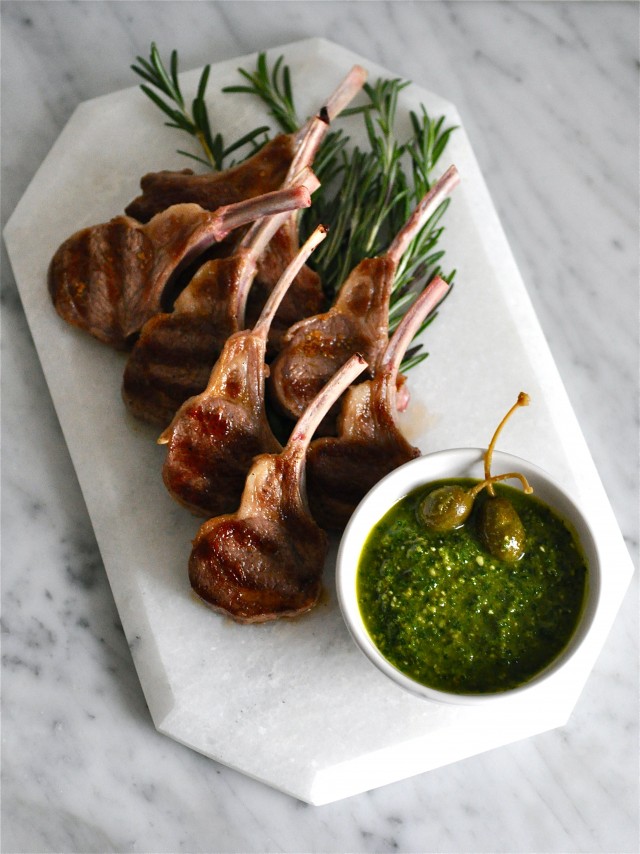 So far the Christmas vacation has been very relaxing around here. Perhaps a bit too relaxing. I have been spending quite a bit of time lounging around reading biographies, laying by the pool and drinking margaritas, wandering around the small town where my parents live, hanging out with my family. I do have four more canapé recipes to deliver here before the end of the year and so I need to get a move on!
I'm sure no one feels like talking about food after yesterday's big feast but New Year's Eve is coming up fast and I am happy to have a few more great party recipes to share.
The grilled lamb chops that you see above are hardly a recipe at all but I still wanted to include them as they are a hit whenever I serve them at a cocktail party. People literally camp out by the stove waiting for them to come off the grill and they are often snatched up before they even have a chance to hit the serving platter.
Grilling can be done on a stovetop grill pan or the barbecue if you have yours on a nearby deck. When we made these at the fundraiser earlier this month one of my guests offered to take over the grilling leaving me free to move onto other kitchen tasks. Thanks Craig!
I like to serve these with a salsa verde made with preserved lemon, tarragon and lots of parsley but they can also be served solo, arranged artfully on a platter atop a few long sprigs of rosemary. Pass with a good size stack of napkins!
Grilled Lamb Popsicles with Salsa Verde
The salsa verde recipe comes from Canal House Cooking Volume No. 1 by Melissa Hamilton and Christopher Hirsheimer.
It is best to make and use the salsa verde within a few hours of serving but I have made it a day in advance, placed it in an airtight container, sealed it with a thin layer of olive oil and put it in the fridge. Just make sure to bring it up to room temperature, check and adjust the seasonings (salt, pepper, lemon juice) before serving. If you have any leftover salsa verde it is great in sandwiches, tossed into quinoa or pasta or served with salmon or shrimp.
For the lamb:
2 racks of lamb, with 8 frenched lamb chops per rack
1 1/2 tablespoons of extra virgin olive oil
1 tablespoon of finely chopped fresh rosemary
Fine grain sea salt and freshly ground pepper
Sprigs of rosemary for garnish (optional)
For the salsa verde:
1 cup loosely packed flat leaf parsley leaves, washed, dried and finely chopped
4 sprigs of tarragon, leaves stripped and finely chopped
3 scallions, chopped
3 cornichons, chopped
1 tablespoon of capers, rinsed and chopped
3 anchovy fillets (I like good quality oil packed ones), chopped
1 medium clove of garlic, minced
1 tablespoon of preserved lemon rind, chopped (discard the pulpy flesh)
3/4 of a cup of a good quality extra virgin olive oil
Lemon juice to taste
Fine grain sea salt and freshly ground pepper
For the salsa verde:
Put the chopped parsley, tarragon, scallions, cornichons, capers, anchovies, garlic and preserved lemon rind in a bowl. Add the olive oil and some lemon juice. Taste and add salt if needed (it may well be salty enough) and some freshly ground pepper. Check and adjust the amounts of lemon juice and olive oil to make the sauce sharper or milder in flavour.
For the lamb:
Remove the lamb from the fridge at least half an hour before grilling to allow to it to come up to room temperature and to season it. Place the rack on a cutting board and with a sharp knife cut individual chops from the roack by following the line of the bone from top to bottom. Season each side of each lamb chop with a bit of salt and pepper, the finely chopped rosemary and a drizzle of olive oil. Set aside.
Heat a stove top grill pan (or the barbecue) over medium high heat. Place the individual chops on the preheated grill and cook for two to three minutes per side or until cooked to your liking. Remove from heat and place on a warmed plate and cover with foil to allow to rest for a couple of minutes.
Meanwhile line a serving platter with the fresh sprigs of rosemary and place some of the salsa verde in a decorative bowl or cup. Arrange the cooked lamb chops on the platter and serve with the salsa verde and a stack of napkins.
Serves 10 to 12 as an appetizer.