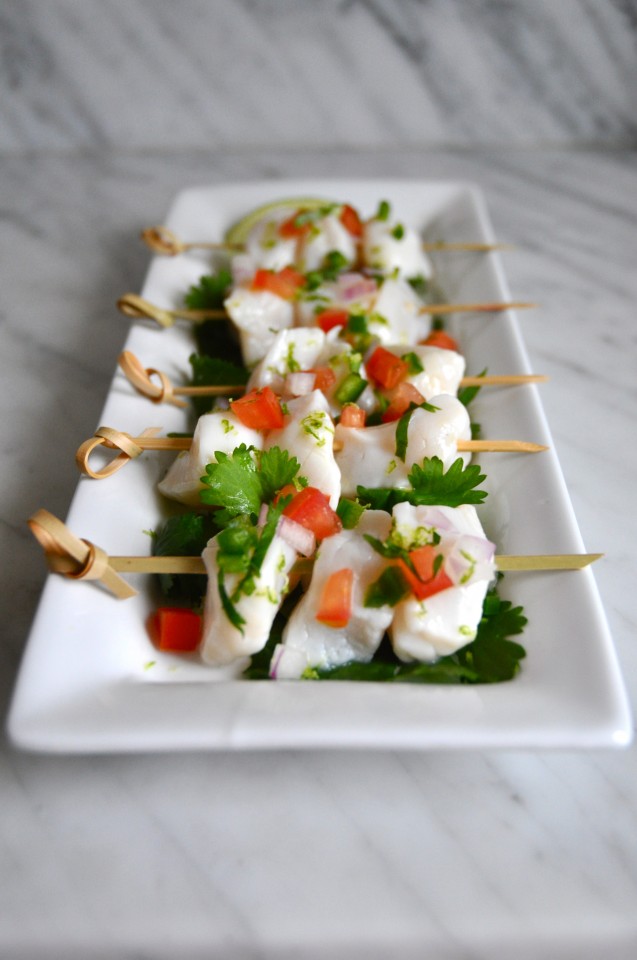 Right now I am in an airplane (I love in-flight internet!) heading towards Mexico.
My parents have a house in a small town on the Pacific Coast and so every second year we trade in a traditional Vancouver Christmas with the tree and the turkey and the gifts and lights (and the stress) and get on a plane and spend a very low key Christmas in the sun. It is really wonderful to mix it up every second year and luckily Santa is still able to find us down south to drop off a small gift or two for Max.
I thought it would be fitting to post a recipe that reflects my destination and so here is a dish that we enjoy so much each time we visit Mexico. Ceviche is fish or seafood that is "cooked" in either lemon or lime juice. Refreshing in a tropical climate this appetizer is just at home at a cocktail party in the icy north. These skewers work well with a margarita, beer or a glass of sparkling wine. ¡Salud!
Skewers of Scallop Ceviche
Recipe adapted from Christmas Entertaining (Williams Sonoma)
The fish needs to marinate in the lime juice for at least 3 hours and up to 12 so you need to do a bit of pre-planning with this recipe. 
I get pretty bamboo skewers with a decorative knot at the end at the Gourmet Warehouse in Vancouver and should be available at most kitchen supply stores.
1 1/4 (625 G) sea scallops, thawed if frozen
1/4 cup minced fresh cilantro plus extra sprigs for garnish if desired
1 jalapeño chile, seeded and minced (about 2 tablespoons)
1/2 teaspoon fine grain sea salt
1 teaspoon peeled and grated fresh ginger
Grated zest of 1 lime
1/4 cup fresh lime juice
1 tablespoon extra virgin olive oil
1 1/2 tablespoons minced red onion
1 Roma tomato, seeded and finely chopped
1 lime, sliced, for garnish
wooden skewers
Dry the scallops, remove the side muscle, if present, and cut the scallop into for pieces.
Place the pieces of scallop in a sinle layer in a shallow non-reactive dish and sprinkle with the minced cilantro, 1 tablespoon of the minced chile, the salt, ginger and lime zest. Pour the lime juice over the scallops and mix gently to ensure that all of the scallops are coated in the mixture.  The scallops should be coered by the juice. Cover with plastic wrap and refrigerate for at least 3 hours and up to 12 hours before serving, turning occasionally.
About 30 minutes before serving thread the scallop pieces onto the wooden skewers, using 3 to 4 pieces per skewer. Arrange skewers on a platter, lined with cilantro if desired, and top with the remaining chile, onion and tomato. Garnish with slices of lime and serve.
Serves 12 to 14.