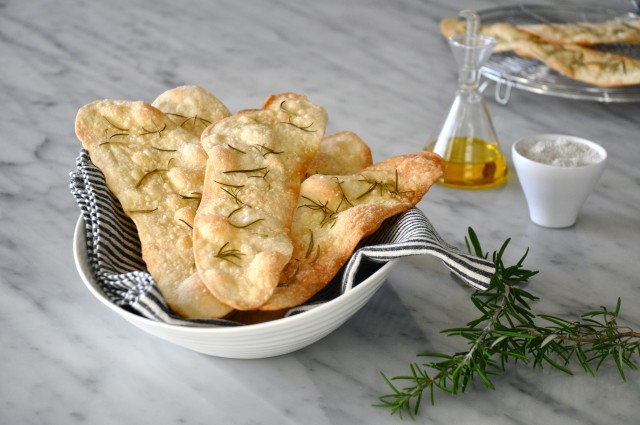 So here we are at the halfway point of our twelve days! This recipe just happens to be one of my very favourite of the bunch.  One could argue that these flatbreads are not really a canapé at all but they are such a fantastic addition to any party and a great vehicle for dips and cheeses that they needed to be included in this year's list.
Easy to make, these flatbreads are made from a straight forward yeast dough enriched with extra virgin olive oil. Once the dough has risen and been rolled long and thin they get drizzled with a bit more of the fragrant oil topped with fresh rosemary and coarse salt and then popped into a hot oven. Twenty minutes later, like magic, golden flatbreads emerge.
Top them with a white bean dip, caponata or tapenade. Maybe the best pairing for these herbed flatbreads is with the warm Tallegio cheese an olive, currant, roasted pepper relish from the last post. Amazing.
Added bonus: these crackers can be made up to three days ahead and stored at room temperature in an airtight container.
 Rosemary Flatbread
Recipe is from Martha Stewart Living.
These crackers can be made up to three days ahead and stored at room temperature in an airtight container.
1 cup warm water (about 110 F/ 43 C)
1 teaspoon active dry yeast
3 cups all purpose flour plus more for rolling out the dough
3 tablespoons extra-virgin olive oil, plus more for the bowl and drizzling on top of the flatbreads
1 teaspoon sugar
coarse sea salt for the dough and for sprinkling on top of the flatbreads
1/4 cup fresh rosemary or thyme (ora combinations)
Place the water in a medium bowl and sprinkle the yeast over the top. Let stand until foamy about 5 minutes.
Stir in the flour, oil, sugar and 2 teaspoons of coarse sea salt.
Using a wooden spoon, or your hands, mix until a dough forms.
Turn the dough out into a lightly floured surface and knead until smooth, about 4 minutes. Transfer to a lightly oiled bowl and cover with plastic wrap. Let dough stand in a warm, draft free place until it doubles in volume, about 1 hour.
Preheat the oven to 350 degrees (175 C). Divide the dough into 16 equal pieces and cover in plastic wrap. Roll out 1 piece to roughly 4 by 10 inches (10 by 25 cm) on a lightly floured surface. Transfer to a parchment lined baking sheet. Drizzle on a bit of olive oil and then sprinkle with corease salt and the rosemary. Repeat with the remaining dough, arranging 4 pieces of dough per baking sheet.
Bake in the preheated oven for 16 to 20 minutes, rotating the trays hal way through. The flatbreads will be crisp and golden. Allow to cool on a wire rack.
Makes 16 flatbreads.