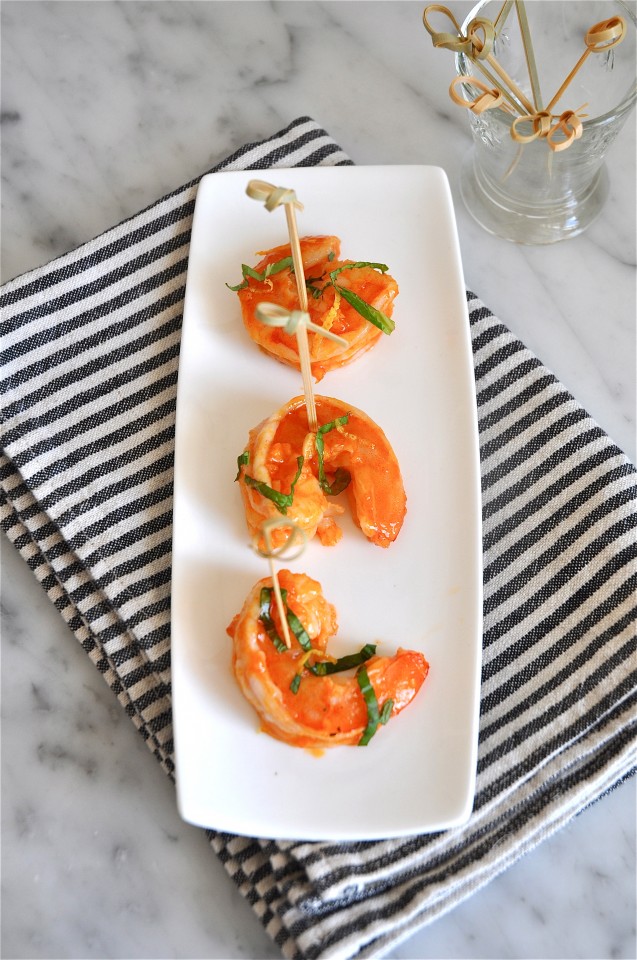 Generally when I am making a recipe for the first time I tend to try it out on my family or a close friend or two so I can get some honest feedback and not feel the pressure of unknown. I always try to follow the recipe pretty much exactly as written before deciding on substitutions or changes that I might make the second or third time around.
Sometimes though, I might read through a recipe and pretty much know it is going to be a winner and will throw caution to the wind and cook it for a crowd (some of whom are complete strangers!). That was the case last Saturday night when we made these spicy, buttery, garlicky, herbal shrimp for the crowd of 80 people who came out for our fundraiser. My intuition was spot on with these little bites, they were gone in the first 20 minutes! I spied a few folks using pieces of bread to mop up the leftover sauce!
This  recipe is dead simple to make (especially if you can convince a couple of your friends that peeling and deveining 3 lbs of prawns is fun!) and take all of three minutes to cook.
Great as an easy hors d'oeuvres, I have since made this recipe for a family dinner with the prawns served over rice and I didn't/wouldn't change a thing…
Sriracha Buttered Prawns with Garlic, Mint and Basil
Recipe is by Sean Banker via Bon Appétit
2 tablespoons butter
6 tablespoon Sriracha
3 cloves minced garlic
1 lb (454 g) medium prawns (20 to 30 count per pound) peeled and deveined
1 tablespoon lemon zest
2 tablespoons chopped freshly mint
2 tablespoon chopped fresh basil
In a medium sauce pan add the butter and the Srirach and melt together over medium heat. Add the minced garlic and sauté for a minute or two until soft but not brown. Add in the prawns and up the heat to medium high. Sauté the prawns until they are just cooked through about 2 to 3 minutes.
When the prawns are done remove the pan from the heat and add in the lemon zest and mint and basil. Stir to combine, transfer to a warmed serving platter or bowl. Serve with skewers and lots of napkins.
Serves 8 as an hors d'oeuvre.