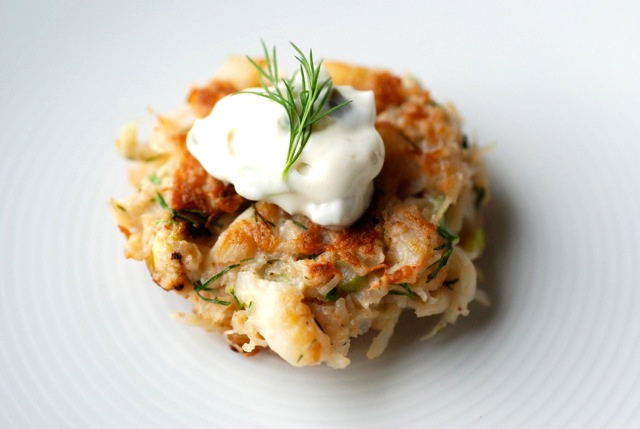 Have you ever ordered a crab cake in a restaurant only to find that when it arrives it tastes like a lot more like salmon or shrimp or mayonnaise and not necessarily like crab? I have experienced this more than once and it always makes me grumpy.
I have absolutely nothing against salmon cakes, or halibut cakes or seafood cakes but if I order a crab cake I don't want something that is mostly made from some other seafood or breadcrumbs or vegetables. I know that crab meat is expensive but like so many other food related things, I would rather have a little less of something real and true than a little more of something made with fillers or "lite" or fake ingredients.
This recipe comes from The New Best Recipe from those fine folks over at Cook's Illustrated Magazine and this has been my go-to recipe when making crab cakes at home for years. Theses taste like crab, complemented with some fresh herbs and spices and are pretty straight forward to make. You will want to chill them for at least 30 minutes so that they hold together when they are pan-fried and use vegetable oil in a cast iron or non-stick skillet over medium heat. Other than that you are good to go.
I made these as one of the hors d'oeuvres for our Christmas Eve dinner and they were a hit. In fact, they always are, to the point that people tend to hover right around the stove and try to grab a crab cake before they even hit the serving platter and can be garnished with a dollop of homemade rémoulade sauce. It may be a bit of a free-for-all, slapping away people's hands while trying to plate these, but it sure makes you feel loved as the cook!
Pan-Fried Crab Cakes with Rémoulade Sauce
Recipe adapted from The New Best Recipe from the editors of Cook's Illustrated Magazine.
The amount of bread crumbs will depend on how juicy your crab meat is. Start with just a tablespoon or two and then add in the egg. If the crab cake mixture won't bind then add some more of the bread crumbs a little bit at a time. Also, these really do need to chill for at least thirty minutes as this too keeps the crab cakes from falling apart when you cook them.
If you don't have the time or desire to make the rémoulade sauce you could always substitute a teaspoon of red pepper jelly as the garnish for each cake.
For the crab cakes:
1 lb (454 g) jumbo lump crabmeat (being from the West Coast I used Dungeness crab)
4 scallions, green parts only, finely sliced
1 tablespoon of dill (or parsley, or basil or cilantro or a combo)
1 teaspoon Old Bay seasoning
2 – 4 tablespoons plain, dry bread crumbs
1/4 cup mayonnaise
Fine grain sea salt and freshly ground pepper
1 large egg
1/4 cup of vegetable oil
Fresh dill sprigs for garnish (optional)
For the rémoulade sauce:
1/2 cup mayonnaise
1 tablespoon fresh tarragon leaves, finely chopped
1 tablespoon fresh flat leaf parsley leaves, finely chopped
2 teaspoons drained capers
2 cornichons, finely diced
Fine grain sea salt and freshly ground pepper
For the crab cakes:
Carefully pick over the crab meat to remove any shells or cartilage and then place in a medium bowl. Add the scallions, herbs, Old Bay, 2 tablespoons of the bread crumbs and the mayonnaise. Gently fold together, taking care not to break up the lumps of crab. Taste to see if any salt is needed (it may be salty enough), and season with salt and pepper to taste.
Gently fold in the egg using a rubber spatula and mix until the crab mixture just holds together. Add more bread crumbs if needed.
Form the crab cakes by dividing the mixture into generous tablespoon size portions. Shape them into small disks and arrange on a baking sheet lined with parchment paper. Cover with plastic wrap and chill for at least 30 minutes.
Meanwhile, make the rémoulade by combining the mayonnaise, herbs, capers, cornichons. Season to taste with salt and pepper. Cover and refrigerate until ready to serve.
When the crab cakes have been well chilled heat some of the vegetable oil in a large skillet over medium to medium high heat. The oil should be very hot but not smoking. Gently lay 8 of the crab cakes in the skillet and pan-fry until the outsides are crisp and browned about 2 to 3 minutes per side. Remove to a paper towel lined plate and place in a low oven to keep warm and continue cooking the crab cakes in batches until all of the crab cakes have been fried.
Arrange the crab cakes on a serving platter and garnish with a dollop of the rémoulade sauce and a sprig of dill. Serve.
Makes approximately 24 canapé size crab cakes.