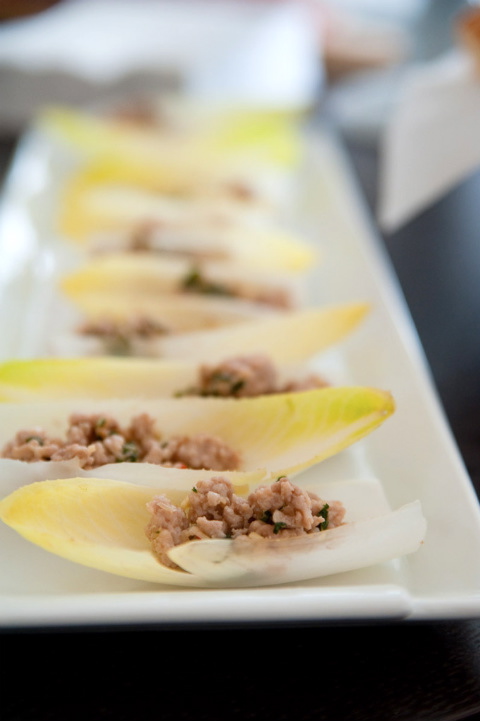 Photo courtesy of Pink Monkey Studios
Just a quick post to share an hors d'oeuvre recipe that is simple, quick to make, full of big flavours and is easy on the pocketbook to boot. It also has the added bonus of being relatively light and healthy in a season that is filled with rich and heavy dishes.
I managed to find the lemongrass, fish sauce and the sesame oil at the little Asian grocery store just down the street from my house but any big grocery store should carry all of the ingredients listed below.
This looks pretty in either red or yellow endive leaves and also works well nestled into baby romaine leaves.
These lovely light and fresh bites would pair well with beer, lemon drop martinis or any un-oaked white wine.
We are hosting the 2nd Annual Food Bank Fundraiser here at Kitchen Culinaire headquarters tomorrow night. It should be a fun evening filled with some lovely people, a cocktail or two, an array of hors d'oeuvres and we will also be demonstrating six different canapé recipes (including this one). We still have a few spaces left so if anyone out there is interested in stopping by please feel free to email Sarolta at events@kitchenculinaire.com for details.
It should be a busy day tomorrow but I have a great vegetarian canapé that I am hoping to post before the party. Stay tuned!
Lemongrass and Chilli Chicken in Endive Petals
Adapted from Donna Hay's Instant Entertaining
2 teaspoons toasted sesame oil
1 stalk of lemongrass, tough out leaves removed and stem finely minced
1 small bird's eye chilli, seed removed and discarded, chilli flesh finely minced
1 tablespoon ginger, finely grated
1 lb (454 g) ground chicken
3 tablespoons lime juice
3 tablespoons fish sauce
2 teaspoons brown sugar
1/4 cup mint leaves, finely chopped
Fine grain sea salt and freshly ground pepper
16 Belgian endive leaves
Heat a medium skillet over med-high heat.
Add the sesame oil, lemongrass, chilli and ginger and cook, stirring for one minute. Add the ground chicken and break up the meat with two forks. Cook for five minutes or until the chicken is cooked through. Add the lime juice, fish sauce, sugar and cook for an additional minute.
Remove from the heat and stir in the chopped mint. Check for seasoning and add some salt if necessary.
Spoon the lemongrass chicken into the endive leaves and serve.
Makes 16.