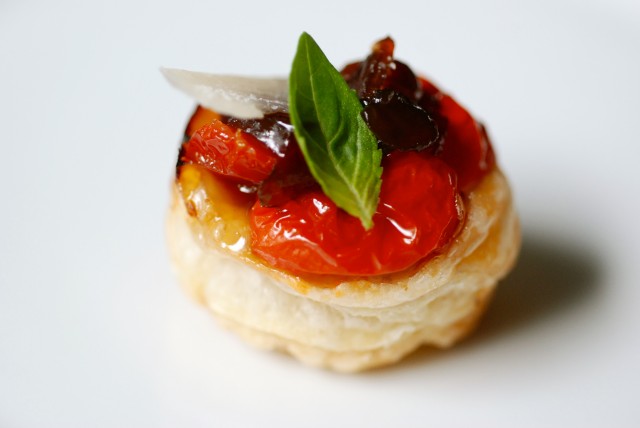 Whew! Well here I am skidding in with the final day of canapés just in the nick of time. Could someone remind me next year to maybe start these recipes at the beginning of the month?
We are going to close out 2011 with this canapé that looks impressive but is easy to prepare. The only tricky part about these is flipping the pan over once they come out of the oven and having the tomatoes release beautifully onto the puff rounds. When I made these yesterday I had to help things along and position the tomatoes on a number of these tarts by hand but once I put the onion jam and basil sprig and Parmesan shaving on top no one was the wiser.
So now that the second annual 12 Days of Canapés is finally done it is time to celebrate! Happy, happy New Year and thank you for following along on all of last year's adventures. May 2012 be filled with health, wealth and the time to enjoy it…and some wonderful meals shared with people you love. xo J
Tomato Tarte Tatins
Recipe is adapted from Marie Claire.
36 grape tomatoes, cut in half
1 1/2 oz (40 g) grated Parmesan cheese plus extra pieces shaved off with a vegetable peeler for garnish
1 lb (454 g) sheet of puff pastry
6 – 8 teaspoons of caramelized onion jam
24 small basil leaves for garnish
Fine grain sea salt and freshly ground pepper
Preheat the oven to 400 ºF (205 ºC).
Lightly oil 2 x 12 hole mini muffin tins. Place three pieces of tomatoes (1 1/2 tomatoes) in each of the muffin compartment. Scatter a bit of the grated Parmesan cheese over the tomatoes. Set the trays aside.
Roll out the pastry to 1/4 inch (1/2 cm) thick and cut out 24 rounds with a 3 inch (7 cm) pastry cutter. Press a pastry round over the tomatoes in each of the compartment. Bake for 12 to 12 minutes until the pastry has puffed up and is golden brown in colour.
Cool in the tin for a few minutes and then invert the tray 180 degrees onto a plate. If all of the tomatoes don't make it out of the muffin tin and on top of the pastry rounds you can always remove them and arrange them on the top by hand. Arrange on a serving platter and top with a bit of the onion jam, a shaving of Parmesan and a basil leaf.
Serve.
Makes 24 canapés.