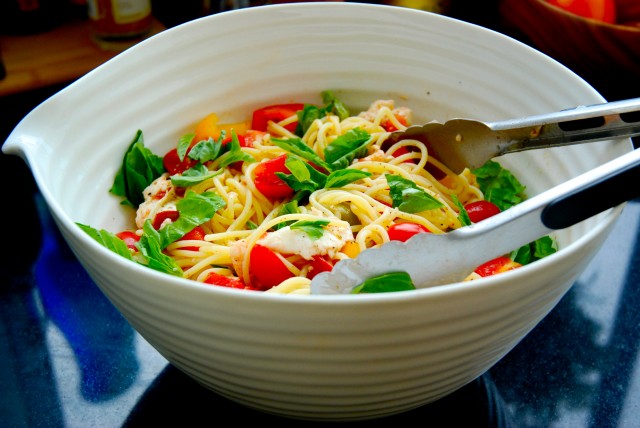 Tomatoes, tomatoes everywhere! I know it is a cliché but there really is nothing like a beautiful, juicy, ripe tomato in season. With the lousy spring and early summer that Vancouver had this year I am unsure as to where things are at in terms of the current local crop. Before we left I did see some tomato varieties starting to make their way to the Trout Lake Farmer's Market but the ones I saw were still far from the gorgeous, sun-blushed, sensuous, bursting-with-ripeness beauties that usually make their appearance in late August.
Here in Florida I have yet to find the Farmer's Market but the availability and selection of tomatoes at the grocery store just down the street is inspiring. We have greedily been devouring them every day. Max always takes a few grape or cherry tomatoes tucked in alongside his sandwich for school, but he only likes the red ones. We have made BLTs with thick slices of ripe beefsteaks, bread salads made with green zebras and gorgonzola, mixed tomato bruschetta to go on top garlic rubbed toasts. My favourite lunch these days is a grilled slice of country bread with Caspian Pink or Black Brandywine tomatoes, salsa verde with an additional drizzle of good olive oil over the top.
The thing with really good, ripe tomatoes is that the less you mess with them the better. Here is where this pasta "sauce" comes in. It is not a tomato sauce in the traditional sense as the only heat these tomatoes feel is when the hot pasta hits them. Still, it is enough to soften them just a bit, release some of their delicious juices without altering their inherent fresh flavour. Add in some garlic (that is allowed to steep in some olive oil for an hour or two) some fresh basil (lots of it if you are like me), some Parmesan (salty and nutty) and fresh mozzarella (creamy and tangy). Good grey sea salt, plus a few grinds of fresh ground pepper = perfection. Actually, if you serve this pasta alongside some arugula leaves that have be lightly dressed with a grainy mustard and walnut vinaigrette and a handful of toasted walnuts then it is even better than perfect.
Just one last thing before I get to the recipe… please don't even attempt to make this with hard, pale, unripe winter tomatoes. It would simply suck.
Spaghetti with Fresh Tomatoes, Mozzarella and Basil
I have listed the quantity of basil as 1 "bunch" and I know this is vague but it really does depend on how much you like basil. I also like to tear my basil into large pieces and place it in at the very last minute so it still holds its fresh, herbal taste but you can also chiffonade your basil and add it into the garlic and olive oil mixture.
4 to 6 large, ripe, summer tomatoes (you can use a mixture of colours and shapes here)
2 cloves of garlic (I usually use three cloves but I love garlic), finely chopped
1/4 cup very good extra virgin olive oil
1 lb (454/500 g) of dried spaghetti
1 8 oz (227 g) ball of buffalo mozzarella or bocconcini or burrata, torn into medium size pieces
1/4 cup Parmigiano Reggiano cheese, grated, plus more for passing at the table
1 bunch of fresh basil, leaves torn into medium pieces
Squeeze or two of lemon juice (optional)
Fine grain sea salt and freshly ground pepper
A couple of hours before you are planning of making the pasta pour the olive oil into a serving bowl large enough to hold the pasta and tomatoes. Add the chopped garlic and a pinch of salt. Allow the garlic to infuse the olive oil. If you find you just don't have time for this step don't despair, it will still be good if you mix the ingredients just before you put the pasta water on to boil.
Put a large pot of salted water on the stove over high heat.
While the water is coming to a boil cut the tomatoes, removing the core, into a large dice and add to the olive oil and garlic mixture. Season with some salt and pepper and and give a good stir. Add in the buffalo mozzarella and stir again. Check and adjust seasonings.
When the water has come to a rolling boil add the dried pasta and give it a good stir. Cook for 9 minutes (or less depending on the thickness of the pasta). When it is done but still al dente drain the pasta and add immediately to the tomato/oil/mozzarella mixture. Stir well and season with some additional salt and pepper and a squeeze or two of fresh lemon juice. Add in the grated Parmesan and the basil leaves and toss well to coat.  Check and adjust seasonings.
Serve at once, passing around some additional Parmesan at the table.
Serves 4.