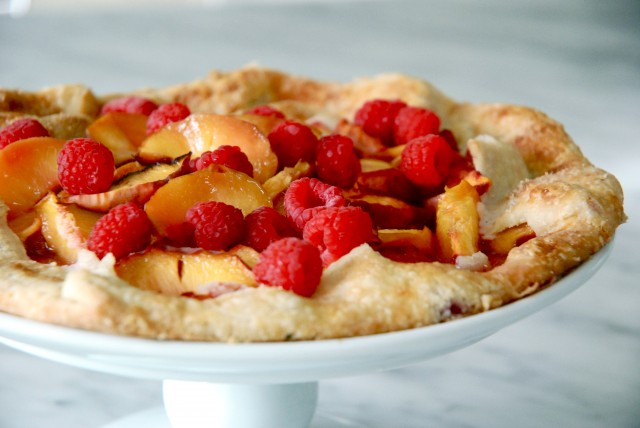 I don't generally post two dessert recipes in a row but since Glen left for Florida earlier this week I have been feeling a bit blue and thought a little something sweet might help to lift my mood.
A lot has happened in the last 4 days. I helped Glen get packed for the next five months and saw him off bright and early on Wednesday morning. By Wednesday afternoon my Mom and Dad helped my Baba (Grandma) move her last few items INTO our basement suite. One moves out and one moves in.
Since her boyfriend of fifty years died two months Baba decided it was finally time to sell her house. However, even though she is 97 years old she is vehemently opposed to moving into a senior's home. "A place filled with old people would drive me crazy!" she says.
So for now she will live here at my house and in a few months a suite in the house next door will be available and she will move in there. She seems pretty happy to be here and has been out exploring the neighbourhood, doing some shopping, visiting with friends, settling in.
It has been good for me to have her here as well. It has helped keep my mind off of how much I miss my husband. I also love having someone else to cook for and talk with and have tea with in the afternoons. Someone who likes a slice of rustic nectarine tart as much as I do.
A couple of notes on this galette:
The crust is made from a simple sweet dough that yields enough for two tarts so just stash one of the disks in your freezer for a future galette.
I have used nectarines as I had a fragrant bowl sitting on my counter but peaches (or plums or apricots) would be wonderful as well. You may want to adjust the amount of sugar and honey depending on the ripeness/sweetness of your fruit. If using peaches it is better to peel the fruit but for the nectarines I generally don't bother.
I like to add the raspberries after the galette has been baked but you could also throw them on before you slide the galette into the oven. Your choice.
Happy baking!
Nectarine Galette with Raspberries
The pastry for this recipe comes from Ina Garten's Barefoot Contessa Parties. It makes enough pastry for two galettes. This pastry freezes beautifully so put the second pastry disk in your freezer for a future tart.
For the pastry:
2 cups all purpose flour
1/2 cup of granulated sugar
1/2 teaspoon fine grain sea salt
1/2 lb (225 g) butter, diced and chilled
1/4 cup of ice water
For the filling:
6 to 8 medium, ripe but not mushy, nectarines
2 tablespoons plus 2 teaspoons of granulated sugar
1 tablespoon of honey
2 tablespoons of whipping cream (or water in a pinch)
1 tablespoon of sugar
1 cup of raspberries to sprinkle on the top once the galette has been cooked
To make the pastry:
Place the flour, sugar and salt in the bowl of a food processor and pulse a few times to combine. Add the chilled butter and pulse 12 to 15 times or until the butter is the size of peas. With the motor running add the 1/4 cup of ice water all at once through the feed tube. Pulse until the dough just comes together.
Turn the dough out onto a floured work surface. Form into 2 equal portions and form each into a round, flat disk. Wrap each in plastic wrap and place one in the freezer for future use and one in the fridge to rest for at least one hour.
Preheat the oven to 400 degrees.
Once the pastry has had a chance to rest and is cold, roll out the disk on a lightly floured work surface. Roll the dough into an 11 inch circle and then transfer to a parchment lined baking sheet. Put this sheet back in the fridge while you prepare the nectarines.
Wash and dry the nectarines, cut in half to remove the pits and cut into slices or chunks. Place in a bowl and toss with the 2 tablespoons of sugar. Cover the pastry dough with the fruit leaving an 1 1/2 inch border. Drizzle with the honey and gently fold the border up and over the fruit, pleating it as you go to make a circle.
Brush the top of the pastry with a bit of the whipping cream and sprinkle with the remaining 1 tablespoon of sugar.
Bake in the preheated oven for 25 minutes or so until the pastry is golden brown and the nectarines are bubbling a bit. Remove and allow to cool for 5 minutes of so and then using two large metal spatulas transfer to a wire rack.
Once cool, sprinkle with the raspberries and serve alone or with vanilla ice cream or shipping cream.
Serves 6.