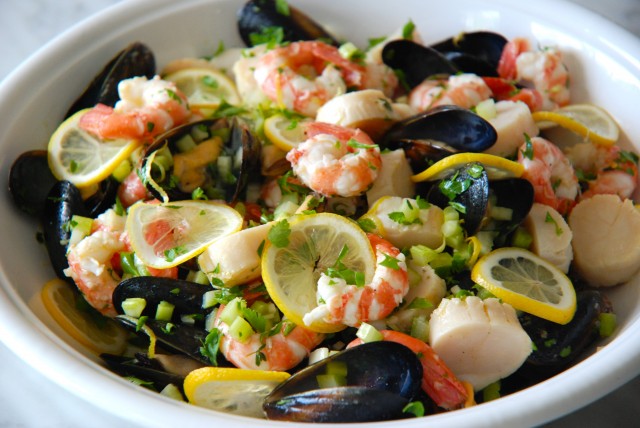 It has been a busy few days around here and I am running around like a bit of a chicken as I am leaving to go on a trip with my Mom tomorrow. Last year my Mom and Dad and sister Lisa went for the first time in many years on a family vacation. Just the four of us. We went to Paris for a week and had a sweet and wonderful time. Some good laughs and walks, some great meals, some cherished memories.
My Mom enjoyed that trip so much that she decided she wanted to go back this June and set to work investigating dates and flights and apartment rentals.
It was supposed to be just the women this year (my Dad politely declined, he had some pressing golf games booked and I think we drove him a bit crazy last year) but then the dates conflicted with a trip my sister already planned to take with her boyfriend. So, it is just me and my Mom for two weeks in Paris!
We have rented a one bedroom flat up on Avenue Junot in Montmartre that looks lovely and I am packing my best walking shoes and my camera. Two weeks seems like a luxurious amount of time to have to wander around in one of my favourite cities in the world. As we already did many of the touristy things last year I am looking forward to a more leisurely pace this time around, more serendipitus exploring than tightly planned routes. My Mom and I are both terrible map readers so there will undoubtedly be some interesting moments of navigation.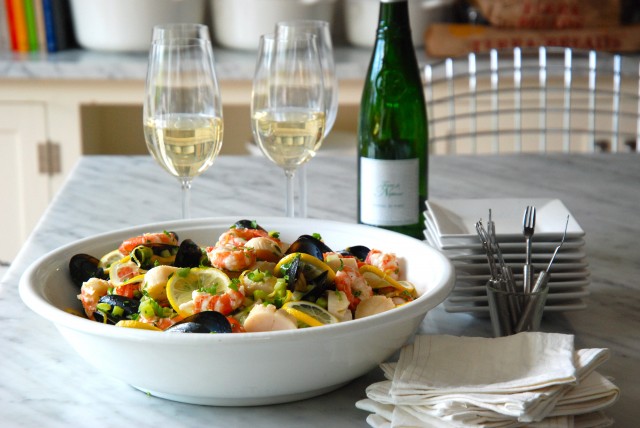 The plane leaves tomorrow and so I am trying to decided what to pack. I am one of the worst packers in the world. I make a list then second guess my choices and then wait until the very last second, while the cab is waiting outside and then I start madly chucking stuff into a suitcase and then arrive with a bag packed with some completely impractical clothing. Then I end up wandering around muttering to myself "What the hell was I thinking?" It happens every time.
I have also been trying to get  things set up for my little family while I am away. My Dad is moving in for a few days to look after Max while Glen shoots the last few days of the movie that he is working on. I am feeling more than a bit sad to be leaving the guys for two whole weeks. I get a bit teary just thinking about it. Max and Glen assure me that they are going to miss me too but I can tell that they are pretty excited by the prospect of their two weeks of freedom. The lack of rules and mealtimes and bedtimes and homework schedules that I tend to instill around here. They will have the sushi place from down the street that delivers on speed dial. Sushi everyday! Truly a dream come true for Max…
The place we rented looks to have a very nice kitchen and so I am thinking I will be able to do at least a bit of cooking. While I won't be posting any recipes, I am hoping to post a Paris Photo of the Day. Some will be food related and some not. It will get me using my camera and honing my skills.
Before I go I did want to leave one recipe that will be perfect to offically welcome summer's arrival in just a few days. I made this as part of a dinner party that we snuck in before the madness around here started earlier this week. This is perfect with a glass of sparkling wine or a lovely (French!) Picpoul de Pinet or a local lager.
Stay tuned for some Paris photos over the next two weeks and then some french inspired recipes upon my return. Wish me luck with the flight. I am petrified to fly…
Oh, and if anyone out there has a favourite restaurant, or bistro, or food shop, or bookstore or park or museum, street or shoe store, or market (flea or food) or cinema or thing that they love to do in Paris, please, please leave me a comment!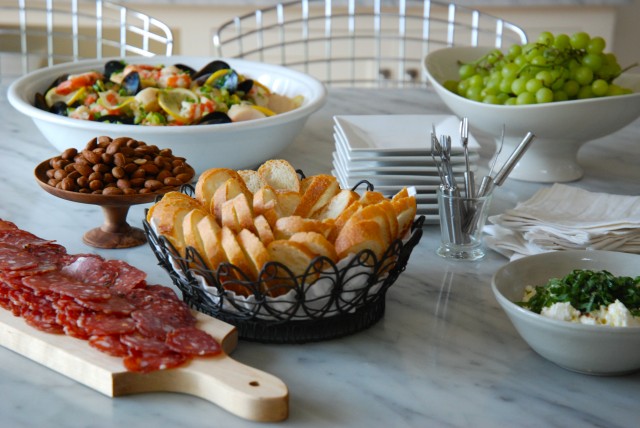 West Coast Seafood Salad
Recipe adapted from Ina Garten's Montauk Seafood Salad recipe from her Barefoot Contessa Family Style cookbook.
For the seafood:
1/2 cup (118 ml) white wine or champagne vinegar
1 tablespoon kosher salt
1 1/2 pounds (675 g) (large spot prawns (or other medium/large shrimp)
1  pound (450 g) sea scallops
3 pounds (1350 g) fresh mussels, scrubbed well and beards removed
1/2 cup (110 ml) dry white wine
For the vinaigrette:
1 cup (237 ml) good olive oil
1/2 teaspoon whole fresh thyme leaves
1 teaspoon minced fresh garlic
Zest of 2 medium, unsprayed lemons
1/4 cup (56 ml) of freshly squeezed lemon juice
1 tablespoon of Dijon mustard
2 tablespoons white wine or champagne vinegar
Fine grain sea salt and freshly ground pepper
To assemble:
2 stalks of celery, medium dice
3 tablespoons of flat leaf parsley, chopped
1 to 2 lemons thinly sliced
Coarse sea salt
To cook the seafood combine 8 cups (1.8 l) of water with the white wine vinegar and the tablespoon of salt in a large saucepan and bring to a boil. Bring to a boil and add the shrimp and cook for 1 to 2 minutes depending on the size. Do not overcook as the seafood will continue to cook once it has been removed from the water. Remove with a slotted spoon and bring the water back to a boil. Once boiling add the scallops and cook for 4 to 5 minutes until cooked through. Drain.
In the same saucepan bring the 1/2 cup of wine to a boil and toss in the mussels. Cover, return to a boil and steam for 3 to 5 minutes until the mussels have opened. Discard any that have not opened. Drain the mussels and the scallops and the prawns and add to a large bowl.
To make the sauce heat the olive oil in a medium sauce pan over medium heat and add the thyme, garlic and the lemon zest. Reduce the heat to low and allow the olive oil to infuse with the other ingredients for 2 to 3 minutes. Remove from the heat and whisk in the mustard, white wine vinegar and some salt and pepper. Check and adjust seasonings. Pour the warm vinaigrette over the seafood and toss to coat.
Add the diced celery and the chopped parsley and sprinkle on some additional coarse sea salt. The salad can be served right away but is even better if allow to chill in the refrigerator for an hour or two. Add the thin slices of lemon and toss the salad well before serving.
Serves 6 to 8 as an appetizer, or first course.