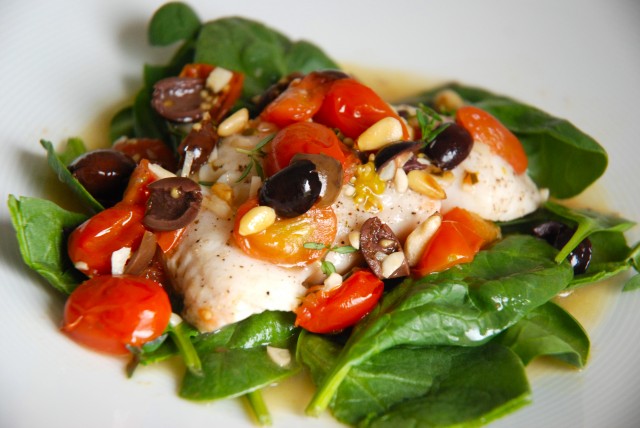 Here is a recipe that I made for dinner last night and am soooo looking forward to eating the leftovers for lunch today.
It is fresh and light yet super flavourful and except for the fish I happened to have all of the ingredients kicking around in the fridge/pantry. You could certainly substitute halibut for the black cod (also known as sablefish), just make sure to slightly increase the cooking time.
This dish is not at all fancy and so simple to make which puts it firmly into the everyday dinner category. Yet, having said that, I think it is so tasty (not to mention pretty) that I would happily make this for a dinner party and serve it alongside some buttery, lemony orzo, some hunks of crusty bread or maybe some quinoa if I was feeling particularly healthy.
The warmth of the thyme-scented tomato broth spooned over the fish and spinach makes this dish perfect for these final, coolish days of spring. Easy comfort food for busy days.
Poached Black Cod with Tomatoes, Olives and Pine Nuts
Adapted, very slightly, from Fine Cooking Magazine April/May 2011.
1 tablespoon extra-virgin olive oil
3 medium cloves of garlic, chopped
1/2 cup of dry, white wine
3 cups of grape tomatoes, halved
1 cup of chicken stock, preferably homemade
1/2 cup of pitted Niçoise olives, cut in half
4x 6 ounce (175 g each) skinless black cod filets
1 tablespoon chopped fresh thyme
2/3 cup of toasted pine nuts
5 ounces (142 g) of baby spinach leaves, washed well
Fine grain salt and freshly ground pepper
In a 12 inch skillet heat the olive oil over medium high heat. Add in the chopped garlic and cook, stirring for about 1 minute. Add in the white wine and simmer until it is reduced by half. Add the tomatoes, the olives and the stock, season with a bit of salt and pepper and allow this mixture to simmer, stirring occasionally for 6 to 8 minutes until the liquid has reduced a bit and the tomatoes are starting to become soft. Check for seasonings and add a bit of salt and pepper.
Season the fish with salt and pepper.
Add the chopped thyme leaves into the tomato mixture and gently stir. Nestle the fish into the sauce, return to a simmer, cover and reduce the heat to medium-low. Poach the fish for 4 to 5 minutes or so until it is just cooked through. Check and adjust seasonings.
In 4 shallow bowls place a handful of the spinach leaves and place a filet in the centre. Spoon some of the tomato-olive sauce over the fish and the spinach and top with the toasted pine nuts.
Serves 4.