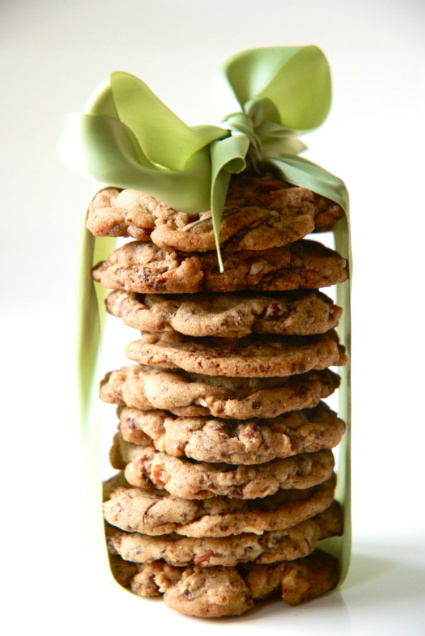 Does the world really need another chocolate chip cookie recipe? Well, I suppose it depends on who you ask and where the recipe comes from. I have been using the same recipe for years and years but when I came across the words "salted butter chocolate chip cookie" in a recipe from sweets master David Lebovitz my heart skipped a beat.
I'm not a big fan of soft, doughy, dinner plate size cookies with overly sweet chips. I like my cookies smaller in size and crisp in texture with chunks of bittersweet or semisweet chocolate and, in a perfect world, a few toasted almonds thrown in for good measure. But even when I had the right mix of my ideal ingredients the cookies were good but never great. So what was missing? The salt! Salt in the butter plus another 1/2 teaspoon in the dough.  However, this additional 1/2 a teaspoon isn't just any salt but Maldon flake salt or Fleur de Sel if you are feeling fancy. The salt makes the rest of the ingredients sing and heightens the overall flavour of the cookie while adding a subtle, extra crunch.
This is my new go-to recipe for chocolate chunk cookies. These cookies may not be for everyone (some people are very sensitive to salt) but if the title grabbed your attention they may, very well, be for you. I love them and both Glen and Max do too.
In fact these cookies now play an important part of a new ritual that Max and I have started to enjoy over the last month. On the few days each week when we don't have any other commitments after school we walk home, shed our jackets and put on the kettle for tea. Max arranges some cookies on a plate and gets things set up for us in the living room. I make the tea and gather the mugs and we each grab a book and we settle onto the couch and spend 45 minutes or so reading together.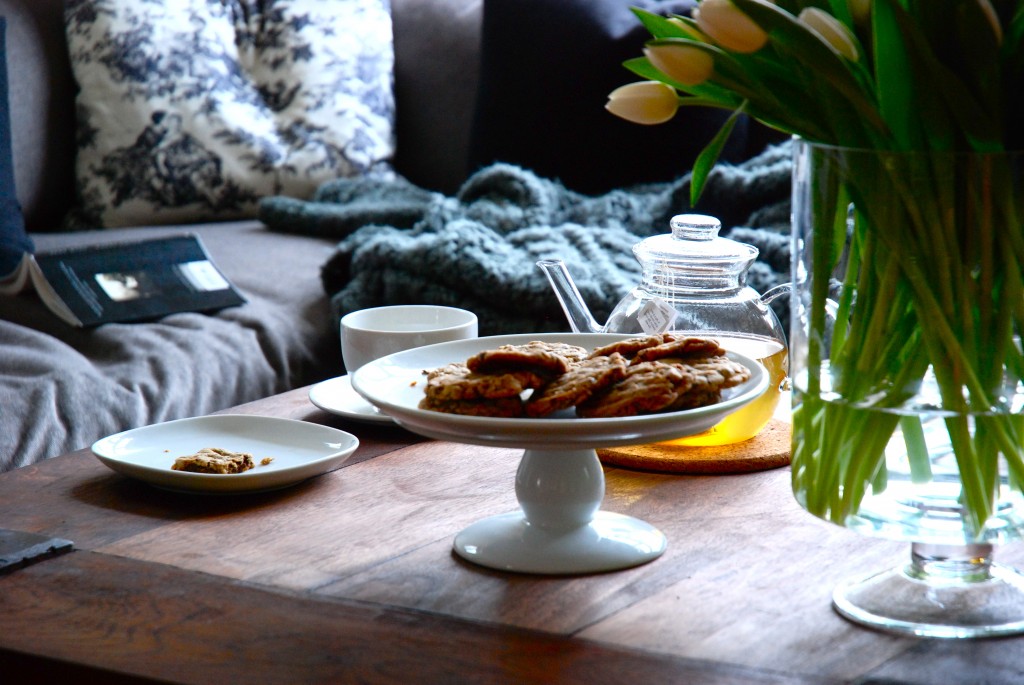 Max is working his way through a series called "The Warriors" about a house cat who leaves his domesticated world behind to become part of a wild cat clan and I am enjoying Patti Smith's memoir "Just Kids".
Max is supposed to read for thirty minutes each night and record it in his reading log for school but has recently discovered the joy of escaping into a story and we often read for longer. After 45 minutes or an hour I will put down my book to head off into the kitchen to start on dinner and Max may start working on his other homework or bring some Lego into the kitchen, perch at the counter, and work on a set-up.  Life goes back to normal and we put our books and the cookies away…
But that time we spend laying on the couch silently reading together is magical. I glance over at Max who is so engrossed by the words on the page, his little mug of tea by his side and a half eaten cookie on his plate and think, what a gift. This boy, this house, this life. A gift.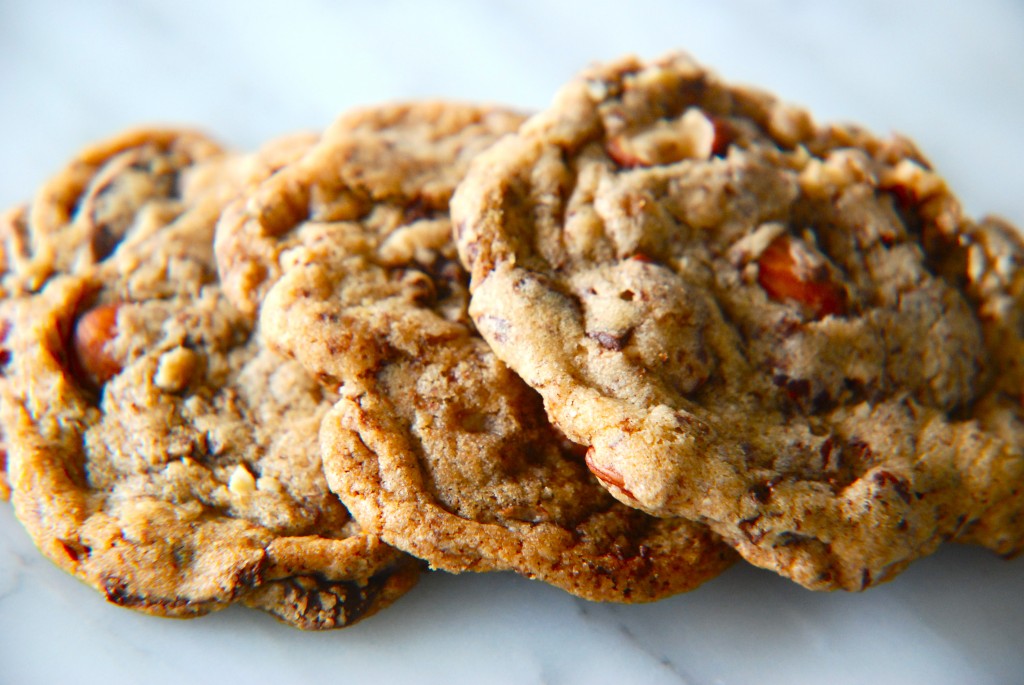 Salted Chocolate Chip Cookies with Toasted Almonds
David's recipe calls for chilling the dough overnight. I did a bit of a taste test, chilling the dough for a couple of hours before baking a batch off and then saved the remaining dough in the fridge overnight and baked them off the next day. The ones that rested overnight did taste more developed and complex in flavour but the ones that just chilled for a couple of hours were pretty good too!
4 ounces (115 g) salted butter, at room temperature
2/3 cup (110 g) packed light brown sugar
1/2 cup (100 g) granulated sugar
1 large egg at room temperature
1 teaspoon vanilla extract
1 1/3 cup (180 g) all purpose flour
1/2 teaspoon baking soda
1/2 teaspoon of Maldon flaky sea salt or Fleur de Sel
1 1/4 cups (180 g) coarsely chopped semi or bittersweet chocolate
1 cup toasted almonds, coarsely chopped
In the bowl of a stand mixer place the butter, brown sugar and white sugar. Beat on medium using a paddle attachment until combined and creamy.
Add the egg and vanilla and beat well.
In a separate, medium bowl gently combine the flour, baking soda and flaky salt/fleur de sel using a whisk. Stir the flour mixture into the butter mixture and beat on low until well combined. Add the chopped chocolate and nuts and continue to mix until these last additions are well incorporated.
In a perfect world, cover and refrigerate overnight. In an imperfect world cover and refrigerate for a couple of hours until well chilled.
To bake, preheat the oven to 350 °F (180 °C) and line a couple of baking sheets with either silpats or parchment paper.
Form the chilled dough into rounds the size of a large, unshelled walnut. Place them evenly space on a tray (I put 9 per tray) and flatten them out with the palm of your hand.
Place in the preheated oven and bake for ten minutes, rotating the trays half way through cooking. At the 10 minute mark the cookies should not be brown when you remove them from the oven. At this point, using a offset spatula, pat down the tops of the cookie which will have puffed up a bit. Return to the oven and cook for an additional 2 to 4 minutes until the cookies are a golden brown.
Remove from the oven, allow to cool for a few minutes on the tray and transfer to a cooling rack.
You can store these cookies in an airtight container for at least a week and the dough can be refrigerated for up to a week or frozen for a couple of months.
Makes 2 dozen cookies.
Recipe (very slightly) adapted from David Lebovitz.