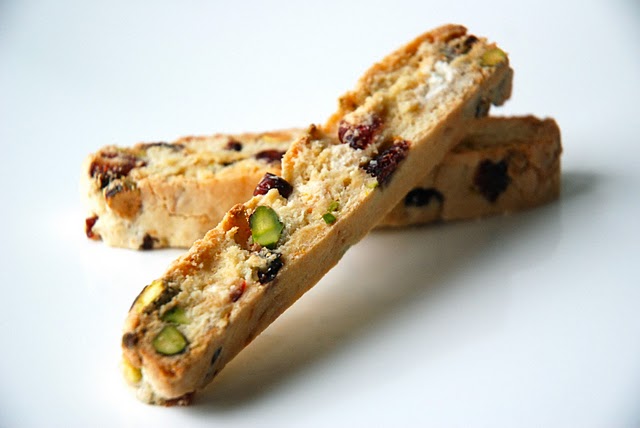 Well, I am leaving for the airport in less than two hours and so I really should be doing stuff like packing my suitcase and cleaning the house and finishing off the laundry… Yet I didn't want to leave for two weeks without saying goodbye and sending off this year with something sweet and seasonal.
Because we are not going to be home in Vancouver for Christmas I didn't do the major baking extravaganza that usually happens around this time. I really love to get together with a few friends and make cookies and chocolate truffles and sea salt caramels to give away to my nearest and dearest. Then there is the major bake sale at Max's school that happens on the last day before winter vacation. They have a little Christmas concert where everyone jams into the gym and sings along with the kids while a couple of the talented teachers strum along on their guitars. They have coffee and juice and a ton of amazing baking and it is one of my favourite fundraisers of the year. I am pretty sad to miss it this year.
I always make these cranberry, white chocolate and toasted pistachio biscotti for the school bake sale and even though I won't be there this year I baked up a bunch of these on Sunday to give out to friends and family. These are great as they last a while and are a nice change from all of that shortbread. Also with the cranberries and the pistachios and the orange zest I can sometimes convince myself they are almost like a breakfast bar and not feel too guilty about eating a couple with my morning coffee.
I am looking forward to being back here in the new year and I have a couple of surprises to share with you too.
Thanks to all of you who have followed along and supported this site over the past year, it has been a really wonderful experience.
Happy, happy holidays and see you in January.
xo J
| | |
| --- | --- |
| | |
Cranberry, White Chocolate and Toasted Pistachio Biscotti
1/2 cup unsalted butter
1 cup plus 2 tablespoon sugar, divided
3 eggs separated
1 1/2 teaspoons vanilla extract
Zest of 1 orange
3 cups all-purpose flour
2 teaspoons baking powder
1/4 teaspoon fine grain sea salt
1 cup of pistachios, toasted and coarsely chopped
1 cup of dried cranberries
1 1/4 cups coarsely chopped white chocolate
Preheat the oven to 325 degrees.
In a mixing bowl cream the butter and 1/2 cup of the sugar until light and fluffy. Beat in one egg yolk at a time and then the vanilla and orange zest.
In a medium bowl combine the flour, baking powder and salt. Add to the creamed mixture and mix until just crumbly.
In a separate bowl beat the egg whites on high until soft peaks form and then beat in the remaining 1/2 cup plus 2 tablespoons of sugar. Beat until stiff peaks form but not to the point of dryness.
Fold the meringue into the crumbly dough, mixing with a spatula until it clings together. Add the chopped nuts, cranberries and chocolate and fold into the dough until well combined.
Divide the dough in half and form into two logs on a floured work surface. The logs should be about 1/2 an inch thick and 12 inches long by 5 inches wide (approximately). Using a long metal spatula transfer the biscotti logs to a parchment lined baking sheet. Both should fit side by side on one sheet about 2 inches apart.
Bake in the preheated oven for 25 minutes or until set and golden brown. Transfer from the baking sheet to a rack and allow to cool for 5 minutes. Then, place on a cutting board and slice each log into 3/4 inch slices.
Turn down the oven to 300 degrees.
Place the slices upright on a baking sheet and return to the oven to bake for another 10 to 15 minutes to dry slightly.
Cool on a rack and then store in a tightly covered container.
Makes approximately 4 dozen.