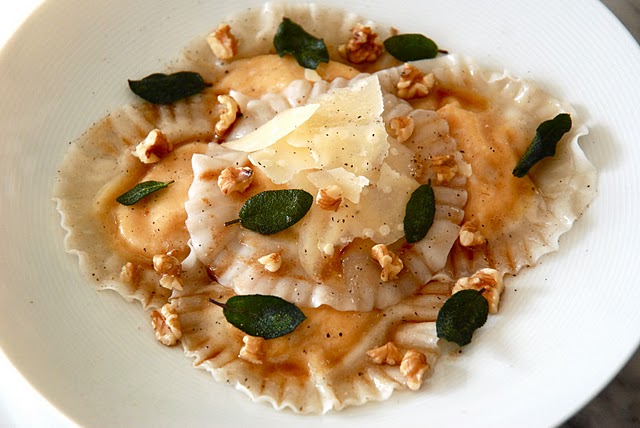 I have been feeling some trepidation about posting this recipe. You see, it has to do with the dumpling wrappers for the ravioli. I can imagine there are more than a few people out there (food purists and true Italians among them) who are thinking "A wonton wrapper?! To make ravioli? Ravioli is not made using a wonton wrapper! Ravioli is made with a pasta fresca all'uovo dough using imported doppio zero (00) flour! Is this a gimmick or some sort of crazy fusion thing?"
I assure you it is not. I never even liked that whole food fusion movement.
And just for the record I have a pretty good relationship with my Grazia pasta maker and generally have access to some great, imported flour and lovely farmer's market eggs. It's just that there are times when I don't have access to special equipment or ingredients and I don't have the extra hour that it takes to make the dough and let it rest and roll it out. To be fair, these wrappers lack the richness of an egg dough but there is a lightness to them and a simplicity that often adds to the overall dish. This truly is one of those occasions where the old saying "it is neither better nor worse, just different" applies.
I also love how when I have demonstrated these at a cooking class people's eyes light up. People who never thought they could make "ravioli" are suddenly excited about potential fillings and the proper way to seal the dough to eliminate air pockets and what sauce will best compliment what filling. Some have even become so enamoured with the process they have graduated on to buying a pasta machine and making a traditional Italian ravioli dough.
| | |
| --- | --- |
| | |
| | |
| --- | --- |
| | |
For these non-traditional ravioli I use a brand of wrapper that are locally made from Double Happiness Foods and they are labelled as Shanghai Dumpling Wrappers. So technically these are dumpling ravioli not wonton ravioli. I prefer to use the dumpling wrappers as they are a bit thicker than wonton wrapper and they are round instead of square. However, I think good old wonton wrappers are far more widely available and I have used these on a number of occasions as well. If using wonton wrappers you may want to paste two of them together (using a pastry brush and some water) to make a double thickness for both the top and bottom layer. This will make them less light but prevent them from bursting when being boiled.  I get my dumpling wrappers at South China Seas in Vancouver but any Asian grocery store will certainly carry wonton wrappers if not the dumpling wrappers.
The ingredient list on these dumpling wrappers is mercifully short with no crazy, unrecognizable ingredients and and they are so easy to work with. Lay them out on a work surface and place a tablespoon of filling in the centre of the wrapper and then brush the edges of the wrapper with water. A second wrapper is placed on top and then you gently run your fingers around the wrapper, pressing out any air and sealing the two wrappers together. Then, if you want to be decorative you can use the tines of a fork to crimp the edges which also ensures a good seal on each ravioli.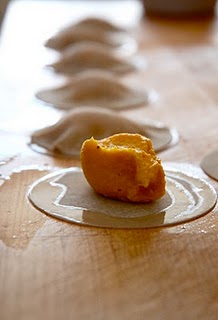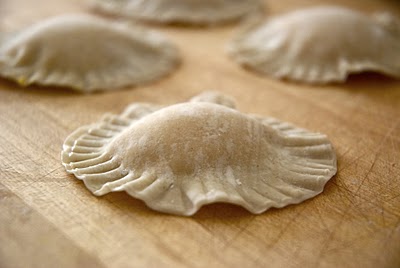 When it comes to the filling we are heading back into more traditional Italian territory. Roasted butternut squash, some mascarpone cheese, Parmigiano-Reggiano and a bit of nutmeg, salt and pepper. This filling is dead simple to make but to achieve a silky smooth consistency it is necessary to push the puréed filling through a fine sieve to remove any lumps. This takes a bit of time and muscle but it's worth it.
This recipe is adapted from a dish that was famously served at the Lumière tasting bar here in Vancouver. Their version was luxuriously sauced with a truffle beurre blanc (if you want that sauce recipe email me and I will pass it along) but for this post I wanted to keep it simple and seasonal. Some browned butter, toasted walnuts (or hazelnuts) and crispy sage leaves says autumn to me. I have served these ravioli at a multi-course dinner party as an amuse bouche (with a single ravioli on each plate) or at a family meal piled on a platter alongside a couple of roasted chickens and a green salad with a mustard vinaigrette. Simple, easy delicious.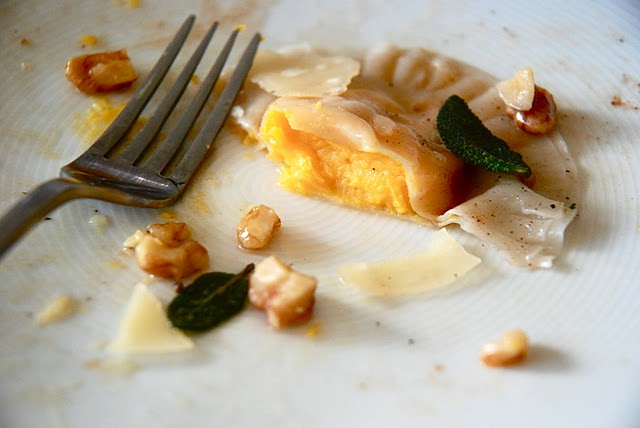 Butternut Squash and Mascarpone Ravioli in Wonton Wrappers with Brown Butter, Toasted Walnuts and Crispy Sage Leaves
These can be made ahead of time and kept frozen. Do not thaw before boiling. Also the ravioli can be cooked ahead of time and reheated by placing in boiling water for 45 seconds.


If using wonton wrappers instead of Shanghai dumpling wrappers you may want to double the thickness of the wrappers for both the top and bottom layer (by pasting two wrappers together using a pastry brush dipped in water) to make these easier to boil them without having them burst. They can be made with a single wonton skin on the top and bottom but take great care when cooking them and removing them from the boiling water as they are far more delicate.
For the filling:
2 butternut squash, (approximately 3 lbs total) cut and deseeded
2 tablespoons of olive oil
Fine grain sea salt and freshly ground white pepper
4 tablespoons mascarpone cheese
1/2 teaspoon ground nutmeg
3 tablespoons freshly grated Parmesan cheese
For the ravioli:
454 g/16 oz package of Shanghai Dumpling Wrappers (you will have some wrappers left over which can be frozen for future use)
For the sauce:
6 tablespoons butter
2/3 cup toasted walnuts
28 g/3 ounces freshly shaved Parmesan cheese using a vegetable peeler
48 medium sage leaves
4 tablespoons of olive oil
Fine grain sea salt and freshly ground pepper
To make the butternut squash filling:
Preheat the oven to 375 degrees. Line a baking sheet with parchment sheet. Place the cut and deseeded squash cut side up and season with the 2 tablespoons of olive oil and salt and pepper. Flip the squash pieces so that they are cut side down and bake in the oven for 34 to 45 minutes or until they are easily pierced with the tip of a sharp knife. Remove from the oven and allow to cool.
Once the squash is cool scoop out the flesh and measure out two cups of the flesh for this recipe. Any remaining can be used in a different recipe or frozen for future use.
In the bowl of a food processor place the 2 cups of squash, the mascarpone cheese and the nutmeg. Purée this mixture until smooth. Remove the puréed mixture from the food processor and press through a fine mesh sieve using a rubber spatula to press the mixture through. This will help remove any lumps.
Add in the Parmigiano-Reggiano cheese and season to taste with salt and freshly ground white pepper. Set aside until ready to use. Can be refrigerated up to a day in advance.
To assemble the ravioli:
Place a wonton wrapper on a work surface and place approximately 1 tablespoon of the butternut squash filling in the centre. Using a pastry brush, dip the brush is a small bowl of water and brush around the outside edge of the wrapper. Take a second wrapper and place on top of the first wrapper and the filling. Gently run your fingers around the outside edge of the wrapper(s), pressing out any air that has accumulated around the filling. Using the tines of a fork, gently press around the perimeter of the ravioli to seal it well. Place this sealed ravioli on a parchment lined baking sheet and set aside. Continue with the remaining wonton wrappers and filling.
Bring a large pot filled with salted water to a boil.
Meanwhile make the crispy sage leaves:
Line a plate with several layers of paper towel and set aside.
Place a small saucepan over medium heat and allow to heat up for a minute or so. Add the olive oil and then carefully add one of the fresh sage leaves. Check to see that you oil is hot enough so that the sage leaf fries in about 5 seconds per side or so. You may need to use the back of a fork to keep the leaf flat and submerged in the oil. After 5 seconds flip the sage leaf over and fry for an additional 5 seconds. The leaves should emerge a bright green with no hint of browning. Remove from the oil using tongs and place on the sheets of paper towel.
Once you have the proper temperature add 4 or 5 sage leaves at a time and cook the remaining leaves in batches. If the leaves are turning brown or cooking too quickly turn the heat down to medium low. Once they are cooling on the sheets of paper towel season with salt.
To make the sauce place the butter into a medium saucepan and heat over medium heat. Swirl the pan to ensure that the butter doesn't burn but cook until the butter turns a light brown colour and gives off a nutty aroma. set aside but keep warm.
When the water is boiling add the ravioli in small batches and cook for 2 minutes or so until the ravioli float to the top. Transfer to a large bowl or cookie sheet and add a little bit of olive oil to ensure that the ravioli doesn't stick together. Continue to cook in batches.
To serve:
Place 4 ravioli on each warmed dinner plate. Spoon the warm brown butter over the top and garnish with the toasted walnuts, shaved Parmesan and the crispy sage leaves. Season with a bit of fine sea salt and a few grinds of fresh pepper. Serve at once.
Makes 26 to 28 ravioli. Serves 6.
Adapted from Lumière Light Recipes from the Tasting Bar by Rob Feenie and Marnie Coldham.
Printable recipe