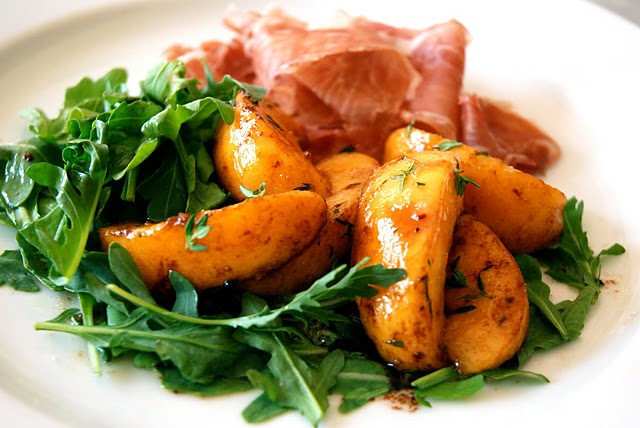 Just a quick post to share what I enjoyed for lunch today. I promise I have plenty of lovely, seasonal recipes to talk about, I just need to find the time to sit and write them out. Soon, very soon.
For now, we continue to enjoy these last, precious days of summer. Swimming in the ocean, barbecuing hamburgers, reading on the deck, picking the suddenly abundant blackberries and making pies, and sorbets and crisps and even a vodka based blackberry cordial. Then there are the peaches! Just picked peaches have arrived from the Okanagan Valley that are so fragrant and ripe and juicy they almost demand to be eaten unadorned while leaning over the kitchen sink.
Some of these beautiful peaches will find their way into a rustic peach and rosemary galette that I am making for tonight's dessert to be served with a scoop of good vanilla ice cream. Since I had a few peaches left over and spied some prosciutto idling in the fridge my mind immediately went to this salad. This is a summer staple around our house and works well for lunch or as a starter for a dinner party. The peaches should be ripe but not too soft and they should be room temperature when they hit the hot pan.
Warm Peach, Prosciutto and Arugula Salad
Make sure that you only put the peaches in the hot pan for 45 seconds or so as they should be warm on the outside but still cool within.
1/3 pound thinly sliced, good quality Prosciutto
1 pound (about 3 medium) ripe peaches, peeled, each peach cut into eight pieces
Fine grain sea salt and freshly ground pepper
3 tablespoons butter
2 teaspoons finely minced thyme leaves
2 1/2 tablespoons balsamic vinegar
4 cups loosely packed arugula leaves
Cut the prosciutto slices in half and arrange on 4 dinner plates.
Place the peeled and cut peach slices in a bowl and season with salt and pepper. Heat a medium sauté pan over medium heat and add the butter. When the butter has melted and begins to turn brown add the thyme, peaches and the balsamic vinegar. This may splatter a bit so stand back. Toss for about 45 seconds and then remove from the heat.
Add the arugula to the pan with the peaches and toss with tongs briefly to coat and the arugula just starts to wilt. Divide the arugula and peaches among the four plates and serve immediately.
Serves 4.
Recipe adapted from Michael Chiarello's Casual Cooking.
Printable recipe