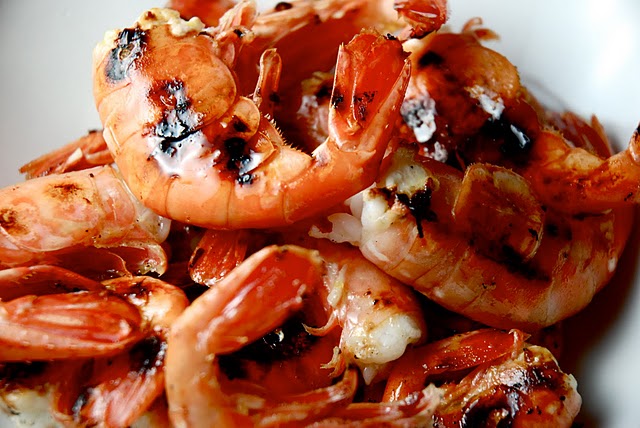 I am just starting to get things packed up and organized as we need to leave the island tomorrow morning. This is the part that always makes me feel a bit sad, the washing of the sheets, going through the fridge, packing away all of the food into bins to keep any critters at bay during our absence.  But it must be done. Glen goes back to work on Monday after a 2 month hiatus and I have some commitments in the city over the next few weeks so it will be back to weekends only up here for the rest of the month.
One of the highlights of this trip and one of the things I will be dreaming about when I get back to the city is this simple dish that is the perfect, summer, hands on appetizer to share with friends over a bottle of chilled white or rosé wine (or beers).
Our friend Morgan made these prawns for us earlier this week and they were, by far, the best spot prawns I have ever had. One of the main reasons these were so good is that they had only been out of the water a few hours before they were marinated and cooked. Morgan is pretty serious about his spot prawns and has the prawn traps, special locations and a secret bait recipe to prove it. He is also pretty passionate about his crab traps but that is another story.
Luckily for me, Morgan was not only happy to share his marinade recipe for this dish but also took me and my Mom out on his boat to pull up a couple of his traps and then generously gave me part of his catch. That gave me the chance to have a go at the recipe myself so that I could share it here.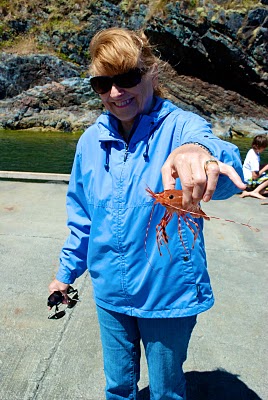 In the end, Morgan's  prawns were a bit better than mine. I am pretty sure this is because he used a hardwood charcoal fire to grill them (I used my grill pan instead), but it might have been that the prawns that Morgan made were enjoyed while sitting outside on a candle-lit deck, on a warm and starry evening surrounded by friends, sipping lovely white wine and listening to the kids happily playing nearby. That is a combination that makes something that is delicious to start with a little more special and taste just a little bit better.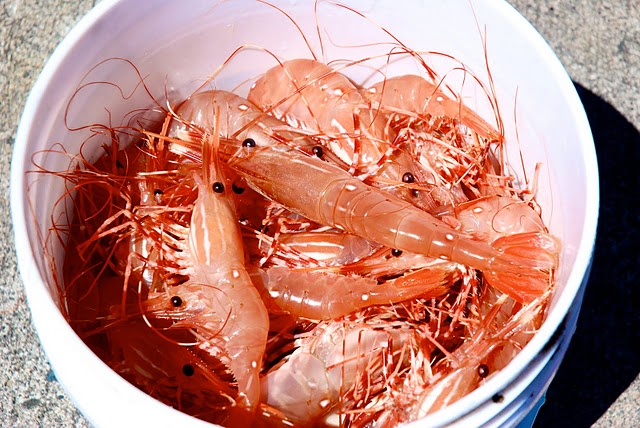 Morgan's Grilled Spot Prawns
These are eaten out of the shell which can be a bit messy but in terms of flavour this is way to go. Just have plenty of napkins to pass around.

40 fresh spot prawns, head removed but shells left on (or any medium size, super fresh prawns/shrimp you can get your hands on)
1 cup dry white wine
3 cloves of garlic, minced
2 teaspoons dried chilli flakes
2 tablespoons honey
3 tablespoon olive oil
juice and zest of one lemon
fine grain sea salt and freshly ground pepper to taste
Whisk together the wine, garlic, chilli flakes, honey, olive oil, lemon juice and zest. Add the spot prawns and stir to coat. Season with salt and pepper. Allow the prawns to marinate, covered and refrigerated for an hour or so.
Heat a BBQ grill (hardwood charcoal if you are Morgan) or grill pan over high heat. Remove spot prawns from the marinade and place in a single layer on the BBQ grill or grill pan. Cook for 2 minutes or so per side and remove from the grill to a bowl. Allow to cool just slightly before serving with lots of napkins and preferably a cold beverage.
Serves 6 as an appetizer.
Printable recipe