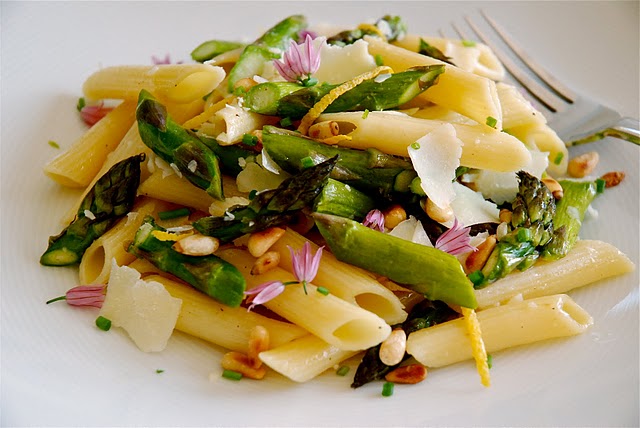 So, I am doing a 12 day detox cleanse. Not that crazy one where all you drink is lemon water with maple syrup and cayenne pepper. I tried that one once but after an hour became so depressed by the thought of no food for 2 weeks I started eating again.
The cleanse that I'm doing is far more sensible in my opinion. You take a few herbal supplements and drink lots of water and eat when you are hungry. You just can't eat anything processed. Or any wheat. Or any type of flour. Or sugar or dairy (except for butter). Or anything fermented. Or any tropical fruits. No wine or any other alcohol.  So what does that leave? A whole lot of brown rice, vegetables, fish, lean meats, whole grains and as many almonds as you can eat.
My Mom thinks I'm crazy but I do this cleanse about twice a year, once in the spring, once in the fall. I find that it acts as sort of a re-set button for my eating habits. I usually lose a few pounds but more than that it makes me think about what I am eating and when and how much. I end up feeling pretty good by the end of the 12 days although I have been known to leap off the deep end and celebrate with a fancy meal at a local french restaurant with plenty of dishes that contain dairy, flour, sugar, fermented things and a few glasses of wine! Not recommended…
I realize that just because I am on a cleanse doesn't mean that anyone else is the least bit interested in it so I promise not to bore you with every brown rice concoction that I happen to be eating.  I may, however, share a couple of healthy recipes that I'm particularly enjoying. Technically, I can even eat a steak with oven frites and grilled asparagus so it's not that bad. And it is only 12 days.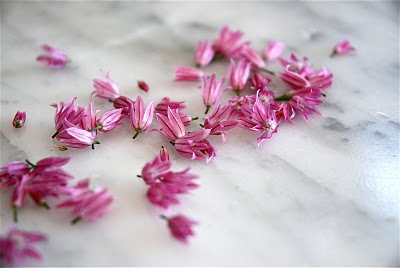 But before we delve into those healthy meals I thought that I would share a dish that I just recently made and know that I will miss for the next couple of weeks. Pasta! I always miss pasta more than anything while on the cleanse, although bread and my morning cappuccino would be a close second and third. And cheese, I also really miss cheese.
Even though this dish isn't cleanse friendly it is pretty healthy. Using wholewheat pasta would make it even more so. It is a great way to use spring asparagus, and here it is roasted to concentrate the earthy flavour. A bit of lemon zest, some toasted pine nuts, chives and some shavings of good parmesan. And some pretty chive blossoms from my garden which add a peppery bite.
Next up: 100 ways to cook with brown rice. Just kidding.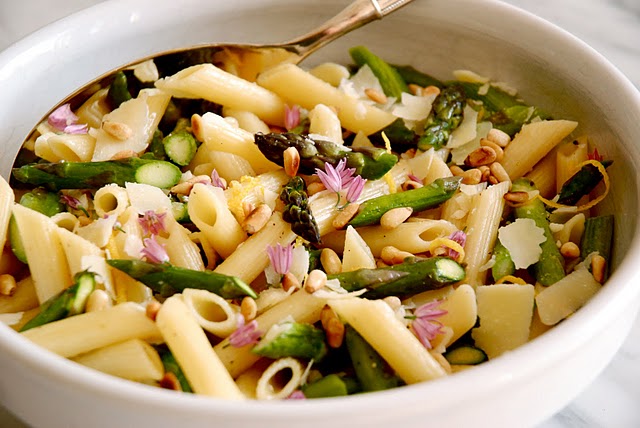 Penne with Roasted Asparagus, Lemon and Pine Nuts
This is great on its own but is also very nice paired alongside a roasted chicken breast with rosemary.
2 lbs asparagus
1-1/2 tablespoons extra-virgin olive oil
fine grain sea salt and freshly ground pepper
1 lb penne or penne rigate
2 tablespoons butter or olive oil
2 ounces Parmesan cheese, shaved with a vegetable peeler or grated
zest and juice of 1 lemon
1/4 cup of pine nuts, toasted
4 teaspoons chives, chopped
chive flowers for garnish, optional
Preheat the oven to 400 degrees.
Snap off the woody bottom of the asparagus stalks and discard (or save in a ziplock bag for an upcoming asparagus soup recipe I'm hoping to post next week). Cut off the tips at an angle and then continue to cut the rest of the spears into diagonal pieces the same size as the tips. Toss the asparagus pieces with the extra-virgin olive oil, salt and pepper. Spread out the asparagus pieces in a single layer on a baking sheet and roast in the oven, tossing occasionally until they start to brown, about 15 minutes (depending on the size of the spears). You still want them to be slightly al dente and not cooked within an inch of their life. Remove from the pan and set aside.
Meanwhile bring a large pot of water to a boil. Once boiling, add salt and penne and cook until al dente, using the cooking time suggest on the package as a guide. Drain, reserving a 1/2 cup of the cooking liquid.
Transfer the drained pasta to a warmed serving bowl. Add the butter or olive oil, lemon juice and zest, asparagus, three quarters of the cheese and salt and pepper. Toss well until the butter melts. If pasta seems very dry add a small amount of the cooking liquid until the right consistency has been achieved. Stir in chives and top with remaining cheese, pine nuts and chive flowers.
Serves 4.
Adapted from Martha Stewart Living Magazine, April/ May Issue 1994.
Printable recipe