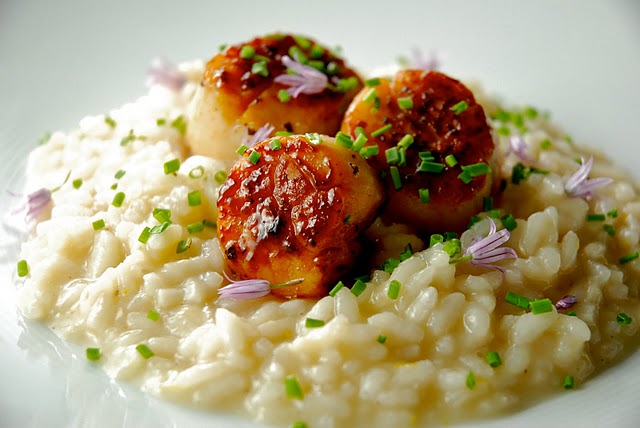 I love risotto. It is a dish that can be enjoyed in any season and is the perfect blank canvas to layer flavours onto, or use up leftovers lurking in the fridge. It can be elegant or rustic. It can be served as an hors d'oeuvre, first course or as a main.
We teach this very simple recipe at a lot of the cooking classes and I'm always surprised by the number of people who are really intimidated to make risotto at home. Lots of people truly believe it is a tricky dish to make, best left to the experts. Funny thing, risotto in Italy is often made by busy cooks at home because it is so easy and quick to make. Once the rice hits the pan it is a mere 20 to 25 minutes until it is ready to be served. And no matter whether you are going to dress it up (with scallops and truffle oil) or down (just lemon and Parmesan) the technique is absolutely straightforward.
| | |
| --- | --- |
| | |
I actually find making risotto relaxing. At the end of a busy day, standing at the stove, a glass of wine in hand, gently stirring ladels of fragrant stock into bubbling rice, chatting with my family about the day. Does risotto need a bit of attention? Sure, but you don't have to hover over it frantically stirring until your arm falls off. A quick, gentle stir every few minutes is all it really needs although I do tend to get hypnotized by the meditative nature of the spoon moving through the rice and have been known to hang out at the stove for the duration of the cooking.
Risotto works as well for a family dinner for 4 as it does for a dinner party for 24. When cooking for large numbers just ensure that you divide it into a couple of pans so that the rice cooks evenly and isn't overflowing the cooking pot. Just recently I made risotto as a first course for 22 people and tried to cook it all in one big(ish) pot. Rookie move!
Choose your rice for risotto carefully. Arborio is widely available and always a good choice. But what about Carnaroli or Vialone Nano? When I inquired at my local Italian market Laura, one of the owners, told me that if she was having her family or friends over she would use Carnaroli rice for her risotto. Carnaroli rice absorbs more liquid than Arborio, resulting in a creamy, flowing risotto. It also offers a longer window between cooked and overcooked and so can be "held" a bit longer. If, however, Laura was having her Italian mother-in-law over for risotto she would choose Vialone Nano rice. This is the choice of most Venetian chefs as it best absorbs the stock and seasonings, is less starchy, less sticky and more creamy. It also produces what is known as a "all'onda" or wavy texture. It is, however, a little less forgiving to cook, easier to overcook than Carnaroli.
For the recipe listed below I have chosen to use a very basic list of ingredients for a risotto that can be flavoured numerous ways. Feel free to experiment. I often switch out the shallots for a stronger onion and add fennel or celery. Pesto can be swirled in at the end or roasted mushrooms or seafood, leftover roast chicken or herbs. A good stock is key here so it is great if you can make your own. I have purchased stock from The Stock Market at Granville Island and that has proved to be a good stand-in for home made.
Final risotto tip: aim for a creamy texture. Risotto should not stick to a spoon in a big lump but have a slightly soupy consistency. Not so soupy that it would slide off a plate, but more creamy-soupy. Before serving, remove the risotto from the heat and add the butter and Parmesan and stir well. This is what the Italians call "mantecatura" which binds the ingredients together to help achieve the desirable creamy texture. After stirring well, place a lid on the pot and allow the rice to rest for a couple of minutes. Serve immediately.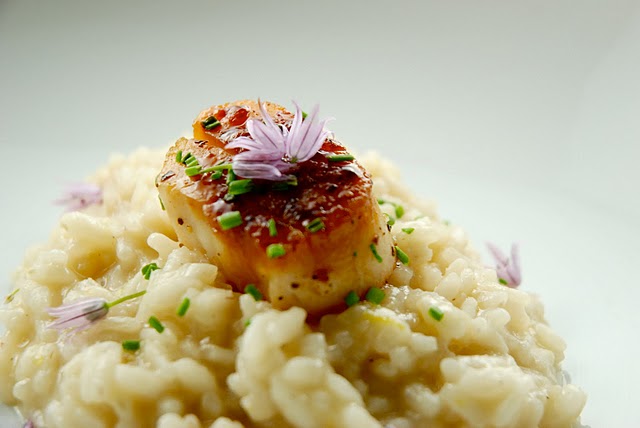 Lemony Risotto with Seared Sea Scallops and Truffle Oil
This will make enough risotto to serve 8 as a first course or 4 as a main course. When I make this as a first course I place one seared scallop atop the risotto per person and for a main course I would do 3 scallops for lunch and 5 scallops per person for dinner. Adjust the number of scallops accordingly.

8 or 12 or 20 sea scallops (see note above)
2 tablespoons olive oil
6 cups chicken stock
1.5 tablespoons of unsalted butter
1.5 tablespoons olive oil
4 garlic cloves, minced
2 shallots, minced
2 cups of Arborio, Carnaroli or Vialone Nano rice
1 cup good white wine ( I used the Babich Sauvignon Blanc from New Zealand)
1/2 cup good Parmesan cheese, grated
1 tablespoon truffle oil
2 tablespoons unsalted butter
1 lemon, zested
salt and pepper to taste
chives, minced with chive blossoms (optional)
Heat the chicken stock and keep warm throughout risotto preparation. Heat  1.5 tablespoons of butter and 1.5 tablespoons of olive oil in a large, heavy saucepan over medium heat. Add garlic and shallots and sauté until translucent. Do not allow to brown as this will impart a bitter taste to the dish.
Add the rice and stir to coat, cooking 2 to 3 minutes. The rice will begin to lightly fry so ensure that you keep stirring it. Add the wine and stir until the liquid is absorbed.
Once the wine is absorbed add 1 cup of the warmed chicken stock and a pinch of salt and cook, stirring gently and regularly until the liquid is absorbed. Continue to add the stock in 1/2 cup increments, stirring until the rice is tender but still al dente. This should take approximately 20 to 25 minutes.
Season the scallops, that have been dried well between paper towels, with salt and pepper. Heat a large sauté pan over high heat and when hot add 2 tablespoons of olive oil. Carefully add the scallops to the pan and sear for 2 minutes per side. Take care not to crowd the pan and don't try to move the scallops while they are searing. Once cooked, remove from the pan and place on a warmed plate. Cover with foil and set aside.
To finish the risotto remove it from the heat and stir in the lemon zest, Parmesan cheese, remaining 2 tablespoons of butter and the truffle oil. Stir well and season with salt and pepper. Cover the pot and allow the risotto to rest for 2 minutes or so.
Divide the risotto between warmed bowls, top with a seared sea scallop (or 3 seared seas scallops or 5 seared sea scallops) and garnish with minced chives and chive blossoms if using. Serve immediately.
Serves 8 as a first course or 4 as a main course.
Printable Recipe