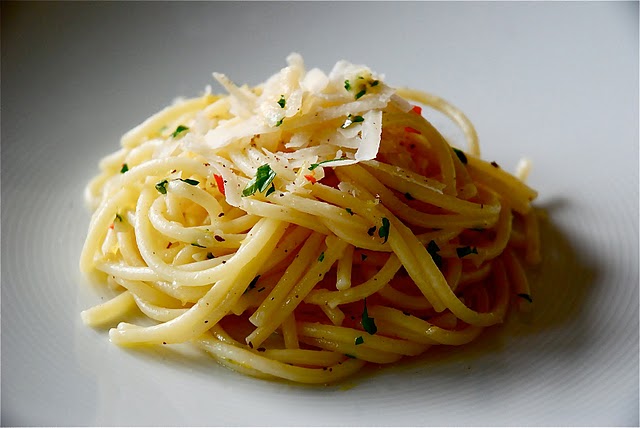 I love this pasta. This is a dish that makes me feel relaxed when I'm cooking it and nurtured when I am eating it. It is one of the simplest pasta dishes to make but also one of the most satisfying. It tastes a bit different every time I make it, depending on my mood, what I have on hand and the substitutions I make. I've made it for a crowd and just for myself and I always seem to have the ingredients on hand. It's just…easy.
Perhaps that is why I love to make this pasta for dinner on Sunday nights. Whatever the day may bring, I know that I will have in my pantry some dried pasta, a head of garlic, olive oil, some chiles, (dried or fresh) a lemon to zest and squeeze, a bit of parsley from the herb garden to mince and a hunk of parmesan to grate. Both Max and Glen love this as well and it feels easy on my mind, conscience and pocketbook.
It is, in fact, a part of our Sunday night tradition. While most families are sitting down to a roast meat dinner (people still do this, right?) we often whip up a big bowl of garlic pasta, make a simple green salad with a sherry/grainy mustard vinaigrette, open a bottle of wine/pour a glass of milk and plop ourselves down in front of the TV to watch whatever catches our fancy.
Last night we watched a hockey game (Vancouver Canucks against the LA Kings) and sometimes we watch an old classic film, or a contemporary family flick.  On more than one occasion we have sat with plates perched on our laps and watched Gordon Ramsey's Kitchen Nightmares while holding our hands over Max's ears during Gordon's swearing rampages. Yikes! Call the parenting police!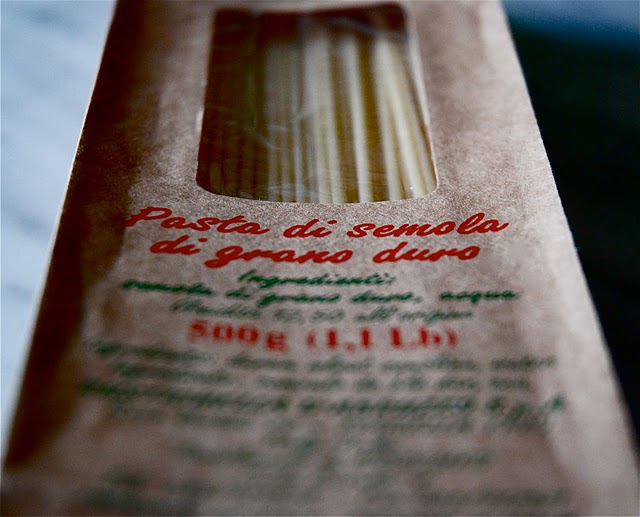 I know that we are supposed to sit around the dining room table and talk about our day etc. and almost every other night we do. But somehow there is something a bit sad about Sunday night with the end of the weekend and the start of school and work and this is our family's little ritual that eases the transition.
Having made this dish so many times I can almost do it with my eyes closed and have never really subscribed to a recipe. Perhaps that is why it tastes a little different each time I make it. Sometimes a bit more spicy as I have opted to use fresh chiles instead of dried, sometimes the garlic is hotter in flavour and sometimes the lemon a bit more tart.
As there are so few ingredients in this dish the quality of those ingredients is very important. Some lovely, plump cloves of garlic, fruity Italian olive oil and a good chunk of crumbly, nutty, real, imported Parmigiano-Reggiano. I shop, cook and serve this dish with love and maybe that's why it's the perfect Sunday dinner for us.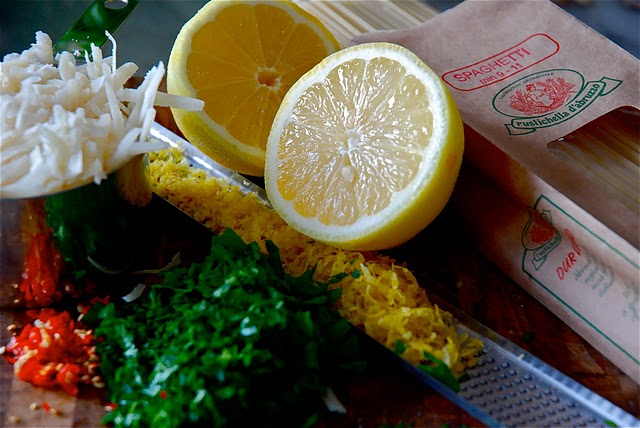 Garlic Pasta
One whole head of garlic may seem like a lot to use but it does mellow considerably when heated gently in the olive oil. Take care not to brown the garlic or the dish takes on a bitter taste.
1 whole head of garlic, cloves separated and peeled, minced
1/2 cup good quality olive oil
1 lb (approx 500 g) good quality dried pasta
3/4 teaspoon of hot red pepper flakes, or more to taste
1/4 cup chopped flat-leaf parsley
zest and juice of one lemon
1/2 cup of freshly grated Parmigiano-Reggiano cheese plus more for passing
fine grain sea salt and freshly ground black pepper to taste
Put on a big pot of water to boil.
When the water comes to a boil add 1 tablespoon of salt and add the pasta to the boiling water. Stir well to separate the noodles and cook until al dente (9 to 11 minutes).
While the pasta is cooking, put the olive oil in a heavy-bottomed,  medium sized skillet. Add the garlic and red pepper flakes and cook over low heat, stirring occasionally. You are just gently warming the garlic, allowing it to become golden and mellow, yet complex in flavour. This can only be achieved with very low heat and by not allowing the garlic to brown at all.
When the pasta is al dente reserve 1/4 cup of the cooking liquid drain the pasta in a colander. Do not rinse the pasta.
Transfer the drained pasta to a warmed serving bowl and add the garlic and olive oil mixture from the skillet. Zest the lemon and add to the hot pasta along with the juice of the lemon, parsley, salt, pepper and Parmesan cheese. If the pasta seems a bit dry add a small amount of the reserved cooking water. Check and adjust seasonings.
Serve at once and pass the additional Parmesan cheese for sprinkling on top.
Serves 4 to 6.
Printable recipe