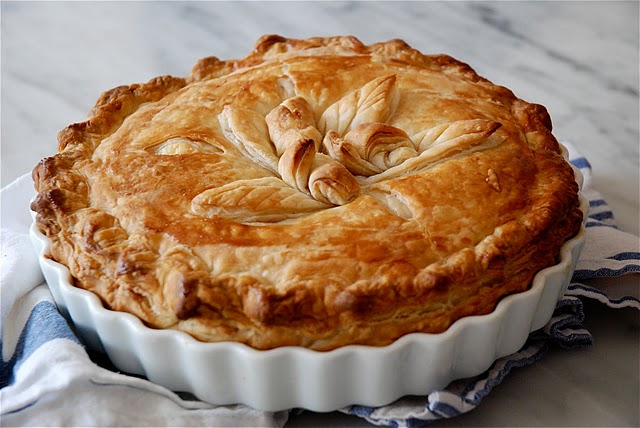 When my son Max was born I asked my Mom, as a new grandmother, what she wanted to be called. Grandma, Gram, Granny, Nana? She decided that she would bypass all of the usual favourites and go with Abuela. Huh?


Abuela is Grandmother in spanish. My folks do live half of the year in Mexico (my Dad hates the cold and the rain) but fluent spanish speakers they are not. I thought it seemed a strange choice but she would not be deterred. Fast forward two years later to when Max is learning to talk. One day he looks at my Mom and points and declares, with absolute conviction, "Boss". Uh oh.


My Mom (like her own Mother and her daughters as well) is known for being a wee bit bossy and so I wondered how this might be taken. But my Mom beamed at her one and only grandchild and happily accepted her new moniker. She has been known as Boss ever since.


This weekend Boss and Pa (my Dad) arrived home from Mexico a week earlier than planned and so were able to join us for a friends and family Easter brunch. We had 16 of our nearest and dearest crowded around the table eating and drinking and laughing and talking.
| | |
| --- | --- |
| | |
| | |
| --- | --- |
| | |
The star of the brunch buffet was this breakfast pie which is a recipe that is passed down from my Mom. She is unsure as to where she first got the recipe but we have made this countless times and passed it along to many friends.  It is relatively easy to make, especially if you buy the puff pastry, and infinitely adaptable. Today's version had leeks and Gruyère cheese but the classic recipe calls for back bacon, cheddar and green onions. I will list that version below.
We rounded out the menu with breakfast sausages, fruit salad, roasted potatoes, some smoked salmon, bagels and cream cheese and a fresh fruit pavlova that my mother-in-law Anneliese made. And a whole bunch of chocolate eggs…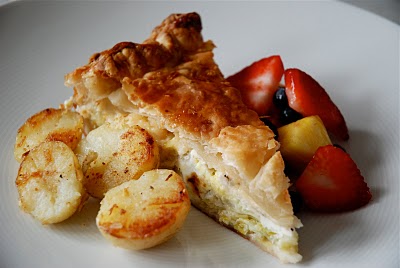 I am sure this would be amazing with homemade puff pastry and one day I will endeavour to make some but this is a snap to make with store bought puff. I get pre-rolled sheets from Gourmet Warehouse in Vancouver that are made by a local company named Essentials. Unlike certain puff pastry on the market this one has a small list of ingredients all of which I can pronounce!

2 pre-rolled sheets of puff pastry (400 gr each) or 1-14 oz box frozen puff pastry
1/2 lb (225 gr) back bacon, thinly sliced
10 large eggs plus 1 egg for egg wash
4 scallions (green onions), thinly sliced
1 cup grated sharp cheddar
Fine grain sea salt and freshly ground pepper
Pinch of cayenne (optional)
Preheat the oven to 400 degrees F and position rack in centre of oven.
On a lightly floured surface roll out one sheet of puff pastry large enough to line a 9 inch quiche pan. The dough should be rolled out large enough to allow it to extend over the sides of the pan. Place half of the thinly sliced ham on top of the puff pastry.
Break the 10 eggs directly on top of the ham and using a fork draw the tines through each of the egg yolks, "puncturing" the yolks but not actually mixing the yolks and white together. Season well with salt and pepper and the pinch of cayenne if desired.
Sprinkle the thinly sliced scallions on top of the eggs, followed by the grated cheese. Top with the remaining slices of ham.
Roll out the second sheet to fit on top of the tart. Take the remaining egg and add a bit of water and whisk with a fork to create an egg wash. Using a pastry brush, brush the outer edge of the pastry that is overhanging on the pie and place the second piece of rolled out puff pastry on top. Trim the excess pastry and then pinch together the two sheets of puff to create the outer crust. Reserve scraps to use as decorative pastry leaves that can be used on top of the tart.
Use remaining egg wash to brush on top of the tart. Make three slits in the top on the dough to allow the steam to escape.
Bake in the preheated oven for 30 minutes or until the tart is golden brown. Can be served hot or at room temperature.