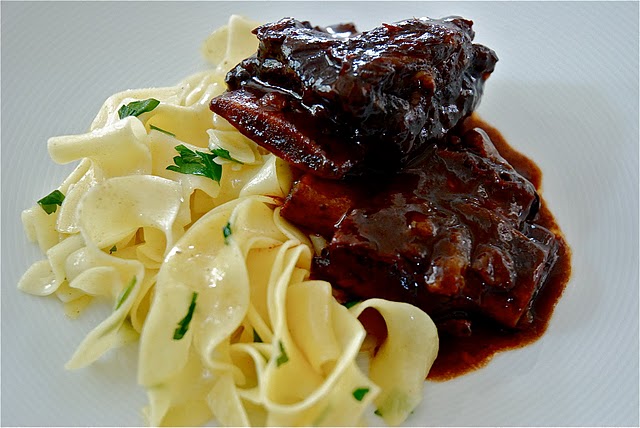 Here is the recipe that I promised a couple of days ago. I wanted to send this off this morning as my computer is sick and needs to be taken in to Mac Station this afternoon. The problem has something to do with the hard disk failing (or something like that) and so I have no idea exactly how long I will be computer-less. The whole thing makes me a wee bit anxious, kind of the same way flying does. I am, sadly, going to really miss my time looking up blogs and researching recipes and writing posts and spending hours noodling around online. I feel a bit pathetic about the whole thing, missing a computer and all. Perhaps I need to repeat the Monday morning tea bag wisdom mantra of "to be calm is the highest achievement of the self". Or perhaps I need to pry my fingers OFF the keyboard and get my sad, sorry ass outside and start working in my neglected garden…
Hopefully, I will be back soon. Wish us luck.
Braised Red Wine Beef Short Ribs
Braising is wonderful as it requires patience rather than precision. Spend a bit of time chopping vegetables and browning the meat and then add some aromatics and wine/port/balsamic/stock. All that is left is to patiently wait for it to become meltingly tender in a low oven for hours while it fills your house with the most amazing aromas. And the best thing is that this dish benefits from a rest overnight and so can be made the day before serving.
6 lbs beef short ribs cut into 4 cm lengths
Fine grain sea salt and freshly ground pepper
6 tablespoons olive oil
1-1/2 cups coarsely chopped onions
1-1/2 cupspeeled and coarsely chopped carrots
4 shallots, peeled and sliced 1/4 inch thick
6 garlic cloves peeled and halved
2 tablespoons tomato paste
2 tablespoons all purpose flour
4 cups full bodied dry red wine
1/2 cup of port
1 cup balsamic vinegar
8 cups beef stock
6 sprigs of thyme
2 sprigs of rosemary
1 bay leaf
Preheat the oven to 325 degrees F.
Trim off and discard any excess fat from the short ribs and season well with salt and pepper.
Heat the oil in a large Dutch oven over hight heat and sear off the short ribs in batches. Be sure not to overcrowd the pan and sear until brown on all sides, 5 to 7 minutes. Transfer to a platter and set aside.
Pour off all but 2 tablespoons of fat from the pan and lower the heat to medium. Add the carrots, onions, shallots and garlic and sauté until the onion is soft and light brown, about 5 minutes. Stir in the tomato paste and cook for 2 minutes. Add the flour and stir well to combine. Add the port, wine, balsamic, bay leaf, thyme and rosemary. Add the beef ribs and the stock, cover, and bring to a gentle simmer. Transfer to the preheated oven and cook for 3 hours or until the meat is fork tender.
Remove ribs to a platter and skim any fat from the surface of the sauce. Strain through a sieve to a medium saucepan. Discard the solids. Reduce the reserved liquid until it coats the back of a spoon 20 to 30 minutes.
Return the ribs to the pot and simmer with the sauce for 10 minutes to reheat. Serve with buttered noodles, mashed potatoes, or even wild rice.
Serves 6.
Printable recipe