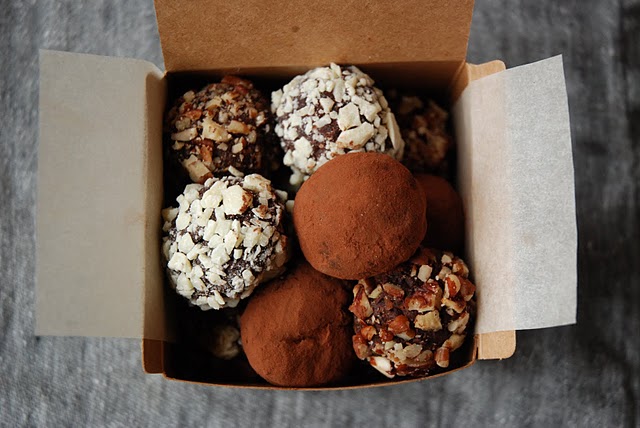 Valentine's Day is right around the corner and so this seems the perfect opportunity to pass along a recipe for the occasion. I love the idea of a homemade treat for your sweetheart and while these truffles look impressive they are about as difficult to make as baking a batch of cookies.
It all starts with a basic ganache and I've listed a recipe from Ina Garten's Barefoot in Paris cookbook below. There are, however, infinite variations on this basic truffle theme. Grand Marnier can be swapped out for Framboise or your favourite liqueur, herbs and spices can be added (think cayenne, cardamom, ginger, finely ground Earl Grey Tea or Chai)  and the formed truffles can be rolled in cocoa, confectioners sugar, toasted nuts, white chocolate, sanding sugar…
Okay, so here comes the recipe but before we get there I just wanted to share a sweet snippet of news. It felt a bit like an early Valentine's gift.
When I was working on this post yesterday I discovered that I had two new comments from my last post. The exciting thing is these two comments are from complete strangers! Not from my Mom and Dad or my sister Lisa, (who not only encouraged me to do this blog but who refused to let me got to bed one night until I had successfully set up my blogger account) or my friends (many of whom I gently hounded to sign up as followers) but from real live people that I have never met!
I'm thinking that the word "stranger" sounds a bit sinister so I would like to introduce Brahm and Colleen and say thanks for making my day.
Maybe now my Mom, who never leaves a comment yet is quick to remind me that "it's about time to get another post up there" may even join in.
Happy Valentine's Day!
Chocolate Truffles
I use blocks of Callebaut chocolate which I just shave off into pieces using a sharp knife. Valrhona blocks and Lindt chocolate bars are also good choices but try to stay away from chocolate chips as they often contain stabilizers which gives them a different consistency than blocks or bars.
7 ounces good semisweet chocolate
7 ounces good bittersweet chocolate
1 cup of heavy cream
3 tablespoons of Grand Marnier liqueur
2 tablespoons of prepared coffee (I use a shot of espresso here)
1 teaspoon good vanilla extract
For coating the truffles:
chopped white chocolate
chopped toasted pecans (or walnuts or pistachios or almonds)
cocoa powder
Chop the chocolate finely and place in a glass bowl.
Heat the cream in a small saucepan until it just begins to boil. Immediately pour the cream over the chopped chocolate and stir well with a whisk. If you find that you still have some lumps of unmelted chocolate (perhaps your milk wasn't quite hot enough or you chunks of chocolate a bit too big) you can pop the bowl into the microwave for 25 seconds. Remove and stir well again and repeat if needed until your chocolate is completely smooth.
Add the liqueur, coffee and vanilla extract and stir to incorporate. Cover with plastic wrap and refrigerate for at least an hour or until the chocolate is firm enough to scoop. I have even left the chocolate overnight. This makes it a bit more challenging to scoop out the truffles but still works well.
Using a 1 1/4 inch ice cream scoop, dig out small dollops of the chocolate mixture and place on a cookie sheet. I use one of those spring loaded mini ice cream scoops which easily pops the chocolate balls right out. In a pinch you could just use a couple of spoons. Refrigerate for 15 to 30 minutes until firm enough to roll into balls using the palms of your hands.
If you find that the chocolate is really sticking to your hands after rolling 7 or so truffles, wash your hands and dry them well and continue. Once all of the truffles have been rolled into shape they can be rolled into the coating of your choice.
Serve chilled or at room temperature.
Makes 40 truffles.
Adapted from Ina Garten's Barefoot in Paris cookbook.
Printable recipe