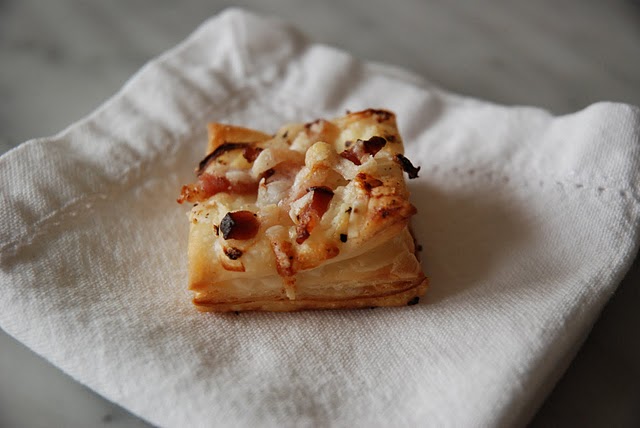 Here is the recipe for the Alsatian tarts that we made at the class last week. It is one of the signature hors d'oeuvres that we serve at many of the events and also works well as an elegant first course when topped with a mâche salad dressed with truffle vinaigrette. It can also be made as one large tart which travels well and is perfect for a picnic. It is based on a recipe by Rob Feenie from his Lumière cookbook.
The great thing about this recipe is that it can be made hours ahead of time, covered and refrigerated and then popped in the oven just before your guests arrive filling the house with the rich scent of bacon and cheese. It pairs beautifully with a Pinot Gris from Alsace.
Alsatian Onion and Bacon Tart
1 10 x 13 inch pre-rolled puff pastry sheet or 1/2 a package frozen puff pastry, thawed
2/3 cup fromage frais or Quark cheese
pinch of nutmeg
3 strips of bacon, cut into thin batons
1/2 medium onion, sliced very, very thing
1/4 cup Parmesan cheese, coarsely grated
fine sea salt and freshly ground black pepper
On a lightly floured flat surface, roll the pastry to 1/8th of an inch in thickness. Cut into disks (approx. 5 inches) or squares (approx. 2 inches) or leave as a rectangle that will fit on a 16 x 12 inch baking sheet.
Place on a parchment or Silpat lined heavy baking sheets.
Using an offset spatula, spread a small amount of the fromage frais or Quark onto the puff pastry. Ensure  that the pastry is cool or even cold to facilitate the spreading of the cheese.
Scatter with the onion slices and bacon and sprinkle with Parmesan cheese. Season with salt, pepper and nutmeg to taste. Chill until needed.
Preheat the oven to 400 degrees and bake the tart or tartlets for 20 minutes or until golden brown. Serve warm.
Makes 42 – 2″ square tartlets, 6 – 5″ round tarts (for a first course) or 1 – 16 x 12 inch large tart
Adapted from the recipe "Alsace Tarte Flambée" from Rob Feenie's  Lumière cookbook.
Printable recipe