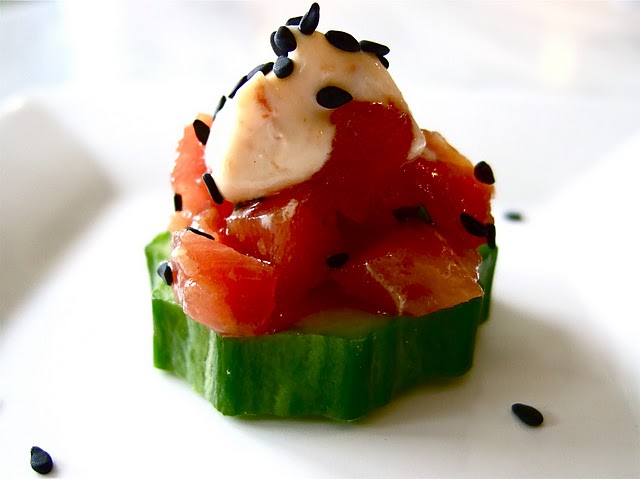 Welcome to the First Annual 12 Days of Canapés at Kitchen Culinaire!
January 4th will be my one year anniversary hosting this site and so this is my very first holiday season.  I have been thinking about something I could do that would be fun and special and seasonal and perhaps even helpful for those of you who are frequent visitors here…
On a number of my favourite sites I have seen "12 days of cookie recipes", "12 days of Giveaways" or a "12 Day Gift Guide" but what I need is some help with getting through all of the upcoming cocktail parties, pot luck dinners and recipe exchanges. Having a few good hors d'oeuvre recipes up your sleeve can literally save your bacon during this frenzied season. In fact, inviting over some dear friends, opening up a bottle of sparkling wine (or two) and serving a few well chosen canapés may one of most relaxing and enjoyable ways of entertaining regardless of the time of year.
So, for these first 12 days of December I will post a recipe each day for a canapé with an accompanying photo. I will try to keep my chit chat to a minimum. I may have to reach back for a recipe or two from the last year but most of the recipes presented will be new to this site. I may even throw in a wine pairing or two. I would love to hear from you if you have a favourite canapé recipe that you would like to share! Happy holidays.
Suggested wine pairing: A sparkling rosé really works well with the asian flavours in this hors d'oeuvre. This Crémant from Alsace is one of my favourites but really any sparkling wine would be lovely here.
Lucien Albrecht Brut Rose, Alsace, France – 12% alcohol N/V – 100% Pinot Noir – $29.99
Tuna Tartare on Cucumber Rounds
You want to buy a sushi quality tuna for this that is very, very fresh. I also buy mine a day before I am going to use it and then freeze it for 24 hours in the coldest part of my freezer or deep freeze. This will kill any fish parasites that may be present (it will not kill any potential bacteria though) and as an added bonus it makes it easier to cut into uniform size cubes if you cut it while it is still frozen.
Also, you are going to want to seek out an Atlantic, wild, pole or troll caught Yellowfin (aka Ahi) tuna in order to support ocean sustainability.
1 pound very fresh Yellowfin/Ahi tuna, cut into a 1/4 inch dice
3 tablespoons finely chopped fresh chives
2 tablespoons sesame oil
1/4 cup tamari or low sodium soy sauce (for this recipe to be gluten free you MUST use a gluten free tamari and NOT soy sauce)
2 tablespoons rice wine vinegar
1/2 teaspoon of fine sea salt
1/4 teaspoon freshly ground black pepper
1/4 cup homemade or good quality purchased mayonnaise (like Hellmann's)
2 teaspoons Thai red chili paste (I use a brand called Namjai)
2 Japanese cucumbers
1 teaspoon toasted black sesame seeds
Slice the cucumbers into 1 inch slices and set aside.
In a medium bowl combine the mayonnaise with the chili paste and using a fork combine well. I then transfer the spicy mayonnaise into a small sandwich ziplock bag and refrigerate. When I ready to top each canapé with the small dollop of mayonnaise I simply cut off one of bottom corners and then use the sandwich bag as a mini piping bag. You could of course just leave the mayo in a bowl and use a small spoon to add the dollop of mayonnaise.
In another medium bowl combine the tuna, chives, sesame oil, soy sauce, vinegar, salt and pepper. Cover tightly and refrigerate until ready to use. You can make this a few hours ahead of time or at least 30 minutes before serving.
Place your cut cucumber slices on a serving platter. Using a small spoon place 1 heaping teaspoon on top of each cucumber slice. Add a small dollop of the spicy mayonnaise and then top with a sprinkling of the toasted sesame seeds.
Makes 4 dozen.
Recipe adapted from Martha Stewart's Hors D'oeuvres Handbook.
Printable recipe