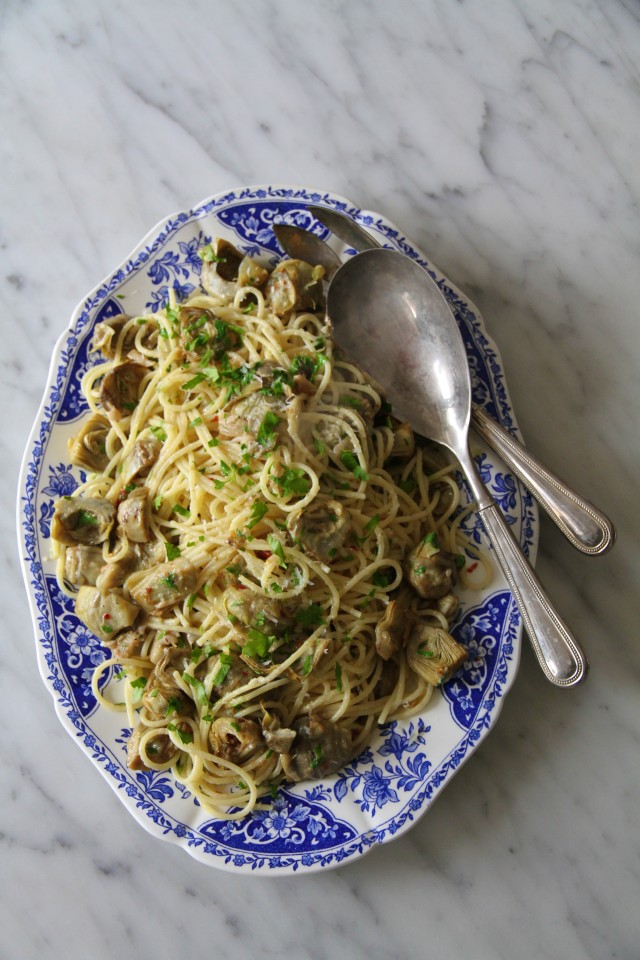 Hello again. It has been a busy few weeks with classes and supper clubs and especially with the planning of our upcoming culinary tour in Puglia!
Things are really starting to come together and we have been working hard on the 8 day itinerary which I am very, very excited about. Trips to local bakers to learn the art of making a true Altamuran loaf (the only D.O.C. bread in all of Europe), pasta making workshops, wine tastings and visits to local vineyards to see the vines and talk to winemakers. There will be plenty of time for informal, hands-on cooking classes in the Masseria La Selva kitchen to learn the simple, authentic, vegetable based cuisine of southern Italy. Long, leisurely outdoor lunches, picnics at the beach and exploring the art and cultural scene in nearby towns of Gravina, Matera and Alberobello. I am so excited to go back to Puglia and introduce our group to the beauty of the landscape, the amazing people and culture, the incomparable food and overall magic of this very special place.
If you would like any additional info about our September tour please email us at events@kitchenculinaire.com We currently have 5 spots remaining.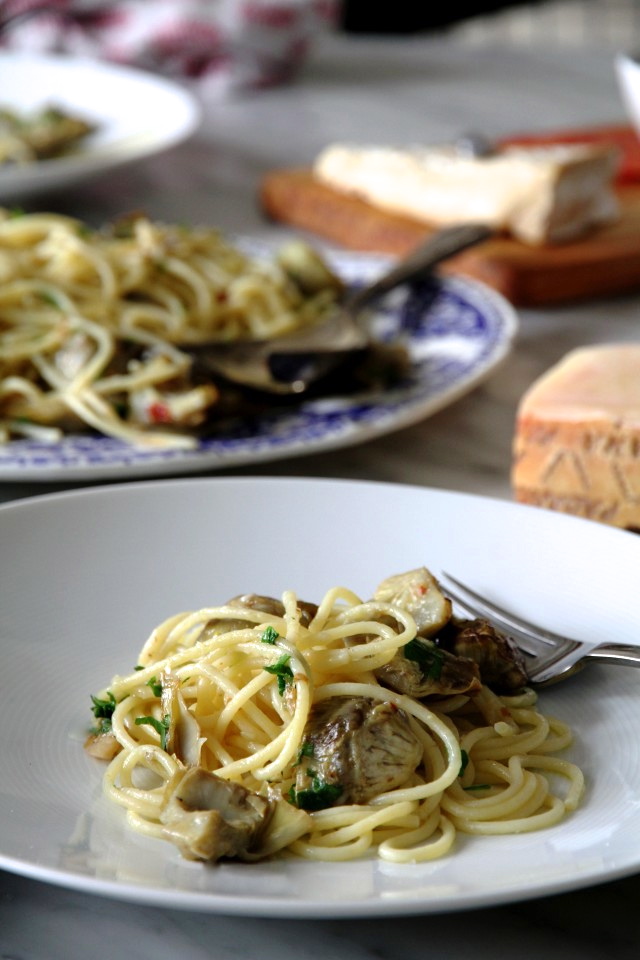 Also in the works is an opportunity for me to spend three weeks in France, just outside of Toulouse, cooking for an art restoration workshop. The food in that region is some of my favourite in all of France. Think duck confit and cassoulet and garbure and Toulouse sausages. I will be posting more about this adventure in the coming weeks, especially as I spend more and more time in my kitchen testing recipes and planning menus. So many ideas are swirling around in my head right now and I can't wait to translate them into recipes one dish at a time.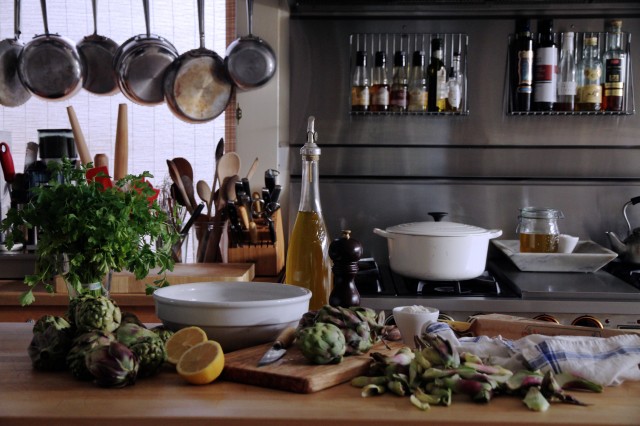 Before I head back culinarily to France I wanted to leave you with a recipe that reflects all of the recent focus on bella Italia. This dish is decidedly Roman but artichokes are found all over Italy and beloved in the south as well. A simple dish that is perfect when the first baby artichokes start showing up at the local greengrocers as they recently have in my neighbourhood. A jumble of artichokes placed in a bowl or on a pedestal platter on the kitchen counter is just so beautiful to my eye. So much more beautiful than a bouquet of flowers.
As I pass by them over the course of a day or two or three I dream about what they will become. A soufflé with a bit of Gruyere? Sautéed with some garlic and pancetta to serve alongside a roasted chicken? Sliced very thin and served raw as a salad dressed with good olive oil, lemon juice, Parmigiano and celery, or as a tapenade with rosemary oil to spread on toasted bread. But honestly, this slightly spicy, garlicky pasta that gets a hit of saltiness from the Pecorino cheese is my go-to and very favourite way to feature the humble, yet beautiful artichoke. Let me know if you agree…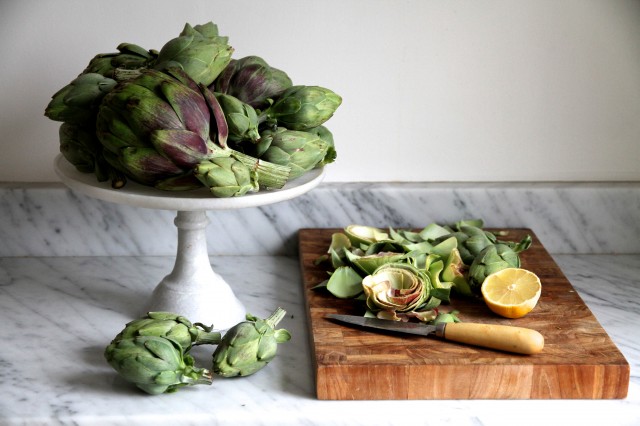 Spaghetti with Artichokes
Recipe is adapted from Franny's: Simple Seasonal Italian by Andrew Feinberg, Francine Stephens and Melissa Clark
10 – 12 small artichokes, trimmed and cut in half or quarters and placed in a bowl of acidulated water
3/4 cup of extra-virgin olive oil, plus more for drizzling
8 cloves of garlic, peeled and thinly sliced
Fine grain sea salt
1/2 teaspoon chili flakes (or more to taste)
1/2 cup of water
1 lb (454 g) spaghetti
1/2 cup chopped flat-leaf parsley
4 tablespoons finely grated Parmigiaino-Reggiano
1 tablespoon butter
Freshly cracked black pepper
2 tablespoons finely grated Pecorino Romano, plus more if desired
In a very large skillet warm the olive oil over medium-high heat. Add the artichokes and season with salt. Cook until the artichokes are starting to brown, about 5 minutes and then add in the garlic. Cook for another minute or two until the garlic is golden around the edges and the artichokes a little soft and nicely browned.Add the chili flakes and cook for 1 minute. Add the water and let simmer until the artichokes are very soft, about 2 minutes. There should be some liquid remaining in the pan. Remove from the heat.
Meanwhile, in a large pot of well-salted boiling water, cook the pasta according to the package directions, until it is 2 minutes shy of al dente. Reserve 1/4 cup of the pasta water and then drain. Set reserved pasta water aside.
Toss the spaghetti into the skillet with the artichokes. Add the parsley, Parmigiano, butter and pepper and cook until the pasta is just al dente about 1 to 2 minutes. Add a bit of the reserved pasta water to the sauce if it seems dry.
Divide the pasta among four warmed plates or bowls and finish each with a drizzle of olive oil and a sprinkling of the Pecorino Romano.
Serve at once! Serves 4.