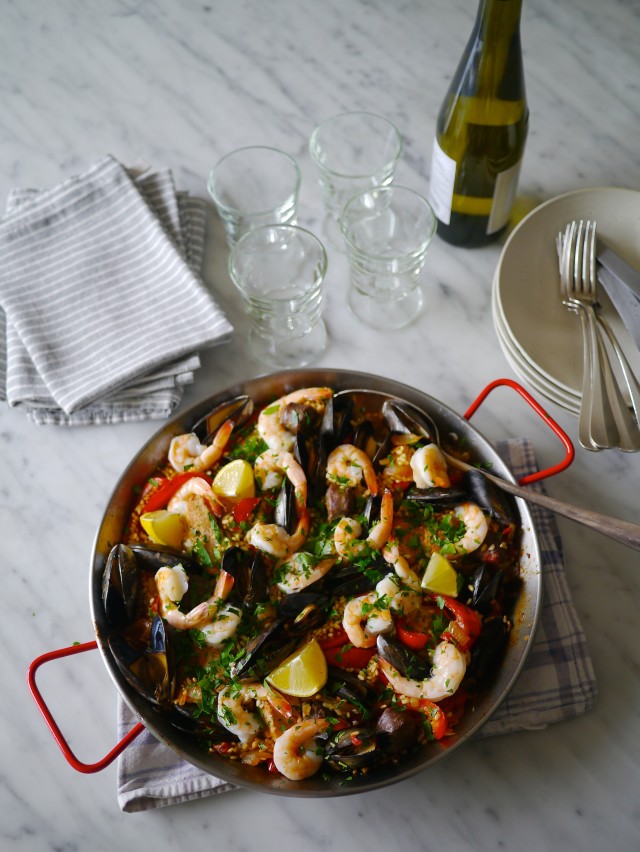 A Menu for July
Trout Rillette on Toasts with Green Salad Vinaigrette
Paella
Summit Blueberry Tarts
I just arrived home from our three weeks in France where my business partner and dear friend Sarolta and I cooked our hearts out for the Messors Decorative Art Restoration that was held at the inspiring Chateau de Gudanes. As always, I was hoping to have this post up before now but between preparing the kitchen, sourcing ingredients and then cooking for a truly wonderful group of participants who attended this workshop the time for blogging slipped away and so here we are.
I will be sharing my photographs and some thoughts from our time in the Pyrenees in the coming week but first, here is a menu that I worked on with my seasonal menu project collaborator Diane, of Nourishing Vancouver, which is perfect for the summer weather we are finally enjoying here in my home town. Happy to be home and cooking again in my Vancouver kitchen!
I prepared our first course for this menu while I was working at the Chateau with local trout, both fresh and smoked, and used the delicious French demi-sel butter along with some herbs and lemon. Easily made ahead it was wonderful spread on pieces of a toasted, rustic bread filled with seeds and nuts and organic flour made by a local woman Marianne who truly bakes her bread with love and care. All that was needed to accompany it was some salad greens dressed in a simple mustard vinaigrette.
| | |
| --- | --- |
|                                        | |
While I was still in Vancouver I made the paella. This is not something that is in my regular repertoire but suggested by Diane and I was so glad for this inspiration! Making paella is very straightforward and the perfect dish to make for a mid-week dinner for family or for a celebratory meal for a large group. In doing some research on this dish from the province of Valencia in Spain I came to understand there are as many versions of paella as there are people who make it. Purists call for it to be made with only chicken and rabbit, perhaps snails, never seafood, and only with a very specific type of rice, Calasparra to be precise. In the end the main focus should always be on the rice and how to cook it to achieve the much sought tender texture and the crispy crust on the bottom, known as socarrat, that is the hallmark of what is ultimately a very versatile dish. I did add seafood and chicken and sausage, seasoning the rice with saffron and pimentón. It may not be entirely traditional but the results were truly delicious.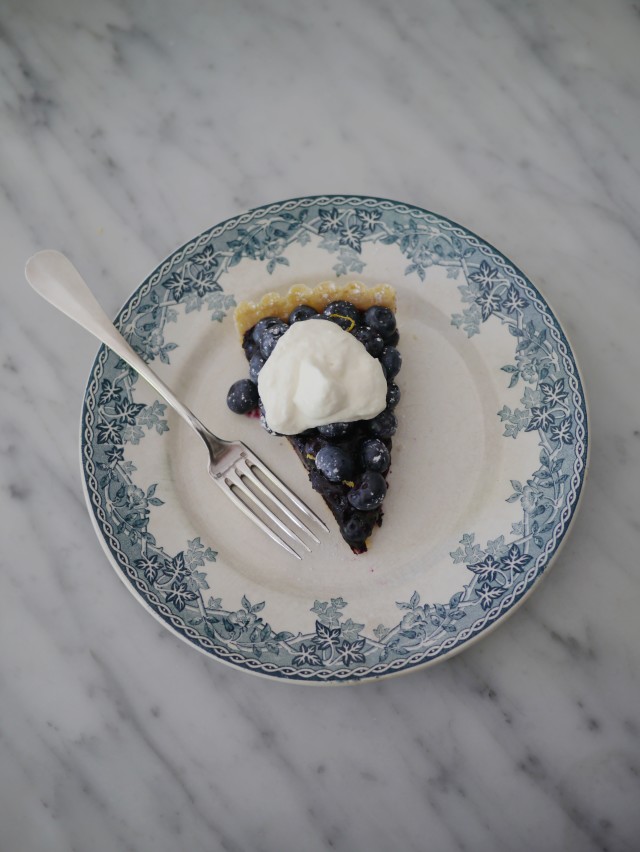 Dessert was also Diane's brilliant idea. This is a recipe that she created while working as a pastry chef a few years ago. Over the years she has tweaked the amount of sugar added to the filling and when we enjoyed it at a dinner we shared before I left on my travels we were all thrilled with the way the sweet/tart flavours of the blueberries and the lemon shine through. This tart is quite straight-forward to make, even for someone like me, who has a slight fear of making pastry. You can find the recipe and the story behind the Summit Blueberry tart over on Diane's site here.
In keeping with these last few months, I am only home for a few weeks before heading back to Italy to host Kitchen Culinaire's Culinary workshop in Puglia. There happen to be a few spots left if you would care to join us. It will be 8 days of eating and drinking and hands-on cooking with local people who will open their home kitchens and hearts to teach us how to make the beautiful cuisine of this amazing region.
Until then there are birthdays to celebrate (my sweet son turns 15 this month!), meals to share with friends and family (hopefully al fresco) and planning and packing to do. August's seasonal menu is on the way.
I hope that you are all enjoying these last precious weeks of summer.
xo
Trout Rillettes on Toast with Green Salad Vinaigrette
The original recipe calls for using salmon and smoked salmon but I ended up using trout as it was local to the area where I was in France. I have also enjoyed this made with steamed and smoked salmon and it too was a hit.
Recipe is adapted from David Lebowitz
8 oz (250 g) piece of trout, bones removed
Salt
5 tablespoons (75 g) butter
1 tablespoon olive oil
1 1/2 tablespoons fresh lemon juice
2 tablespoons chopped chives
4 oz (125 g) smoked trout, cut into thin strips and then cut into 1/2-inch (2 cm) pieces
1/4 teaspoons smoked paprika or pimente d'Espelette
Season the trout lightly with salt and steam in a steamer basket until just cooked, about 8 minutes. I used a piece of trout that have been grilled from a previous night's dinner and it worked well.
Once cooked, remove from the heat and let cool.
In a medium-sized bowl, mash together the butter and the olive oil until it is very smooth. Stir in the lemon juice, chopped chives and the smoked trout.
Remove the skin from the trout and flake the cooked trout over the mist and then fold the trout pieces into the rillette mixture along with the smoked paprika. Check and season with additional salt if necessary.
Scrape into a serving dish, covered and chill for a couple of hours. Let come to room temperature before serving.
Serve on toasted pieces of bread alongside a salad of freshly picked leaves and herbs that have been lightly dressed with the vinaigrette of your choice.
The rillettes can be made up to two days before and refrigerated.
Serves six for a first course.
Paella
This is a mix of many recipes that I researched but for a good overview of history and technique on this Spanish dish check out this article by The Guardian.
5 tablespoons olive oil
6 chicken thighs
3 links of Spanish chorizo, sliced
2 red bell peppers, cored, seeded and sliced into fat strips
1/2 bunch of flat leaf parsley, coarsely chopped
1 onion, finely chopped
3 garlic cloves, finely chopped
1 1/4 teaspoon smoked paprika or pimentón
1 1/2 cups chopped tomatoes
1/2 cup dry white wine
1 pinch of saffron soaked in 1 tablespoon hot water
1 1/2 cups Calasparra or other short-grain rice
3 cups hot chicken or seafood broth
1 lb (454 g) mussels, scrubbed
12 raw, peeled tiger prawns
1 lemon, cut into wedges
Heat the oil in a medium paella or other wide, thin-based pan and add the chicken, turning the pieces as they brown. Next add the chorizo, red peppers and the parsley. When the peppers have softened add the onions, garlic and the pimentón and cook, stirring often, until the onions begin to brown. Stir in the tomatoes and the wine and simmer for 10 minutes. Crush the saffron and add to the hot broth.
Stir in the rice and coat well. Spread the rice in an even layer in the pan and then add 3/4 of the stock.
Simmer for 10 minutes. Arrange the seafood on the top and cook for 8 minutes and add more stock if the rice mixture seems to dry.
After 8 minutes remove from the heat and cover with aluminum foil. Allow to rest for 10 minutes.
Garnish with the lemon wedges and additional chopped fresh leaf parsley if desired.
Best served at room temperature.
Serves 4 to 6.