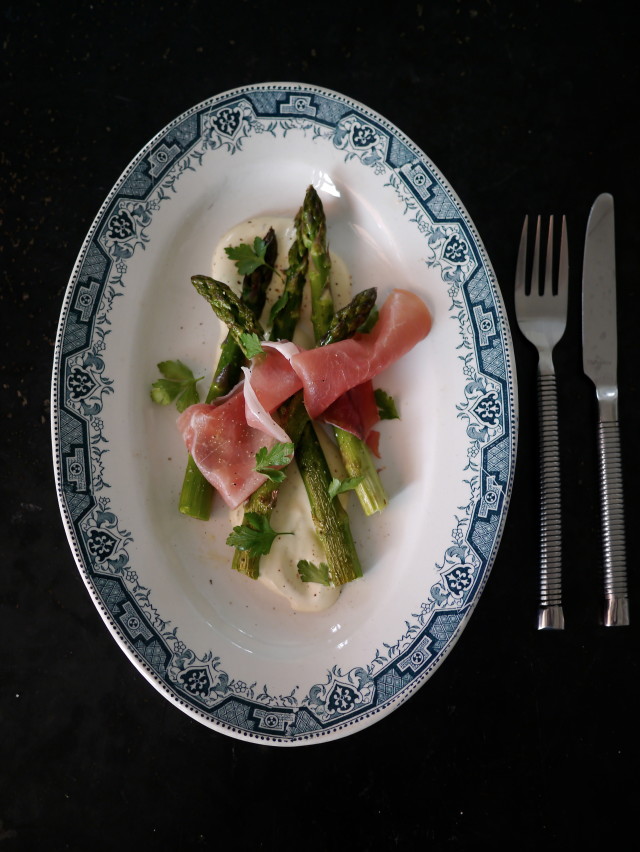 A Menu for June
Roasted Asparagus with Tarragon Mustard Crème Fraîche and Prosciutto
Seared Trout with Pernod Braised Fennel
Strawberries in Caramel Vinegar with Mascarpone Cream
Our time in Europe is finally winding down, at least until next month!
We have shared some beautiful meals with friends from Canada, France, England, Australia the U.S. and Italy. We have enjoyed glasses of rosé wine, shopped for linens and vintage plates and walked for hours and hours.
I am feeling ready to head home tomorrow to see my family and spend time in my Vancouver kitchen to begin tweaking recipes and menus for the upcoming Chateau de Gudanes Art Restoration Workshop that is being run by our friends at Messors. It will be a quick turn around, just 3 weeks in Vancouver, but hopefully there will be enough time to do laundry, repack the kitchen equipment suitcase and then get back on the plane rested and ready for a new adventure.
For this month's menu Diane and I had our planning session way back in early May and so what I had thought I would find in the Paris markets has changed a bit over these last weeks. I also envisioned a slightly more formal menu with a somewhat fancy dessert and a more substantial main course but after enjoying some rather rich meals during our time in Paris, something lighter and simpler is what we felt like cooking and eating.
We are in a rented apartment in Paris which is relatively well-equipped both in terms of the pots and pans as well as pantry items. However, as were were heading into our last days I wasn't wanting to be buying special ingredients that would be left behind upon our departure. This menu allowed me to use what we had in the fridge and the cupboards and required no special equipment to make.
The salad of roasted asparagus with tarragon mustard crème fraîche and prosciutto is the epitome of easy, the components can all be prepped ahead of time and then it is just about assembly. The original recipe calls for grilling the asparagus and for a grainy mustard for the crème fraîche but we had no grill so the oven stood in for roasting instead of grilling and there was tarragon mustard in the fridge and so in was used instead. And, as is so often the case, I ended up loving the flavour of the tarragon mustard and this is how I will make this sauce in the future.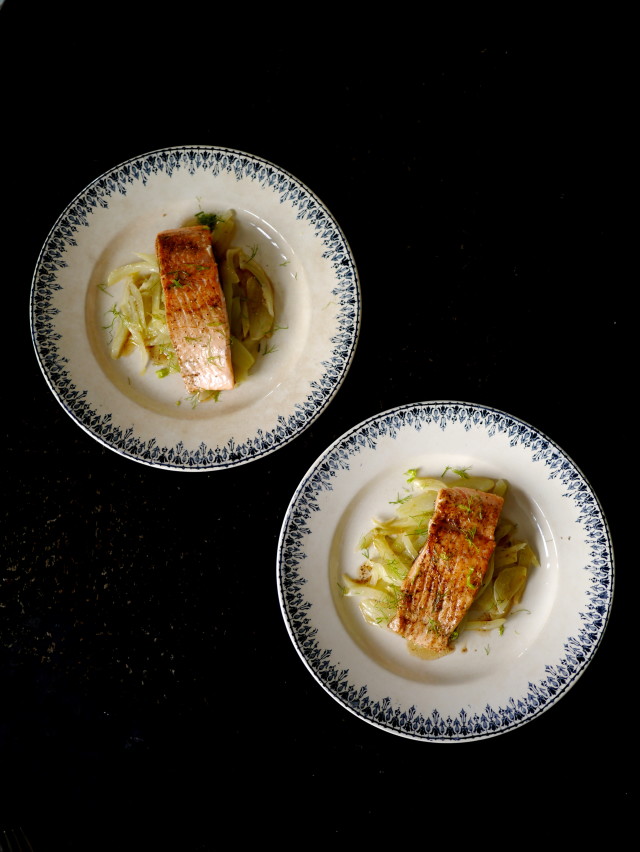 For the main course we had trout, fennel and salted butter in the fridge and the remaining ingredients in the pantry. I absolutely love how meltingly tender the fennel becomes after just eight minutes in the pan and the splash of Pernod adds a second layer of anise flavour. This fennel would be great along side a roasted loin of pork or lamb.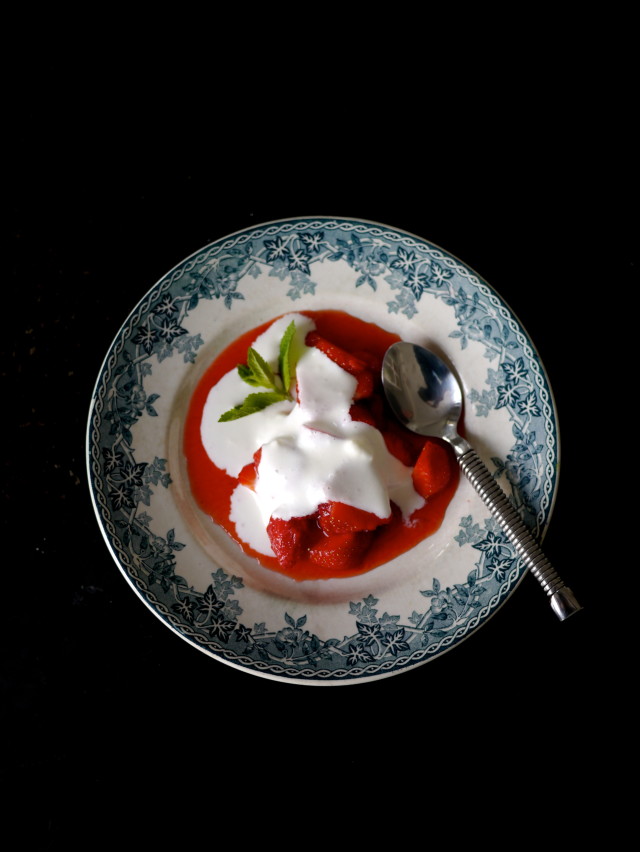 And for dessert? Fresh, fragrant, ripe strawberries that are macerated in a caramel that is made with red wine vinegar. This is recipe I learned years ago when I took a cooking class here in Paris and while it sounds a little strange to put vinegar in a sweet dish it really does work here. The few grinds of black pepper really enliven all of the other flavours. The mascarpone cream is optional but we had some in the fridge from the previous day's cooking class and decided to garnish the berries with it.
Not at all the menu I had planned but somehow perfect for this last week in Paris.
Before I go back to trying to fit all my treasures into my already overweight suitcase Sarolta and I want to say a huge thank-you to all of the people who came out to share in our cooking workshops here. It was a pleasure and a privilege to cook, eat, learn and share with you!
xo J
Roasted Asparagus with Tarragon Mustard Crème Fraîche and Prosciutto
Recipe is adapted from Suzanne Goin's Sunday Suppers at Lucques
30 spears of medium sized asparagus, preferably all similar in their thickness
2 tablespoons of olive oil
Fine grain salt and freshly ground pepper
1/2 cup crème fraîche
3 to 4 tablespoons of tarragon mustard
6 thin slices of prosciutto
Tarragon leaves or sprigs of flat leaf parsley for garnish (optional)
Pre-heat the oven to 400 degrees F (205 C). Trim the asparagus spears by breaking off the woody ends and then arrange on a baking tray. Toss with the olive oil and season with salt and pepper. Roast for 5 to 7 minutes until lightly browned and tender.
Meanwhile mix together the crème fraîche and the mustard and taste for salt and pepper.
On individual plates or a platter spread a tablespoon or more of the crème fraîche sauce on the plate and top with five spears of roasted asparagus. Drape a slice of prosciutto over the top and garnish with a few leaves of tarragon or parsley.
Serves 6.
Trout with Fennel and Pernod
Recipe is adapted from Epicurious
3 teaspoons fennel seeds, crushed
1/4 lb (113 g) butter (French demi-sel butter was fantastic here)
4 tablespoons minced shallots
3 fennel bulbs with fronds
6 6 oz (170 g) trout fillets (you could also use salmon)
1/3 cup Pernod or other anise-flavoured liquor
Fine grain sea salt and freshly ground pepper
Wash the fennel bulbs and then trim off the base of each and discard. Remove the fronds and coarsely chop them and set aside. Quarter the bulbs and core them and then cut them in medium (1/4 inch) slices.
Stir the crushed fennel seeds in a large nonstick skillet over medium heat until fragrant. Transfer the seeds to a small bowl and mix in the butter, shallots and season with salt and pepper.
Melt 5 tablespoons of the butter mixture in a larger non stick skillet over medium heat and add the sliced fennel. This may need to be done in batches depending on your pan size. Add 3/4 cup of water to the skillet; cover and cook until fennel is crisp-tender, about 8 minutes. Uncover the skillet and sauté until the fennel begins to brown, about 2 minutes. Add the Pernod and cook until slightly reduced. Transfer the fennel to a plate.
Season trout with salt and pepper. Add 3 tablespoons of the butter mixture to the same skillet over medium high heat. Sear the trout, skin side down and cook until the skin is crisped about 3 minutes and then flip the fish and cook on the second side for an additional 5 minutes or until cooked to your liking.
Divide fennel mixture between heated dinner plates or a platter, top with the fish and spoon on the butter sauce from the pan. Top with the fennel fronds and serve.
Serves 6.
Strawberries in Caramel Vinegar
Recipe is reprinted with permission from Susan Hermann Loomis
We served these strawberries with a dollop of mascarpone cream, but they would also be wonderful served with a scoop of ice cream or alongside a vanilla panna cotta. But then again they are pretty much perfect just on their own.
6 tablespoons (90 g) sugar, vanilla sugar if you have it
2 tablespoons of water
1/4 cup red wine vinegar
1 lb (454 g) strawberries, trimmed and thickly sliced
Freshly ground black pepper
Springs of mint for garnish
Place the sugar and the water in a small, heavy bottomed saucepan, whisk until well combined and place over medium-high heat.  Cook until the caramel begins to turn a dark golden, shaking the pan to ensure that the sugar caramelizes evenly. Remove from the heat and allow to cool for a minute or so and then add in the vinegar, gently stirring.
If you are having trouble getting the vinegar to incorporate into the caramel return it to a low heat and stir gently.
Once the caramel is cooled transfer to a non-reactive bowl. Add the strawberries, stir gently and allow to marinate for at least an hour and up to three.
To serve, use a slotted spoon and evenly distribute the strawberries into six serving bowls. Strain the marinade and pour over the strawberries. Garnish with a grind or two of fresh black pepper and a sprig of mint.
Serves 6.