A Menu for May
Prawn Carpaccio with Prawn and Tomato Oil, Coriander and Lime
Seared Halibut with Salsa Verde and Scafata
Walnut Cake with Crème Fraîche
How is it possible it is already mid June?! I am obviously way, way behind on posting this menu for May but I suppose I just need to adopt the attitude of "better late than never" this time around.
This past month I was in Italy volunteering for my third season with Messors, an organization that runs culinary and shepherding workshops in Puglia. We stay and work in a farmhouse in the country where we cook and eat and learn from people who are passionate about keeping food and cultural traditions alive and sharing them with participants from around the world. Each year I come away inspired by the people that I meet, the food that we cook, the beauty of the landscape and the generosity of spirit of Italians that share their way of life with us.
Being that the internet connection in the country in southern Italy is somewhat spotty and the days are filled with magical activities and often begin very early and continue late into the night there is not a lot of time for blog posting or time on the computer at all. This is another gift from my time in Italy each year. A time to unplug, to live a bit more in the moment, to do just one thing at a time. It does not, however facilitate timely blog posts!
Now I am in Paris, with my dear pal and business partner Sarolta where we are hosting a few cooking classes, meeting with people regarding upcoming potential collaborations in Europe and working on menus and seeking out food inspiration for an upcoming workshop at Chateau de Gudanes that is being organized and run by the Messors team in France in July/August.
My menu for June will feature ingredients that are currently in season in the Paris markets and I promise to have it up before the end of the month.
But now, back to May!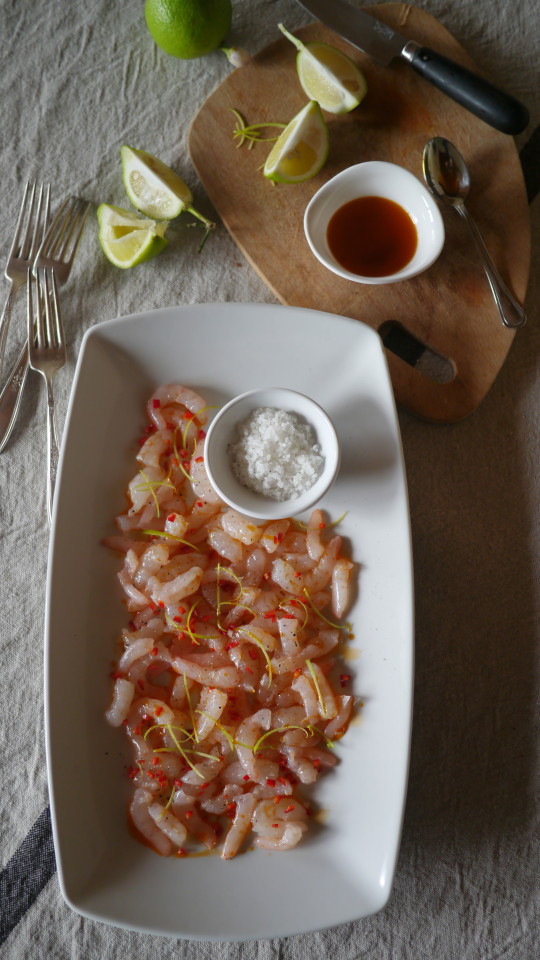 May is the beginning of spot prawn season in Vancouver and so Diane and I decided that we wanted to feature them in this month's menu. A recipe for a prawn carpaccio with prawn oil, coriander and lime caught our eye. With this starter in mind we decided to keep with the spring seafood theme and cook a halibut with salsa verde and an Italian inspired vegetable ragout called scafata.
Our starter and main were relatively light and so it felt right to round out the meal with a walnut cake that would be anointed with a sweetened crème fraîche.
Before I left for Europe Diane and I got together in my kitchen, tied on our aprons and cooked the halibut dish and the dessert together. While I have made and taught the fish and salsa verde many times before it was our first time cooking the vegetables and the cake. This is a part of my collaboration with Diane that I value the most: to cook a new dish and honestly assess if it works, in terms of flavour, method, seasonality. Where it is easy to honestly critique a dish and not have any preconceived attachment or ideas about if a dish works or not. We played with the vegetables in the scafata and seriously adapted the walnut cake recipe.
We cooked and talked and then photographed our lunch before enjoying the fruits of our labour together. It was a lovely and delicious way to spend the afternoon.
As it was just a bit too early to find local spot prawns in the market we decided to make the carpaccio separately, Diane in her home kitchen in Vancouver and me in my rented apartment kitchen in Puglia. It is here that I must fall on the sword and offer a full disclosure. In southern Italy it was impossible to find spot prawns and so I substituted local prawns caught in the nearby waters of the Adriatic sea. The prawns I found at the fishmonger in Italy were fantastically fresh and flavourful and while I dutifully followed our chosen recipe in the end I was disappointed. I felt the added flavours really just masked the beautiful, fresh flavour of the prawns themselves and the recipe itself was simply too time consuming.
Perhaps Diane, back in Vancouver, had a cook's intuition about the prawn recipe as she decided to switch gears and make a green gazpacho with grilled spot prawns instead. Smart lady.
I include the link to the prawn carpaccio here for those of you who are interested but I encourage you to visit Diane's site at Nourishing Vancouver for her gazpacho which looks amazing and something I will certainly be making upon my return home. Diane has also graciously written out the recipes for the halibut and the walnut cake along with her always meticulous notes. These last two recipes are keepers in my mind and so I encourage you to give them a try.
Until our next menu for June, happy cooking!
xo J