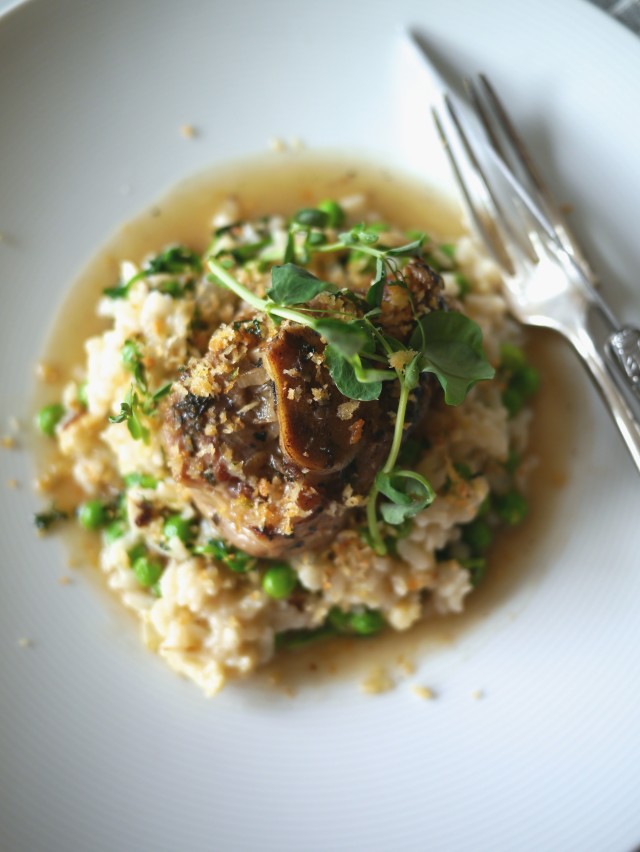 A Menu for March
Burrata with Peppers in Olive Oil and Capers
Crostini with Cicerchia and Dandelion Greens
Smoked Black Cod with Arugula, Leeks and Potatoes in a Grainy Mustard Vinaigrette
Braised Mint Lamb Shanks with Green Pea Risotto
Olive Oil Chocolate Mousse with Toasted Pistachios
Happy Easter!
I had been hoping to have this seasonal menu up in time so that people could actually try these recipes for their Easter celebrations but life just kept getting in the way. No matter, this menu will be perfect for these final days of March and also for April when early spring often feels more like winter with cool temperatures, brisk winds and plenty of rain.
This is my second collaboration with Nourishing Vancouver's Diane Owen and to say that I am enjoying the process of working together would be an huge understatement. I am feeling so inspired, and thinking beyond my own cooking experience, becoming aware of my food biases and learning, learning, learning. The added bonus of actually having a monthly deadline to photograph and write is a very good exercise being that I am the Queen of Procrastination.
As we did last month, Diane and I sat down together over a cup of tea and talked about what the month of March meant to each of us food and entertaining wise. We talked about what we crave during this transitional point in the culinary year, ingredients that are available in the market and cooking methods that suit the season.
This month our menu planning was influenced by a dinner that Diane had asked my small company, Kitchen Culinaire, to host for a group of her friends. It was the perfect way to design a menu that would suit the tastes of this particular group and also celebrate the season. Diane was also looking for something interactive at her supper club and so we decided that an olive oil tasting might be the perfect way to start off the evening. From there we needed to decide on a main protein. We agreed that early spring (and Easter) always makes us think of lamb and Diane had a particular mint braised lamb recipe that she was eager to share. Perfect.
As we were starting with an olive oil tasting that would feature the liquid gold made by our Puglian friends, the Creanza family, we thought an Italian menu might be our inspiration for March. A risotto bianco with a nod to spring in the form of peas and pea shoots seemed a perfect accompaniment to the mint brined lamb shanks (cut in the style of Osso Bucco). A olive oil, dark chocolate mousse with toasted pistachios would be a nice, light finish and so now it was just the first course that we needed to nail down.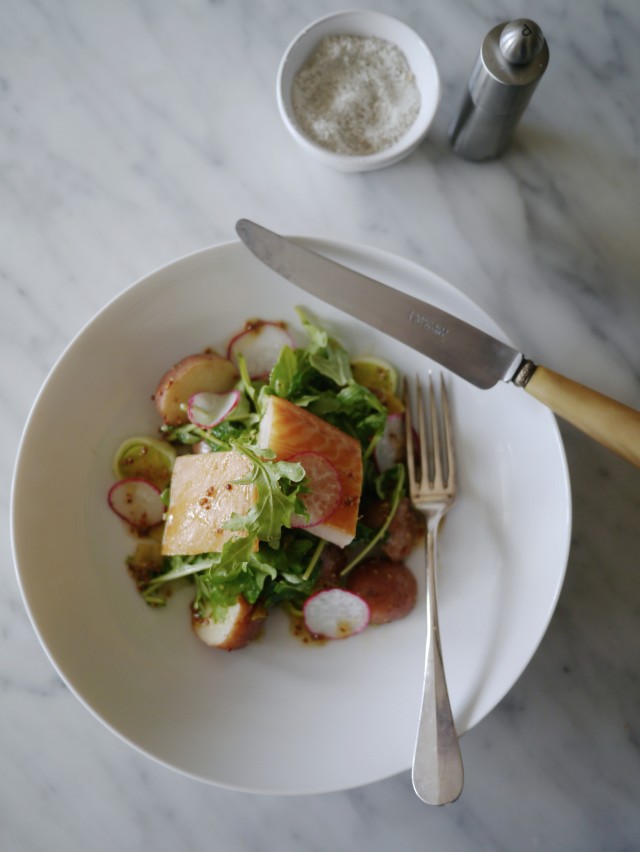 Diane had polled the members of her group who would be joining us and there was a request for the first course to include either fish or duck. We decided that duck might be a bit heavy to precede the braised lamb and so set our sights on a first course with a smoked fish component. I remembered a salad that I made countless times when I worked at Lumière restaurant in Vancouver. It was one of the first salads I learned to make at the restaurant and a perennial favourite by the guests there. It pairs smoked black cod, with leeks and baby potatoes and arugula all dressed with a grainy mustard and topped with thinly sliced radishes. A nod to Italy with the rucola (arugula), the west coast of Canada with the black cod and spring with the radishes. Done.
We rounded out the meal with some appetizers that featured the olive oil that we would be tasting at the start of the evening. Burrata flown in from Puglia served with olive oil braised peppers and capers, crostini with cicherccia topped with dandelion greens and a shaving of Parmigiano and pickled mushrooms preserved in olive oil.
The evening arrived, Diane and her husband and their lovely group of friends gathered in the kitchen. We blind tasted two different oils, we nibbled on the appetizers, talked about food and travel and adventures with knives and sipped Prosecco. We served a three course meal in the dining room and everyone seemed to enjoy the meal itself and the time talking and laughing around the table.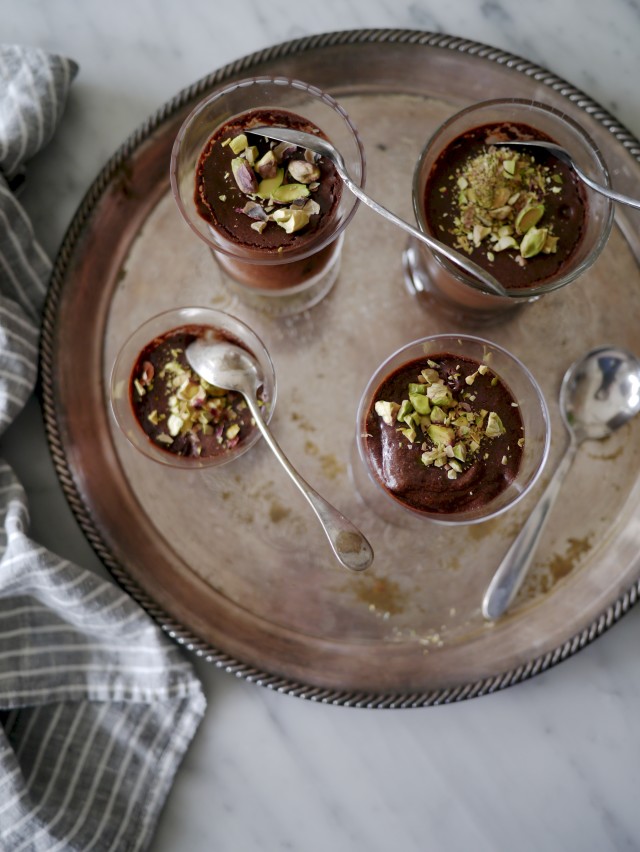 The components of this menu worked very well together and much of it could be done in advance. It was also great to be able to tie things together with the theme of the olive oil that was used in every single dish we served. For me the highlight of the meal was Diane's recipe for the lamb. I had never cooked lamb shanks that were cut in rounds just like veal for osso bucco. I have never brined shanks before (3 days in advance!) and I had never braised meat using just shallots and a puree of mint instead of the traditional carrots, onions, celery etc. I was absolutely thrilled by the way these lamb shanks turned out. Perfectly seasoned, tender, tasting of mint but in an ethereal way. This is not something I would have thought to try and it will now be a staple for me to teach at classes and serve at my own family's table.
I will be posting the recipes for the black cod salad, braised lamb and the olive oil chocolate here in the coming days. Diane has them up on her site Nourishing Vancouver right now as well as her eloquent words about our menu collaboration and the dinner we co-hosted.
Menu planning for April is in the works. Stay tuned.
xo J