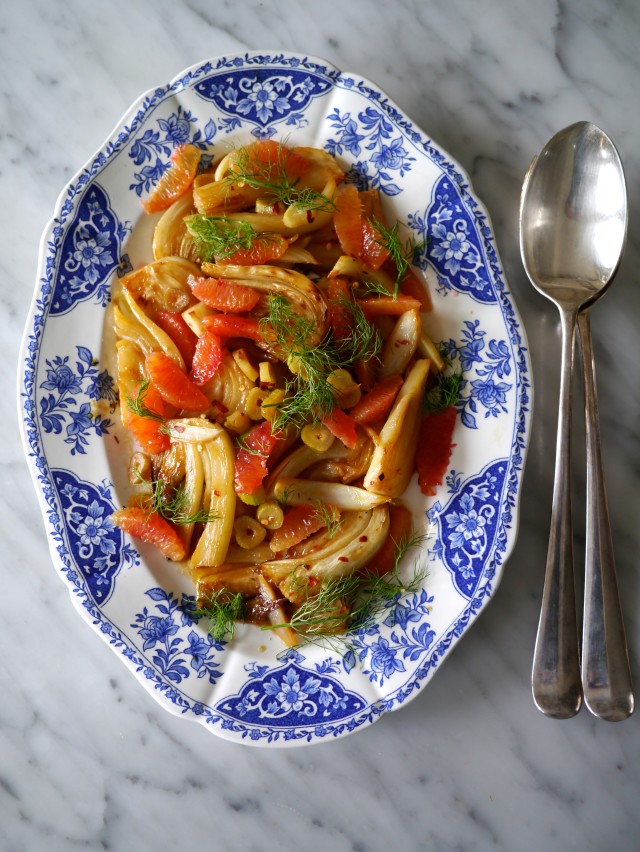 Finally a new recipe to share as well as details on an upcoming project I am excited to be working on.
This recipe is from the recently published Gjelina cookbook that I have been cooking from A LOT over the past few months. The restaurant is located in Venice Beach, California  and I have been lucky enough to visit and enjoy some seriously good food there. The cookbook is a thing of beauty with inspiring, accessible recipes from Gjelina Chef Travis Lett and gorgeous photos and styling by the talented team of Nikole Herriott and Michael Graydon. This fennel salad with blood oranges and a hit of chilli is dead simple and pairs well with fish, chicken or even as part of a vegetarian menu.
Speaking of menus I am working with a dear friend and fellow cook, Diane Owen, in planning and posting a seasonal monthly menu here on my site as well on Diane's site Nourishing Vancouver.
Diane and I originally connected during a culinary tour years ago and have been cooking and talking about food together ever since.  We decided to team up to combine our talents to plan, cook and share a monthly menu that will be prepared in our respective kitchens, enjoyed with friends and family and written about on our websites. It is a great way to get focused on what is in season in our Vancouver markets and share ideas and tastes and tips and encourage feedback from our local food community.
For our inaugural menu we decided to focus on taking a sunny, palate vacation during what can be one of the most challenging culinary months of the year. Citrus fruit and juice combined with crispy, liquorice tinged fennel, we paired this dish with duck confit. We rounded out the savoury component of the menu with a crab, beet and avocado salad with crème fraîche that we served as our starter. We ended the meal with red wine poached pears and mascarpone cream and some chocolate dipped florentines. A simple, doable and delicious menu.
Each month we will plan a new menu, host a dinner and talk about what worked (and what didn't). Many people find hosting a dinner party, even for family and/or good friends, to be an intimidating undertaking. Diane and I hope to help demystify the process and ensure that your next dinner party is not only delicious but relaxing and enjoyable for you and your guests!
I will post our first full menu with photos in the next days. Diane has the menu and recipes listed over on her site up now, as well as hors d'oeuvre suggestions and cooking notes. It is a joy to work with Diane on this project and we look forward to hearing from you for upcoming menu recommendations and/or dishes that you love to use to entertain with over the next months. Stay tuned…
Roasted Fennel with Orange and Crushed Red Pepper Flakes
Recipe is by Travis Lett from Gjelina: Cooking From Venice, California
2 fennel bulbs
2 blood oranges, peeled and segmented
1/4 cup extra-virgin olive oil
Fine grain sea salt
1/2 cup fresh orange juice
1/4 cup white wine
1/4 cup vegetable or chicken stock
Pinch of crushed red pepper flakes
Freshly ground black pepper
Wash the fennel bulb and trim the base. Cut the fennel bulb into wedges, and then cut the stems into thin slices. Reserve the fennel fronds. Set aside.
Heat a large frying pan over high heat for two minutes. Add the olive oil and then the fennel wedges cut side down in the pan. Allow the fennel to cook for about three minutes without touching it to allow for a good sear. Season with a bit of fine grain sea salt. After three minutes, flip the fennel, lower the heat to medium-high and cook the other side until caramelized, another 3 minutes. Toss in the fennel stems and cook for an additional 2 minutes until well-browned.
Add in the orange juice, wine and stock and reduce until the sauce is thickened and the fennel is beginning to soften, 2 to 3 minutes. Add the red pepper flakes and season well with salt and pepper.
Arrange the fennel on a serving platter, and top with the reduced sauce. Garnish with the fennel fronds and the orange segments.
Serve warm or at room temperature.
Serves 4 to 6 as a side dish.