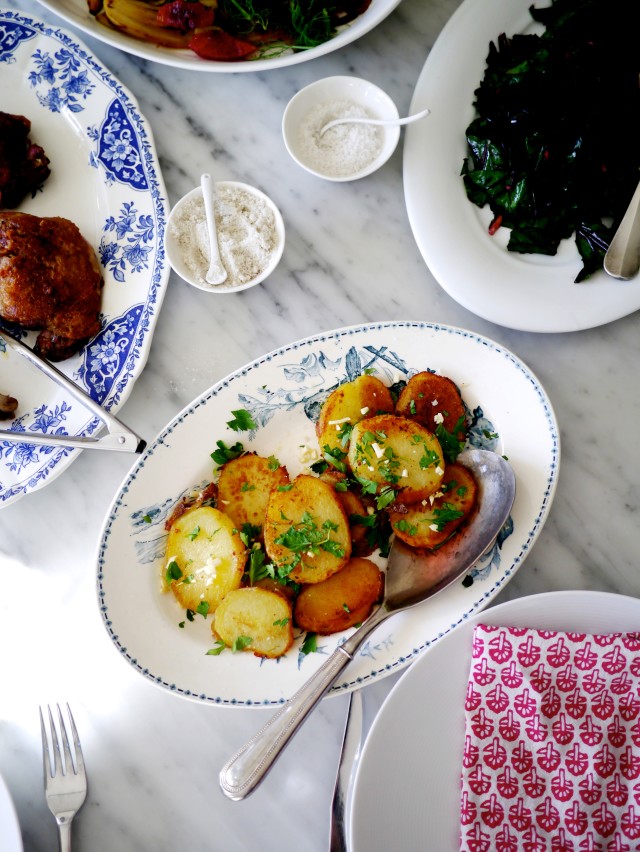 A Menu for February
Avocado, Beet and Watercress Salad with Lime and Crème Fraîche
Really Easy Duck Confit
Roasted Fennel with Oranges and Pepper Flakes
Pears Poached in Red Wine with Mascarpone Cream and Toasted Pistachios
Chocolate-Dipped Florentines
I cook a lot.
I host a lot of dinner parties and (happily) people even pay me to teach them how to cook and host dinner parties.
Gathering people around the table for a meal is an important and joyful part of my life. So, it is no exaggeration to say that I really love to plan menus. I love to think of what is in season and to figure out the pieces of the puzzle that makes a good meal. Ensuring that there is a rhythm to it, that the dishes work together in harmony and that I can pull off a meal without being wild-eyed and exhausted by the time the food is on the table. Still… I sometimes struggle with planning a menu and making it fresh and inspiring, simple but interesting and to not just rely on the tried and true dishes that I have cooked and served over and over again…
This is why I am so excited to be working on a seasonal menu project with Diane Owen. Diane trained at Le Cordon Bleu in London, taught cooking classes and worked at Bishop's restaurant in Vancouver. She is a passionate cook and she seems to love menu planning as much as I do! We sat down a few weeks ago and planned a menu based on favourite dishes we had been recently cooking and what we thought worked well and was in season during February. It was so much fun to thumb through our favourite cookbooks, talk about particularly memorable meals that we have cooked and eaten and people who have joined us at the table.
| | |
| --- | --- |
| | |
| | |
| --- | --- |
| | |
Both of us agreed that when we sit down to plan a menu we generally start by picking the main protein and build a meal around it. Diane suggested cooking duck legs for our first menu and we quickly agreed on using the "easy duck confit" method. I have taught this method of cooking duck legs at many a class and people are always surprised to discover how easy it is to make delicious, French bistro-style, duck confit at home. We had our protein.
From there we decided to focus on some bright flavours of citrus and so roasted fennel with blood oranges seemed a good fit alongside the richness of the duck.
Salad course? We were initially drawn to the idea of greens paired with more citrus but decided to go in another direction with roasted beets, avocado, crab and crème fraîche served as a composed salad that we have both made and loved in the past. There is still a nod to winter citrus with a good kick of lime juice in the vinaigrette as well as some heat from jalapeño chills.
For dessert Diane told me about a lovely red wine poached pear recipe she makes that is served with a mascarpone cream and served alongside handmade florentines. Perfect.
| | |
| --- | --- |
| | |
We had our menu! Now it was time to head off to make the meal in our own homes for our own friends and families. This is where things got interesting for me. Even though our core, three-course menu was the same, the way we decided to round out our meals is where our own personalities and food/cookings styles and preferences emerged. We both made the meal for friends but Diane chose dinnertime to serve it and I went with lunch. She added a few hors d'oeuvres to start and some black pepper and fennel popovers, while I made duck fat potatoes and sautéed the beet greens from the salad in olive oil with garlic. There was no crab available at my local fish shop and so I left it out. Diane made pistachio florentines and I used the sliced almonds I had on hand to make mine. Together, we rejigged the fennel and orange dish after we both made it and decided to cook the fennel a little less and add in the oranges at the end. We both decided we wouldn't change a thing about the red-wine poached pears with the mascarpone cream.
Diane has graciously posted the recipes for our menu (except the duck fat potatoes and sautéed beet greens) over on her site at Nourishing Vancouver. She has also beautifully written about her process in the kitchen and much more about our upcoming project together.
Tomorrow we will meet to plan our menu for March. I can hardly wait! xo J