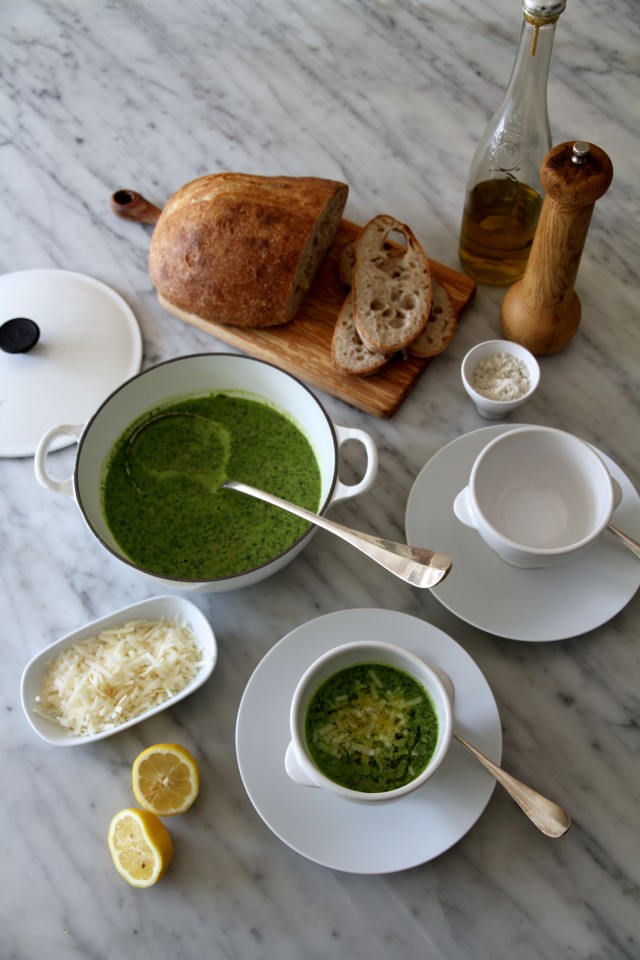 It is cold, dark, rainy and nearing the end of November. It is a month today until Christmas. How did this possibly happen?!
This week is a busy one, filled with dinners, classes, parties, fundraisers and beloved family visiting from out of town. I am already beginning to feel stressed and stretched and the holiday season has yet to begin. Then, I stop and think and remember what is the thing that always makes me feel calm and happy and centred. Cooking of course. But nothing complicated. Something simple and warming and filled with good things. A pot of soup.
Nothing is as comforting as a bowl of soup. Here is one of my very favourites of late. Kale and chickpeas with lemon and Parmesan. Perfect for a solo lunch, a family dinner rounded out with some good bread, a salad, some cheese and fruit. Perfect too for a lazy afternoon when you feel like inviting good friends over but don't want to cook anything too fancy.
This, like most of my cooking lately, has a decidedly Italian bent and comes from a cookbook that I have been cooking from a lot (A LOT) lately: Franny's – Simple, Seasonal, Italian. Pizza, pastas, salads and soups. Might just be the way that I get through the upcoming crazy holiday season.
Speaking of Italy, I have some very exciting news to share. It has to do with travel, a certain Masseria in Puglia, and cooking, eating, and wine drinking. Full details will be available here in the next few days. To say I am excited and thrilled would be an understatement!
Until then, stay dry, stay warm!
xo J
Chickpea and Kale Soup
Recipe is from Franny's – Simple, Seasonal, Italian.
2 cups dried chickpeas
1 carrot, peeled and cut into large chunks
1 celery stalk, cut into large chunks
1 onion halved
11 garlic cloves
5 strips of lemon peel
1 sprig of rosemary
Fine grain sea salt
3 1/2 litres (14 cups) water
1 1/2 cups plus 2 tablespoon extra virgin olive oil plus more for drizzling
1/4 teaspoon chill flakes
2 bunches Tuscan black kale
Fresh ground black pepper
Lemon wedges
Freshly grated Parmigiano-Reggiano
Soak the chickpeas in a large bowl, covered with water for at least 8 hours and up to overnight. Drain.
Wrap the carrot, celery, onion, 3 garlic cloves, lemon peel and the rosemary in a large square of cheesecloth and tie with kitchen twine securely.
In a large pot, combine the sachet of vegetables, the drained chickpeas, salt, water and 1 cup of the olive oil. Bring to a boil over high heat, then reduce the heat to a medium-low simmer and cook until the chickpeas are tender, about 1 hour.
While the chickpeas are cooking, finely chop the remaining 8 garlic cloves. In a small skillet, heat 3 tablespoons olive oil over medium heat. Add the garlic and chill flakes and cook until the garlic is fragrant but not golden, about 1 minutes. Remove from the heat.
Remove the centre ribs from the kale and coarsely chop the leaves. In a large skillet, heat the remaining 7 tablespoons of olive oil over medium- high heat. Add the kale in batches and cook, tossing occasionally, until tender, about 3 minutes. Remove from the heat.
When the chickpeas are cooked, combine the kale, garlic oil, 2 cups of the chickpeas and 1 cup of the cooking liquid in a food processor and puree until smooth. Return the puree to the pot and cook over medium heat until hot. Season to taste with salt and pepper.
Ladle the soup into heated bowl and finish with a squeeze of lemon, some grated Parmigiano and a drizzle of olive oil.
Serves 8 to 10.