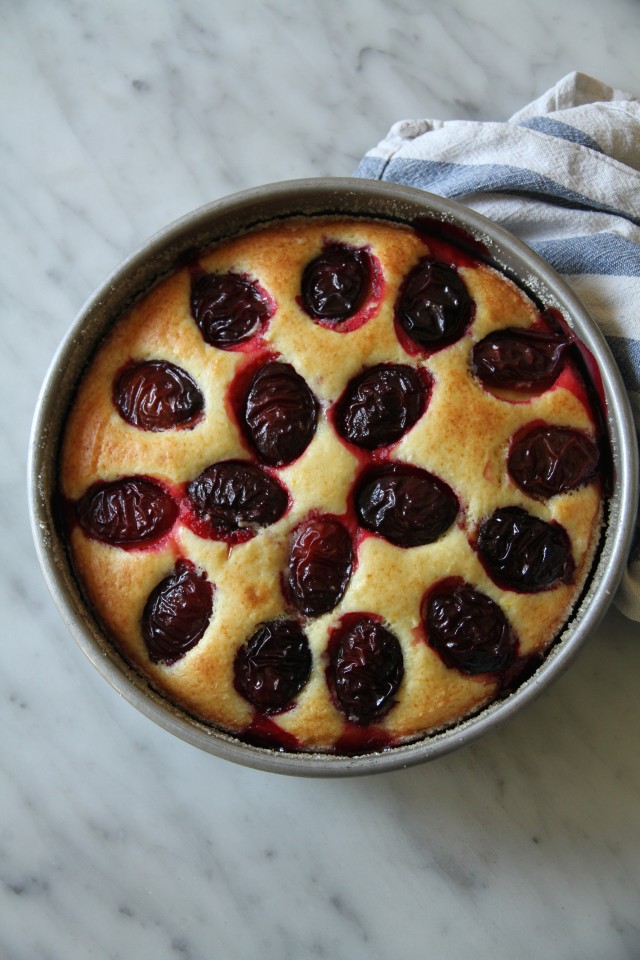 At long last, a recipe!  I am particularly excited to share this cake with you as it is everything I love in a dessert. It is dead simple to make, uses some lovely seasonal fruit (in the form of Italian prune plums) and some unusual ingredients (in the form of ricotta and olive oil) that people don't usually associate with dessert. It is rustically beautiful to the eye. It feels perfect for these final days of summer, early days of fall.
Our plum tree in the garden has just a few deep purple, jewel-like plums left on its gnarled old branches. Most of the plums were picked by family and friends although a good number were pilfered by the local Italian gentlemen who pass by the tree on their way to play bocci in the park, just down the street. When caught in the act (one guy had a cardboard box that he was busily filling up) they smile sweetly and murmur something about being friends with the owner or that they (or their brother or their uncle) planted this very tree, so many years ago. In my neighbourhood the plums and figs, grapes and tomatoes growing in the private gardens are always seen as public property. As I am generally open to sharing I tend to think of this as a somewhat charming yet quirky aspect to living just off of Commercial Drive.
We have a big bowl of plums on the counter in the kitchen and while I love to eat them out of hand, make plum preserves or a plum tart my very, very favourite way to enjoy them is to make this olive oil and ricotta cake. Be sure to use a good quality, extra virgin olive oil and, if you are feeling up for it, you can even make your very own ricotta.  This year's plums from our tree have been a bit on the tart side and I think that is what makes them such the perfect compliment to the rich and moist cake, but feel free to toss them with a drizzle of honey if you like things a bit sweeter. Served with a dollop of whipped mascarpone cream, this is one of the best desserts ever.
The prune plums should be around for at least another couple of weeks, depending on your neighbourhood. Make this cake before they are gone for another year!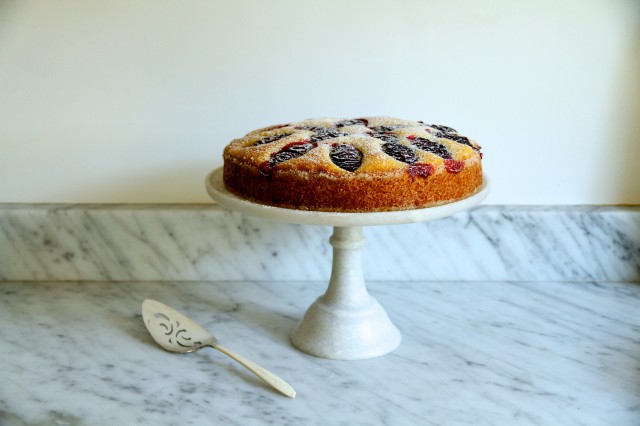 Olive Oil Ricotta Cake with Italian Prune Plums and Whipped Mascarpone Cream
Recipe adapted from Deb Perelman's Smitten Kitchen Cookbook via Food 52.
For the cake:
1 1/2 cups all-purpose flour
1 1/4 teaspoons baking powder
1/2 teaspoon salt
1 tablespoon plus 1 cup granulated sugar, divided
1/2 cup olive oil, plus more for oiling the pan
1 cup fresh, full fat ricotta
1 tablespoon freshly grated lemon zest
2 large eggs, at room temperature
1 1/2 teaspoons pure vanilla extract
9 prune plums, halved, pitted and set aside
1 tablespoon honey (optional)
For the whipped mascarpone:
1 cup mascarpone cheese
1 cup chilled whipping cream
4 tablespoons sugar
1 teaspoon pure vanilla extract
Preheat the oven to 350 degrees F (180 C).
In a medium bowl sift the flour, baking powder and salt together and set aside.
Coat a 9 x 2 inch round (23 x 3.5 cm) baking pan with olive oil and sprinkle with 1 tablespoon of sugar. Tap the pan to evenly distribute the sugar over the bottom and up the sides of the pan. Set aside.
In a stand mixer, with the whisk attachment, beat the ricotta, sugar and the zest together on medium speed until well combined. Add in the eggs, one at a time, beat well, and then add the vanilla. Turn the mixer down to medium-low and add the olive oil by slowly drizzling it down along the edge of the mixing bowl.
Add the dry ingredients and, using a rubber spatula, gently fold the dry ingredients into the wet ingredients until no streaks of flour remain.
Pour the batter into the prepared cake pan smoothing the top with an offset spatula.
If you plums are very tart, toss them with a tablespoon of honey and place them cut-side down on top of the cake. Bake for 35 minutes, or until the top is golden brown and a cake tester comes out of the cake cleanly. Cool in the pan for 20 minutes, or so, and then turn out onto a cooking rack.
Meanwhile, whip the mascarpone, cream sugar and vanilla together until soft peaks form and serve alongside each slice of cake.
Serves 8.