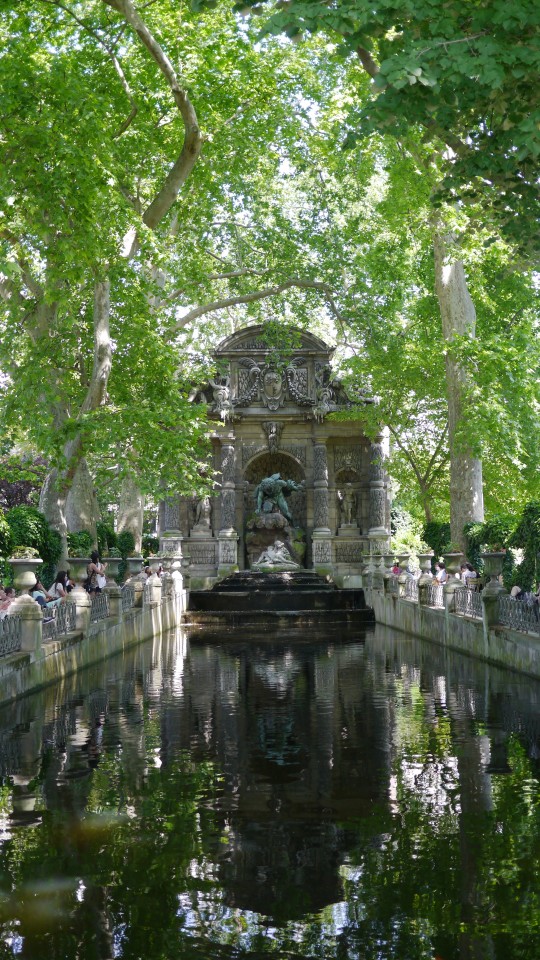 Today's highlight was a picnic lunch in the Luxembourg Gardens.
We started out this morning exploring the Marché des Enfants Rouges where we picked up some mini quiches, grapes, apricots, walnuts and cherry tomatoes. We found some sliced French ham, Mimolette cheese and bought some walnut Poîlane bread to sample and then made our way over to rue Mouffetard to gather a few more items for our al fresco lunch.
We discovered a lovely bakery and bought some crusty baguettes and apricot/peach tarts. At a cheese shop nearby, with a fantastic selection of goat and cow's milk cheeses from around the country, we finally settled on a perfectly ripe Saint Marcellin. Some sparking water and a couple of chilled bottles of Champagne were secured as we made our way up the cobblestoned street.
We walked and talked our way past the Pantheon and entered the garden which was packed with people on this sunny Thursday afternoon. We made our way past the octagonal basin and the many statues and benches to the grassy area that was the perfect place to spread out our picnic blanket, pop the corks on our champagne bottles and set out our lunch.
The weather couldn't have been more perfect. Sunny and warm but with a lovely breeze. We sat and ate and drank and talked for close to two hours. On our way out of the park we stopped in to view the always beautiful Medici Fountain. I love the calm serenity of this Paris landmark.
Tomorrow morning we will be cooking brunch together before we head off to explore Paris on bicycles in the mid afternoon. I can't believe we only have three days left!