This weekend I am in Los Angeles spending some time with my dear sister Lisa. Over the past few years we haven't really spent any solo sister time together and so these 4 days are very special.
Being away from home for Easter means there won't be a big multi-course feast for family and friends.  No gigantic glazed ham, or roasted lamb with peas and favas. No big pot of watercress soup topped with crème fraîche and chives. No bubbling gratin dishes of scalloped potatoes scented with nutmeg. No rhubarb cakes with toasted almonds and cream. No eating way too many chocolate eggs.
It will be only the two of us for Easter dinner and this brings to mind that old saying "What is the definition of forever? Two people and a ham". We could invite a bunch of Lisa'a friends and cook up a big meal, but on this trip I think we will just enjoy some quiet time together and check out a few of the restaurants that are on our list of hotspots.
However, as I tend to get a bit nervous to go too many days without cooking, I am thinking of surprising my sister tomorrow with an easy and very spring(y) breakfast tart. The ingredients are easy to come by, no special equipment is needed and it is quick and simple to make. It will likely be the only cooking I do on this whole trip.
For those of you in the thick of planning/shopping/cooking a massive family meal this weekend this little tart might just in come in handy for you too!
Happy Easter and eat a few extra chocolate eggs for me.
xo J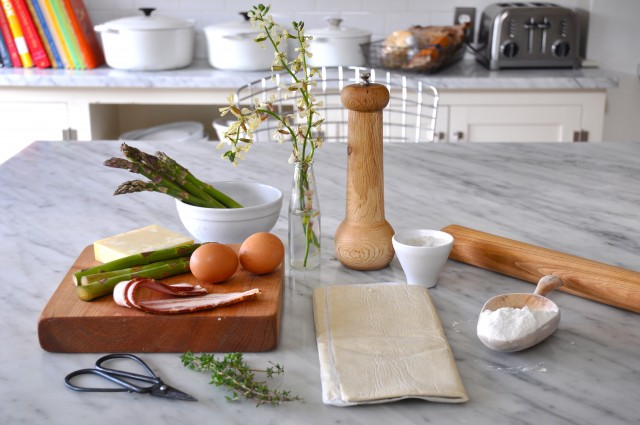 Spring Breakfast Tart with Bacon and Asparagus
Recipe is adapted from The Jewels of New York.
I sheet of puff pastry dough, thawed if frozen
2 strips of bacon, cut into lardons
3 medium spears of asparagus
1 teaspoon olive oil
1/4 cup crème fraîche
1 teaspoon fresh thyme leaves, chopped
4 tablespoons of Comté cheese or Gruyere or aged cheddar, grated
2 eggs
Fine grain sea salt and freshly ground pepper
Handful of arugula leaves
Arugula flowers (optional)
Preheat the oven to 425 degrees F (205 C).
Place the asparagus spears on a baking sheet, drizzle with olive oil and season with salt and pepper. On a second baking sheet scatter the bacon lardons, place both trays in the preheated oven and bake for 10 minutes.
Place the pastry on a lightly floured surface and cut into approximately 6 1/2 by 9 1/2 inch rectangle. Place on a parchment lined baking sheet and using a sharp knife score a 1/2 inch border from the edge of the pastry on all sides. Prick the centre of the dough with a fork and refrigerate for 30 minutes.
Par- bake the pastry for 8 minutes, using a fork to prick any air pockets. Allow to cool slightly.
In a small bowl mix together the crème fraîche and the thyme and season with salt and pepper.
Spread the crème fraîche mixture evenly on the centre of the par baked pastry, maintaining a clean border. Sprinkle with the Comté (or cheese of choice) and then crack the eggs onto the tart, spacing them 2 inches apart and then place the spears of asparagus around the eggs. Scatter on the lardons and sprinkle on a bit of salt and pepper. Bake until the egg whites are set and the yolks are still a bit soft, about 10 minutes.
Once the tart is removed from the oven immediately scatter the arugula leaves and flowers over the top.
Serve at once.
Serves 2.