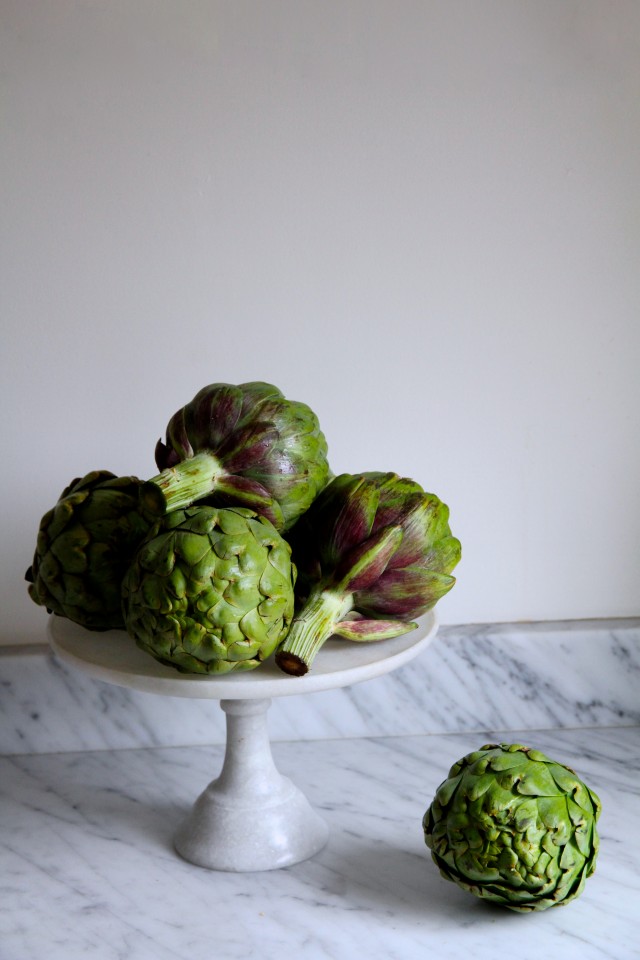 It is a sunny day at the tail end of winter that has me longing for spring.
This morning at Norman's Fruits and Vegetables, the greengrocer just down the street from my house, there were some beautiful artichokes. I had some eggs, milk and butter in the fridge and a tiny wedge of Comté cheese. Some flour in the pantry. Put them all together and I had everything I needed for a lovely light lunch.
It is tricky to photograph soufflés as they tend to collapse fairly quickly. You will just have to trust me that these rose up puffy and brown and had a beautiful light and airy texture. I gobbled one up right as it emerged from the oven. A second soufflé, enjoyed later in the afternoon and fully deflated, was certainly less fluffy but no less delicious.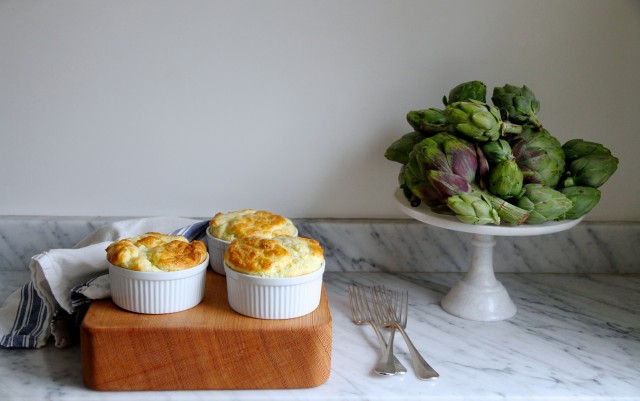 Artichoke Soufflés
Recipe is from Manger by Mimi Thorisson. 
4 large artichokes
4 large eggs, separated
1 cup (250 ml) whole milk
1/4 cup (60 g) butter plus extra for greasing the ramekins
4 tablespoons (30 g) flour plus extra for dusting the ramekins
1/4 cup (25 g) grated Comté cheese
Fine grain sea salt and freshly ground black pepper
Trim the artichokes and cook them in a large pot of salted boiling water. Cooking time should be around 45 minutes or until the base of the trimmed artichoke is easily pierced with a knife. Allow to drain until cool enough to handle and then remove the leaves until you get to the fuzzy choke which can be scooped away with a spoon leaving the heart of the artichoke. Repeat with the remaining artichokes and place reserved heart in a bowl. Mash the hearts with a fork until relatively smooth.
Preheat an oven to 350 degrees F (180 C). Grease 4 ramekins with butter and then dust with flour. Set aside.
In a medium pot over medium heat melt the butter. Add in the flour and whisk well to combine. Cook over medium heat for a minutes or so and then gradually whisk in the milk, stirring constantly. Season with salt and pepper and whisk until the sauce thickens. Remove from the heat and stir in the Comté cheese until melted. Allow to cool for 10 minutes or so and then add in the egg yolks one at a time, followed by the artichoke purée. Mix until well combined.
Using a stand mixer with the whisk attachment or a large bowl and a balloon whisk beat the egg whites until foamy. Add a pinch of salt and continue whisking until stiff by not dry. Gently fold egg whites into artichoke mixture and when well combined divide the mixture evenly between the four prepared ramekins.
Bake in the preheated oven for 25 to 30 minutes.
Serve immediately!
Serves 4.