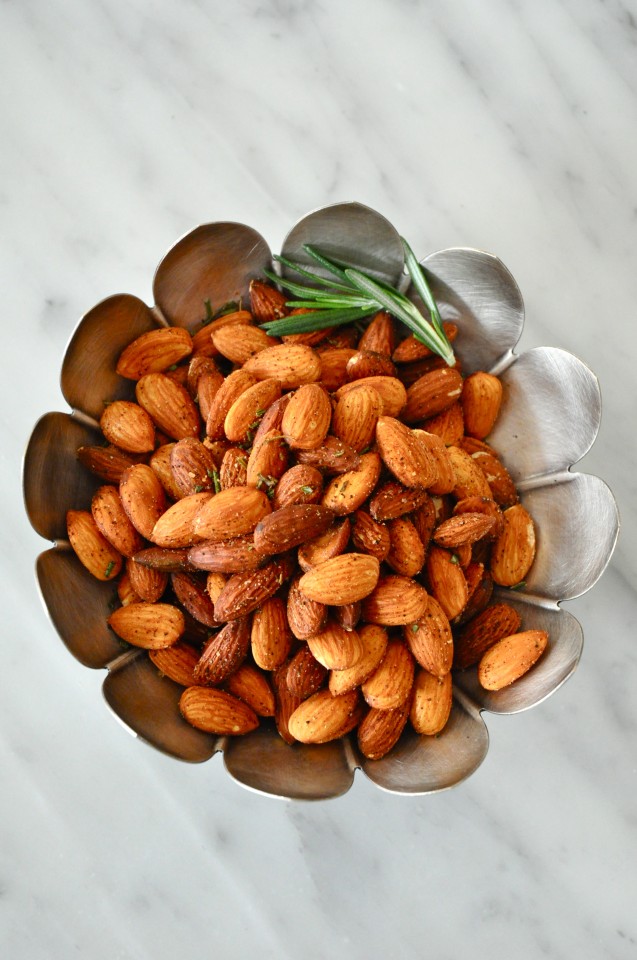 Happy Christmas Eve!
I am thinking there may be some of you out there that might take issue with me trying to sneak through these spicy almonds under the "canapé" title. I would argue that every good cocktail party needs some savoury (preferably) spicy nuts and so here we are.
I chose to post this recipe today as I figured it might come in handy for anyone out there who had plans to make all kinds of wonderful home made treats to pass around to friends and family on Christmas Day and found themselves a wee bit short on time. Sound familiar?
I had big plans to make the almond and chocolate biscotti I make every year. Then I was going to whip up a triple batch of salted Marcona almond and caramel chocolate bark and I was also going to tackle the apple cider caramels I have been reading about for years. All before Christmas day.
Now it is 10:30 pm and there are still presents to wrap and it seems a bit ambitious to start pulling out the mixing bowls and softening the butter.
There is, however, still time to whip up a batch or two of these spicy almonds. It will take less than half and hour and then once they are cool I am going to fill up some festive bags and tie the tops with ribbon. I will have something homemade to pass around tomorrow after all. I will also be leaving a bowl of these for Santa and the reindeer before I turn in for the night. Nice break from cookies and milk!
Merry Christmas everyone! xo J
Spiced Almonds with Rosemary
Recipe is adapted from Two Peas and Their Pod
2 cups whole almonds
1 tablespoon extra virgin olive oil
1 tablespoon finely chopped fresh rosemary
1/2 teaspoon chili powder
1 teaspoon brown sugar
3/4 fine grain sea salt
Pinch of cayenne pepper
Preheat the oven to 325 degrees F (160 C).
In a medium bowl combine all the ingredients and stir until the almonds are evenly coated.
Spread the coated almonds on a rimmed baking sheet and roast in the preheated oven for approximately 20 minutes until lightly toasted and fragrant.
Cool to room temperature.
Makes 2 cups.