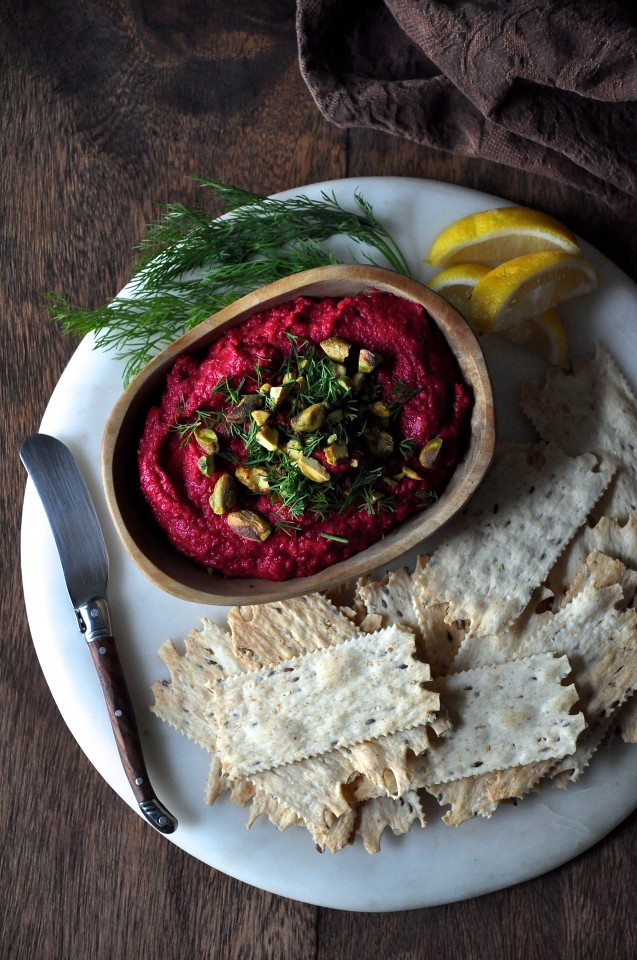 A very quick post tonight.
We just got back from the beach where we spent some time with friends, had a bonfire, drank some wine, roasted some marshmallows and shared plenty of stories and laughs.
I took a double batch of this dip down to the beach this afternoon and it was a major hit. Even the kids seemed to love it, initially drawn to it by its crimson hue. Sweet paprika gives this dip its smoky flavour. Make sure you use a good quality brand. Also, feel free to adjust the amount of sweet paprika, garlic, lemon and salt to your personal taste.
Now we are settling in for a quiet evening at the cabin, just happy to be together.
One recipe to go!
Smoky Beetroot Hummus with Dill and Pistachios
Recipe is from slightly adapted from the always inspiring Kimberley Hasselbrink at the Year in Food.
3 small beets, about 1/2 pound (250 g)
1 14 ounce (397 g)  can of chickpeas, rinsed and drained
Zest and juice of 1 lemon
2 tablespoons of tahini
2 medium garlic cloves, minced
1teaspoon fine grain sea salt
1/2 teaspoon sweet paprika
1/2 teaspoon of chile flakes
A pinch of cayenne pepper
2 tablespoons of extra virgin olive oil
1/4 cup shelled pistachios, coarsely chopped
3 tablespoons chopped fresh dill
1/4 cup French feta (optional)
Crackers for serving
Lemon wedges for serving
Preheat the oven to 400 degrees F (220 C).
Rinse the beets and wrap them in aluminum foil. Place them on a rimmed baking sheet and bake in the preheated oven for about an hour until the beets are easily pierce with a fork. Set aside to cool.
In the bowl of a large food processor place the chickpeas, lemon zest and juice, tahini, garlic cloves, salt, paprika, chile flakes and cayenne pepper. Add in the roasted, diced beets and the 2 tablespoons of olive oil and process until crunchy or smooth (whatever you prefer).
Serve in a wide shallow dish and garnish with the chopped dill, pistachios and the crumbled get. A few grinds of black pepper would be nice here too.
Serves 4 to 6.