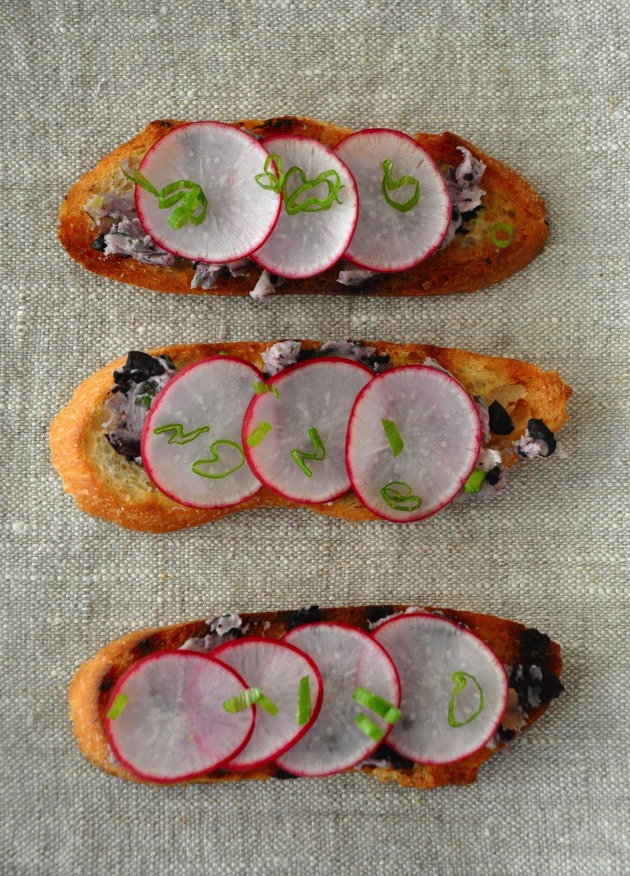 Here is a stylish take on the classic french snack of buttered baguette with slices of radish and a sprinkling of crunchy fleur de sel. The French make a dizzying array of demi-sel butter which is the secret ingredient for these simple snacks. Think Echiré, Bordier, Isigny-Ste-Mere and Celles-sur-Belle.
Sadly, French butter is very hard to come by in Vancouver, so here is where the addition of the black olives comes in. I used some small, oil cured, Niçoise olives and a very good quality local butter and baguette. Add in some finely chopped mint and scallions and you have something that, while not the same as the classic French radish tartine, is still very, very good.
Radish Canapés with Black-Olive Butter
Recipe is from Martha Stewart.
16 oil-cured olives, pitted and finely chopped
2 scallions, finely chopped, reserving a few for garnish
3 tablespoons finely chopped mint
4 ounces (113 g) unsalted butter, softened
Freshly ground pepper
1 baguette, thinly sliced crosswise and toasted
4 large radishes, thinly sliced
Mix the olives, scallions, mint and butter in a bowl. Season with freshly ground pepper and spread the olive butter onto the toasted baguette slices. Layer the two of three radish slices on each baguette slice and garnish with the remaining chopped scallions.
Serves 6.