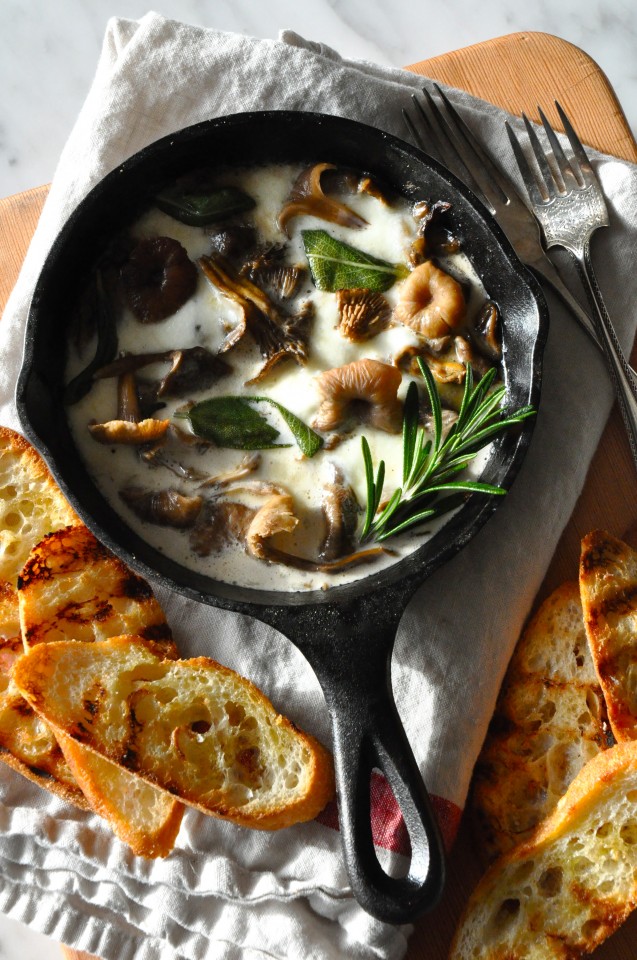 Here we are at Day 3. This year my plan was to have all of the recipes photographed in November and then just write the posts at my leisure but certainly have all of them finished in the first two weeks of December. Hmmmmm.
Oh well, no matter. We have just over a week until Christmas and exactly two weeks until New Year's Eve and so I will undoubtedly be skidding in with my final canapé recipe just as the Champagne corks are popping on the 31st. This seems to happen every year! Ah well, I am nothing if not consistent…
Today's recipe is a rather unfussy offering for when you have guests coming and just want to gather around the table with a drink, roll up your sleeves and dig into something cheesy and earthy. Cheese fondue has a way of bringing people together, it is hands on food that has people shoulder to shoulder scooping up cheese with the garlic toasts, the cheesy strings stretching for miles.
I made and photographed this yesterday and was lucky to find some of the very last yellow footed chanterelle mushrooms at my local market. The original recipe calls for pine mushrooms but of course you can use whatever mushroom is in season/available/not too expensive.
We enjoyed these with a glass of Pinot Noir which was perfect with the mushrooms and the sage and rosemary. Beer would be a good match for this dish as well. Enjoy!
Herb and Mozarella Mushrooms with Garlic Toasts
Recipe adapted from Donna Hay Magazine
12 slices of baguette
Olive oil
Fine grain sea salt and freshly ground black pepper
1 clove of garlic, cut in half
3 tablespoon of butter
1 lb (454 g) pine mushrooms (or chanterelles or a mix of your favourites)
2 sprigs of fresh rosemary
14/ cup sage leaves
1/2 lb (250 g) buffalo mozzarella, torn
Heat a grill pan over high heat. Brush the baguette slices with oil and sprinkle with salt and pepper. Gril the bread for 2 minutes or so on each side until golden. Remove from the heat and rub the bread slices with the garlic. Set aside.
Melt the butter in a medium cast iron frying pan over high heat. Add the mushrooms, rosemary, sage leaves, salt and pepper and cook for 5 minutes until golden. Top with the mozzarella and place under a pre-heated broiler for 2 to 3 minutes until melted.
Serve with the garlic toasts.
Serves 4.