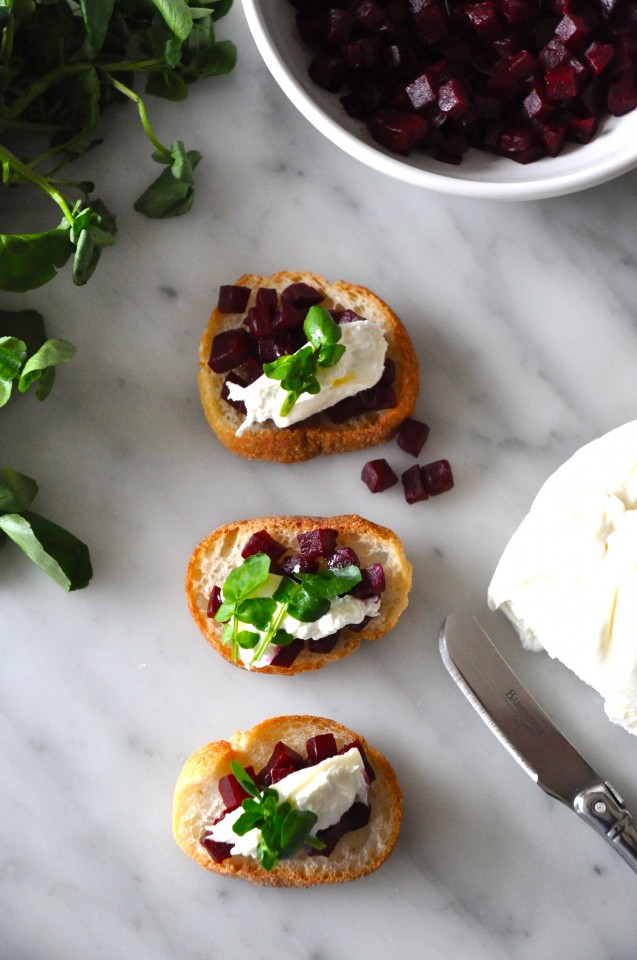 Wow. We are already on December 6th. I am officially a bit late to the party this year!
I was hoping to start in on the fourth annual "12 Days of Canapés" a bit earlier (like on the first of December) but life just kept getting in the way.
No problem though. I have 12 carefully curated recipes all tested and ready to go and all that is left to be done is take the photographs and share them with you. I love doing this holiday series and am looking forward to sharing the very best canapés recipes that I have searched out over the past year.
As in previous years I am going to keep my chit chat to a minimum and simply present these tried and true recipes that are perfect for holiday potlucks, cocktail parties or recipe exchanges. There is no better way to celebrate the holiday season than by spending some low-key time with people you care about gathered around a table enjoying some good food and good company.
xo J
Glazed Beet and Burrata Toasts with Watercress
Recipe is adapted from chef David Hawksworth (via Food and Wine) of Hawksworth Restaurant in my home town of Vancouver. 
3 beets (about 3/4 lb – 340 g)
1 teaspoon of olive oil
1/2 cup sherry vinegar
2 tablespoons sugar
1 sprig of rosemary
Fine grain sea salt
12 slices of baguette, brushed with olive oil and toasted
1/2 lb (250 g) burrata cheese, cut into 12 pieces
12 small sprigs of watercress
Extra virgin olive oil for drizzling
Coarse sea salt like Maldon or Fleur de Sel for garnish
Preheat the oven to 400 degrees F (205 C).
Wash the beets and trim them of their roots and stems. Toss the beets with 1 teaspoon of olive oil, sprinkle with some salt and then wrap them in aluminum boil and place on a baking sheet. Place in the preheated oven and roast for 40 to 50 minutes until they are easily pierced with a sharp knife.
When the beets are done remove from the oven and allow to cool. When cool enough to handle peel the beets by slipping off the skins with your fingers and then cut them into 1/4 inch dice.
Place the beets in a medium saucepan. Add the sherry vinegar, sugar, rosemary sprig and 1/4 cup of water and bring to a boil. Cook over moderately high heat until a syrupy glaze forms, about 12 minutes. Discard the rosemary sprig and season the beets with some fine grain sea salt.
Arrange the toasted baguette slices on a platter. Top each baguette slice with a spoonful of the glazed beets, a piece of the burrata and a sprig of watercress. Sprinkle with a bit of the Maldon salt or Fleur de Sel and drizzle some extra-virgin olive oil over the top of each toast.
Serve.
Makes 12 canapés.